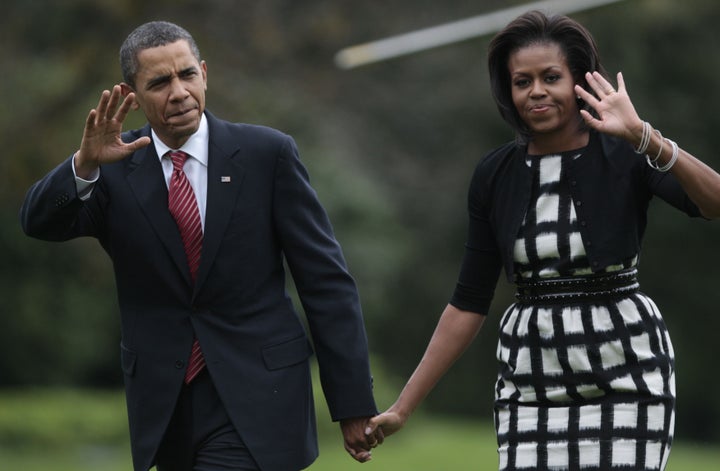 D.C. has its glitter back. Among many things that have changed in America since W packed up his cowboy boots and returned to his home turf in Texas is that Washington, D.C. has reclaimed its status as the Hollywood of the Beltway -- a Hollywood in the age of reality TV.
While the Kennedys ushered in elegance and the Clintons brought youth, the Obamas have all of the exotic elements of modern day celebrity intrigue. They are the quintessential power couple. Parents of young children, they are attractive, athletic, romantic, charismatic, exotic, and trying to save the world one organic garden at a time.
From the moment Barack was sworn in with his gorgeous family donning a fashionable mix of designer threads and J Crew outfits, and we watched Michelle and Barack sway, kiss, and stare adoringly at each other from one inaugural ball to the next, America knew that the era of beige Bushies had officially passed. The historic election, combined with the country's most aspirational couple, created a media frenzy usually reserved for high profile sex scandals.
Not since the Kennedys has America seen the First Couple as pure celebrity. But this time, it's celebrity in the era of Nikki Finke where serious news media are now as likely to cover the Flotus-Potus marriage and all its nuances as they are to cover the health care debate.
Within a week of the The New York Times' reporting on the brouhaha over President Obama's all-boys basketball games and the testosterone-only rounds of golf, its Sunday magazine cover story, "First Marriage," explores the Obamas' extraordinary marriage, warts and all. Jodi Kantor details the tensions, frustrations, highs and lows of their seventeen year marriage. Do we care? Absolutely. The First Couple is the most covered and coveted duo in the world today. And women can't get enough. While the President's favorable poll numbers are slipping, Michelle's remain steadily strong -- higher than her husband's. And no wonder.
From US Weekly to The New York Post, the media cover Michelle's fashion sense and shrinking waistline as if she's a cast member on The Real Housewives of New Jersey. Laura Bush was never seen in a style "Hits and Misses" section or compared to Parisian hottie-turned-First Lady Carla Bruni. But Michelle, in all of her six-foot statuesque elegance, is not only our Hula-Hooping, arugula-planting First Mom, but a fashion icon as well.
The basketball game fuss that implied a certain West Wing clubiness among an inner circle of guys was only news because we are intrigued by all that makes Obama tick including who tries to block his jump shot. And for all of the influential estrogen that he surrounds himself with at work, when he plays, well, he's just a guy talking trash on the court. And that, of course, is part of his appeal. No Drama Obama may be eloquent and unflappable but that's all the reason why we like to see him sweat, even if the game isn't co-ed.
So while the collective Obama honeymoon is fading as the unemployment rate hovers dangerously close to double digits and national health care has become a national headache, the media infatuation continues. The Obamas are like us, only better. US Weekly figured out years ago that Americans like to see their celebs pumping gas, pushing Bugaboos and schlepping groceries. And perhaps that's the appeal of the Obamas. With their date nights, Martha's Vineyard vacations and their openness to project the reality of life and marriage, they are feeding us exactly what we are eager to hear.