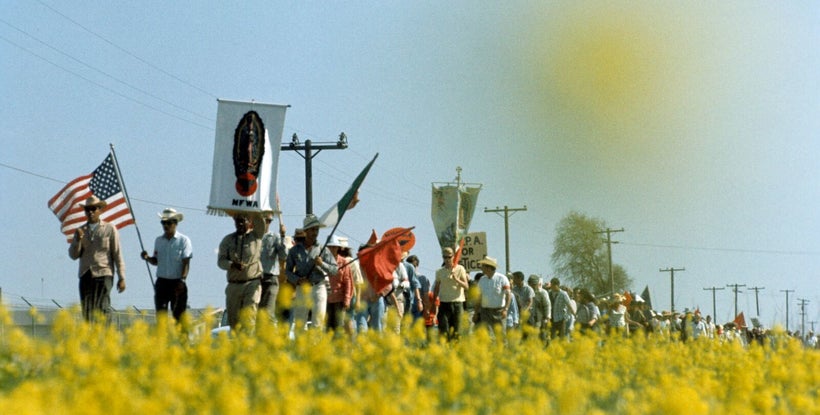 California's State Fair has celebrated the state's agricultural industry since the mid-19th Century. This year is the first time professional farm workers who play such a central role in the industry's success will also be recognized.
Leaders of our farm worker movement, Northern California farm workers protected by union contracts and state and local elected officials will mark the official opening of the first farm worker exhibit in the 164-year history of the California State Fair during an opening ceremony at 5:00 p.m. on Sunday, July 16. The exhibit can be visited any day during the fair, which runs July 14 through 30—Monday through Thursday 11 a.m.-10 p.m., Friday through Sunday 10 a.m.-10 p.m.—at Cal Expo & State Fair, 1600 Exposition Blvd., Sacramento 95815.
Located in the most prominent and heavily trafficked part of the fair's exhibit halls, the farm worker exhibit honors the historical legacy of the United Farm Workers and pioneers such as Cesar Chavez, Dolores Huerta and Larry Itliong. It also highlights how the present-day farm worker movement continues serving farm workers.
Dramatic historical photos and artifacts—accompanied by captions and narrative—include articles of clothing worn by Cesar Chavez and an original of the infamous short-handled hoe banned by California in 1975. Other narrative and photos—some by photojournalist David Bacon—spotlight California farm workers and the progress they have recently made, including union contracts that improve the lives of workers and their families as well as key legislative and regulatory victories protecting all farm workers. A specially produced video about farm workers and the exhibit will run continuously.
The exhibit chronicles Cesar Chavez from his childhood on the family homestead outside Yuma, Arizona and after the Chavez family joined the migrant streams traveling across California during the 1930s and '40s—to 31 years of nonviolent strikes, marches, boycotts and fasts while he led the UFW. Also featured in the exhibit is Dolores Huerta, who with Chavez and other early organizers began building what became the UFW in 1962 and performed key roles in the union, from leading strikes to negotiating union contracts to lobbying at the state and national capitals.
In addition, the exhibit describes how the American labor movement was forever changed when Filipino farm workers led by another UFW pioneer, Larry Itliong, began a strike against Delano-area table and wine grape growers in 1965 and invited Chavez's largely Latino union to join their picket lines. Tough and fearless, Larry Itliong—along with fellow Filipino leaders Peter Velasco, Philip Vera Cruz and Andy Imutan—joined Chavez, Huerta and their colleagues in the longest farm labor strike in U.S. history. Solidarity between the races was key to the success of the grape strike and boycott that ended in victory when table grape growers signed their first union contracts in 1970, firmly establishing the UFW as America's first enduring farm workers' union. The UFW inspired future generations of workers and organizers—and millions of Americans who trace their social and political activism to the farm workers' struggle.
Yet this State Fair exhibit is as much about the present as the past. Photos, artifacts and narrative depict the thousands of farm workers protected by UFW contracts with some of the largest berry, vegetable, wine grape, tomato, dairy and mushroom companies in California and the nation. Workers under union contracts portrayed in the exhibit enjoy wage increases, including averages of $45,000 to $48,000 a year for mushroom pickers and pay of $23.84 an hour for average fresh tomato pickers. Many contracts boast complete family health coverage. Union health and pension programs over the years have paid out around $500 million in benefits to farm workers.
The exhibit also focuses on important recent laws and regulations pushed by the UFW that protect all farm workers, including at non-union companies where the great majority of California farm workers are employed. Exhibit images show examples of marches, rallies and lobbying by farm workers that produced these gains such as protections from extreme heat and overtime pay after eight hours a day.
Finally, the exhibit examines the Cesar Chavez Foundation, another arm of the farm worker movement along with the UFW, supplying much needed benefits and services for farm workers and other poor working families in rural and urban communities. Photos and narrative spotlight the nearly 5,000 units of high-quality affordable housing the Chavez foundation has built and manages at some four dozen communities in four states. They cover the Radio Campesina network of 10 Spanish-language educational radio stations with about 1 million daily listeners in four states, academic tutoring for disadvantaged students in California and Arizona, and the work of the National Chavez Center in educating people across the nation about Chavez's legacy.
So please attend the opening of the farm worker exhibit on Sunday, July 16, or visit it at any time during the 2017 California State Fair. For ticket information and more about the fair, visit http://www.castatefair.org
Calling all HuffPost superfans!
Sign up for membership to become a founding member and help shape HuffPost's next chapter
This post was published on the now-closed HuffPost Contributor platform. Contributors control their own work and posted freely to our site. If you need to flag this entry as abusive,
send us an email
.