By Natalie Gonnella-Platts and Vivian Onano
At the age of 19 she became a mother. At 24, she worked as a listings assistant at the Namibian Stock Exchange to help fund her legal studies. She is a founding shareholder and Managing Director of Namibia's first and largest private equity fund, and has served as a member of the former Namibian President's Economic Advisory Council. Among a lengthy list of accolades over her 15 years in business, she is cited as the youngest laureate of the Namibian Business Hall of Fame.
Lawyer, businesswomen, parent, innovator, Her Excellency Monica Geingos bears a diverse mix of titles, including First Lady of the Republic of Namibia.
She credits her own success to the encouragement and guidance she received in her youth and an enduring tenacity to pursue her aspirations, despite challenges.
Understanding that similar support and self-assurance is absent for many fellow Namibians, Mrs. Geingos is using both her podium and her professional experience to help forge a path out of poverty for the country's most marginalized citizens, especially women and girls. As she said recently, "For economic empowerment to be achieved, women are required to be empowered at the same pace as their male counterparts."
Research shows that when women have more control over household resources they can enhance countries' growth prospects by wisely spending in ways that benefit children and their communities. Women's economic empowerment is a key force in combatting poverty and inequality, yet unequal access to banking services and financial literacy create significant barriers to entry for female entrepreneurs. In areas such as agriculture, the backbone of many rural economies, women comprise a sizable portion of the labor force, yet they often lack adequate tools, skills training, and access to credit.
Education and healthcare are game changers. Education helps reduce poverty, child marriage, maternal and child mortality, and inequality, yet 62 million girls worldwide are not in school. And while there have been significant gains in maternal and child health over the course of the last decade, approximately 830 women die every day due to complications in pregnancy and childbirth, in addition to a myriad of health concerns that disproportionality impact women and girls, such as HIV/AIDS and domestic violence.
For countries to achieve prosperity, every citizen must have equal opportunities to maximize their potential. Holistic investment in the education, health, and economic advancement of women and girls is a prerequisite for success.
When it comes to advancing these goals, women's leadership matters. And first ladies like Mrs. Geingos are a critical force in advancing the status of women and girls worldwide. With a unique platform to influence action to improve lives, current and former first ladies continue to steward advocacy and interventions in response to some of the world's most pressing challenges.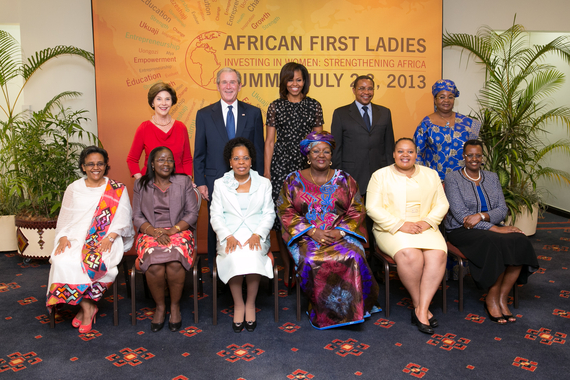 In the United Kingdom, Mrs. Cherie Blair is empowering women entrepreneurs globally through mentorship and capacity building programming in collaboration with private and public sector partners. U.S. First Lady Mrs. Michelle Obama is using her platform to advocate on behalf of the 62 million girls worldwide without access to quality education.
Former U.S. First Lady Mrs. Laura Bush has been committed to empowering women leaders and promoting access to education, healthcare, and economic opportunity both during her time in the White House and through the Women's Initiative programming at the George W. Bush Institute. First Lady of Afghanistan, Mrs. Rula Ghani, has championed for the rights and well-being of women and girls and strengthening rule of law in her country. The list goes on and on and on.
When women are educated, their children are more likely to be educated. When women have access to quality healthcare, their families are healthier. When women have equal entry to the economy, their communities are more prosperous. And when we work together to advance gender empowerment, there exists limitless potential for sustainable and effective change.
On September 20, at the fifth annual Concordia Summit, we look forward to highlighting the invaluable role of women's leadership and partnership to improve lives alongside change makers like Mrs. Geingos and Mrs. Blair. From first ladies to youth activists to corporate executives, everyone has a role to play in ensuring a prosperous future for all.
As the First Lady of Namibia noted in a speech on women's leadership last October, "empowering women...empowers society. The...benefits for gender equality are as moral as they are economic."

Natalie Gonnella-Platts is the Deputy Director of the George W. Bush Institute's Women's Initiative.
Vivian Onano is a WaterAid America Youth Ambassador and the Partnerships Manager at Seed Project.
Popular in the Community