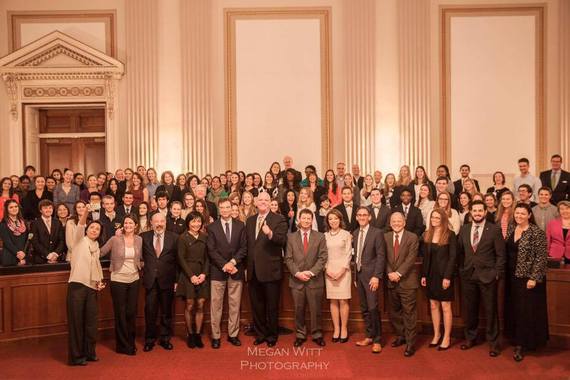 National Cancer Prevention Day February, 4 2016 Capitol Hill, Washington, D.C,
Megan Witt Photo
When my kids were small, my nickname, most appropriately, was "Mr. Safety." I was what you would call a cautious parent! When I launched Less Cancer many years later, we would hear the nickname more and more. Early on, the organization's mission of protecting the public from preventable disease was considered a radical position. At the time when we would speak of prevention, leaps were made as if a personal judgment instead of the evidenced based science that points to 70 percent of cancers being preventable -- not just bad luck.

Thirteen years ago, I found doors closing at every turn. It was a stressful time. I would receive anonymous calls at my home; my young children would hear disparaging feedback from adults, even a teacher, in front of friends and in public spaces designed to bring shame and embarrassment. Walking the halls of state capitols and Capitol Hill was a lonely and isolating experience; the conversations on prevention were met with wrinkled expressions of confusion as though I were speaking a foreign language.

The work to protect people and communities was not only unpopular, but it also came with a hefty financial price. As an organization, we structured ourselves not to take funding from those entities considered to be placing human health and the environment at risk. It remains an exceptional standard that sets us apart from other organizations. (Have you noticed soda companies funding obesity programs?) That meant no funding from tobacco, soda or large scale chemical and ag companies. I not only did the work for Less Cancer but also had to take on every project offered, odd jobs as well. Nothing was too small if it meant I could stay on mission.

However, recently, I was happy to acknowledge that all of those experiences seem to be a distant site in the rearview mirror. National Cancer Prevention Day, on Feb. 4, a Less Cancer initiative, has evolved into a strong collaboration among experts from leading institutions, including MD Anderson, Johns Hopkins, Harvard, Yale, Washington University, George Washington University, Georgetown University, University of Kentucky, University of Virginia and others, not to mention the support of the newly-formed, bipartisan Cancer Prevention Caucus in Congress. And was I proud to have my daughter attend, after the taunts she and her brother had taken in the early days.

We seek to remain true to our mission: bring attention to, and fight to protect all but especially the next generation from, harmful food and environmental circumstances that can lead to cancer, including off-site pesticide drift, indoor tanning, smoking, and harmful chemicals in consumer products.

The other day, something was brought to my attention, that spoke to prevention in another time, another era. I could not help but see close parallels to the prevention work to which I am dedicated.

The story in the Fort Worth Star-Telegram Safety Equals Success by Ed Wallace:

"This past spring the Detroit News ran a story by Bill Loomis, discussing the early days of automobile ownership and their high rate of accidents and fatalities. One fun fact is that, according to the Automobile Club of America, in 1909 there were only 200,000 motorized vehicles on the road, but just seven years later that figure had ballooned to over 2.2 million. And those vehicles were not on streets marked for traffic, or pedestrian crossings -- and in most cases, no one even had to have a driver's license.

The Detroit News had run stories 100 years previously about an 11-year-old boy who drove his family around town and the 14-year-olds hired to run delivery trucks around the city. It was well known that Henry Ford built his son Edsel his own private car, so that he could drive himself to elementary school every day. As it turns out, by 1917 the Detroit region had more than 65,000 cars; that year those cars were involved in 7,171 accidents and 168 deaths. Three-quarters of those fatalities were pedestrians.

Loomis' point is that one primary reason Detroit led the nation in creating stop signs, marking lanes in the road, and having one-way streets and traffic signals was that the fatality and injury rates for children and pedestrians had grown so criminally high. But it was actually James Couzens, the man most responsible for the Ford Motor Company's success, who came in to make sense of this highway carnage.

The streets were chaotic; he saw, because people were crossing wherever they wanted to cross. Streets were still the children's playgrounds in those days, and apparently no one knew how to make a left turn properly. Oblivious streetcar riders might jump off their railcars, right into the path of an oncoming vehicle. So Couzens forced common sense into the city, lest the automobile industry's black eye prove to turn the public's passion against motorists. After all, up until Couzens involvement, all accidents were blamed on driver error.

Slowly the roads started being divided up for cars, streetcars, pedestrians, and so on. And as the years went by fewer and fewer amateurs were out driving in their new cars, which also helped lower the accident and fatality rate."

The Detroit News cited:

"By the mid-1920s Detroit would be recognized as one of the most innovative cities in the country for traffic management and safety. Couzens' bulldog personality got changes implemented."

I was fascinated because the man mentioned in the story, James Couzens, was my great-grandfather. I do not know a lot about him and certainly never had heard this story.

Its hard to envision if the former leadership of companies such as Monsanto, DuPont or Dow would ever take steps to engage actively and work to protect communities the way my great-grandfather engaged around automobiles and safety.

How are we 100 years later going to protect our children? How are we going to implement the best practices so we may not be throwing human health into the metaphoric traffic jams and chaos of greed?

Today we live in a world where there are no stop signs for putting harmful chemicals into personal care products for children or even their toys. There are no warnings when indoor tanning is marketed to children, even when the science is clear related to cancer. There are no safe lanes for children to whom e-cigarettes in fruit flavors are targeted, when respected and evidence-based science points to its dangers. This at time when cigarette smoking is responsible for more than 480,000 deaths per year in the United States, including nearly 42,000 deaths resulting from secondhand smoke exposure. This is about one in five deaths annually, or 1,300 deaths every day.

We see how prevention worked to save lives with the automobile, and we know that the same concept translates to saving lives today.

Not unlike 100 years ago we too can save lives and must insist on it from our legislators to go to bat for our families and our communities.

To protect the next generation, maybe now it is time to look back to previous generations for the practical good sense that protected and saved lives. My great grandfather did it with cars and today we can all have a role in protecting our families and communities.