Alcoholics Anonymous is turning 80 this year and its 14th International Conference will take place over the upcoming Fourth of July weekend in Atlanta, GA. With 100,000 recovered alcoholics hitting the streets of downtown Atlanta this summer, a flock of recovery-themed productions, film festivals and entertainers are scheduled to perform.
The serenity prayer and smoky church basements are now embedded in our cultural imagination. There are a number of popular plays and films about the history of Alcoholics Anonymous, the most famous arguably being My Name Is Bill, a made-for-TV movie starring James Wood, and most recently, Bill W. and Dr. Bob by Samuel Shem and Janet Surrey, which ran off-Broadway at the Soho Playhouse in 2013. The majority of these dramatizations focus on the story of the two founders, Bill Wilson and Robert "Dr. Bob" Smith. A unique new addition to this cannon has emerged and it will premiere in Atlanta during the week of the international conference.
Written and directed by Jackie B., the Artistic Director of Recovery Works Theater in San Francisco, Our Experience Has Taught Us is not your typical recovery yarn. It distinguishes itself with a grander and more communal scope, telling the group histories of the first A.A. gatherings in Ohio, New York and California, and the conflicts that led to A.A.'s adoption of "The Twelve Traditions."
For a society that values "principles over personalities," here at last is a play that looks beyond just Bill and Bob's stories, and I suspect that both these men would be delighted to be out of the spotlight for once. Special attention in the play is in fact given to the first women, gays and lesbians, people of color and atheists in the movement. These little-known stories are responsible for some of the most uplifting and heartbreaking moments in the play.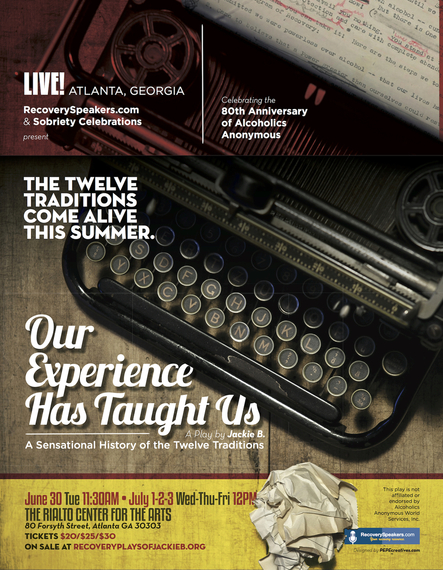 The Traditions are what make A.A. anonymous and truly unique. They are a series of group principles that include financial self-support; anonymity at the level of press, radio and film; and inclusiveness in membership. The Third Tradition, "the only requirement for A.A. membership is a desire to stop drinking" was effectively instated in 1937 when the pioneer group welcomed a confessed homosexual alcoholic to join them. The Traditions are responsible for A.A.'s survival and growth over the last 80 years. Despite this, they are virtually unknown outside the rooms of A.A and in fact, they are often misunderstood by members who have spent years in recovery. It was this lack of visibility and understanding that inspired Jackie B to write the play.
Jackie B., like the majority of her actors, is a recovering alcoholic and drug addict. The day before the company departs for Atlanta, she will "turn" nine as they say, celebrating her ninth year of sobriety. She began writing and directing recovery plays in 2009. She drew her actors from the San Francisco Bay Area recovery community, building an ensemble with an eclectic range of experience and sobriety - from 90 days to 30 years sober, from professional actors to first-timers -- and yet somehow their unity on stage is seamless.
This year the troupe formalized under the name Recovery Works Theater (RWT). Though not affiliated with or endorsed by A.A., RWT was inspired by the society's principle of "one alcoholic working with another." Jackie explains RWT's purpose as "helping the alcoholic discover a home in the recovery community. We create a living connection between the actors, the audience and those who recovered before us. Newcomers learn to see themselves as a link in a precious chain, and we also help strengthen the existing ties in people with long-term sobriety."
WHAT: Our Experience Has Taught Us: A Sensational History of Our Twelve Traditions
DATES AND TIMES: WEDNESDAY – FRIDAY, JULY 1 – 3, 2015 at 12 noon
VENUE: The Rialto Center for the Arts
ADDRESS: 80 Forsyth Street NorthwestAtlanta, GA,
Calling all HuffPost superfans!
Sign up for membership to become a founding member and help shape HuffPost's next chapter