The beginning of a new year (not to mention a new decade) is a popular time for resolutions and "best of the year" recaps, but it's also the beginning of the annual awards season. Grammys...Emmys...Tonys...Oscars...Golden Globes....they will all be rolling in over the coming weeks, thrilling and boring us in equal measure.

All things considered, classical music isn't a heavily award-focused enterprise, and none of the big classical music awards have yet resonated in a big way on the major media radar screen. So, without further ado, on the occasion of the 10th anniversary of the founding of our company, 21C Media Group (which has, as its central mission, the promotion of classical music and the building of an audience for it), I'm thrilled to announce the winner of 21C'S first annual Public Display of Passion (PDP) for Classical Music Award.

Drumroll please...

And the winner is...

Alec Baldwin.

Applause! Yahoos! Congratulations! Martinis!

First a note on how Mr. Baldwin was nominated and selected: quite simply, I spontaneously thought of it, and decided upon the winner, watching him in action over the past several weeks as the new voice of the New York Philharmonic broadcasts (full disclosure - my company represents its Music Director, Alan Gilbert) and elsewhere. One of the advantages of being your own boss is that you can occasionally make such executive decisions, and so the idea for this award, and the selection of this year's winner, was decided solely by me - though I know Mr. Baldwin's selection is very much supported by my two business partners along with the entire staff.

The concept behind 21C's P.D.P. for Classical Music award is simple: I want to give credit to a non-musician of some celebrity who has publicly displayed his or her passion for classical music in a way that just might be contagious.

Some other names for nominees that were bandied about at a staff meeting back in December:

Singer/songwriter Rufus Wainwright: he's done some work on his own opera projects, his songs are often clearly influenced by classical music in some way or another (such as the Ravel Bolero quotes on the opening track of Want One), and he's often seen amongst the glitterati at the Metropolitan Opera. Incidentally, Rufus is, without a doubt, one of my very favorite songwriters of today, and his album Poses would be in my desert island collection along with all my Debussy, Mahler, Chet Baker and Blossom Dearie discographies

Singer/actress/Broadway star Kristin Chenoweth: she can sing Bernstein's devilishly difficult "Glitter and Be Gay"(from Candide) as well as any classical singer, and few can match her for the comedic timing that goes along with it. She also happens to be compulsively adorable and incredibly sweet, and gets extra credit from me for going out of her way to greet the members of Chanticleer when they were booked on the Today show the same day she was there in early December. She also agreed to take a quick photo with me and Matt Oltman (left), the group's music director, even though I was looking extra dorky and disheveled after waking up at 4 am that day: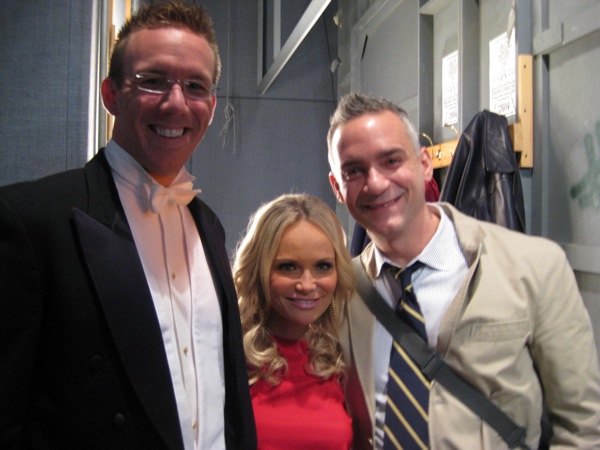 TV and Broadway actor David Hyde Pierce: I confess that I never watched Frasier (spank me later!), but I was delighted to meet DHP backstage one night at Carnegie Hall following a performance by Norwegian pianist (and 21C client) Leif Ove Andsnes. Apparently piano music is his particular passion (and, if I'm not mistaken, he plays the instrument well himself). Years ago he contributed a "My Music" essay to Gramophone magazine, the bible for reviews of classical music recordings, and it was fun and illuminating to read. He gets extra credit, too, for doing work to promote Classical Action, an organization (which our company does pro bono work for) that puts classical musicians to work raising money to fight AIDS.

But Baldwin wins hands down because of the quality of his investment in the cause, both in the intensity of his enthusiasm and the actual time commitment he has made to put his passion for classical music to work. In a recent feature interview with Dan Wakin of the New York Times, the actor's passion is everywhere apparent, but no article can do justice to the sense of pure wonderment Baldwin conveys when you are standing in his company and watching him first-hand. I saw this passion at work repeatedly and at length recently at the fundraising event he hosted for WNYC, which had just purchased WQXR, New York's big classical music station, at multiple New York Philharmonic concerts and events, and, just a couple of weeks ago, when he interviewed baritone Thomas Hampson (another 21C client) for a taped segment that aired during the Philharmonic's New Year's eve telecast on Public Television. Here's a quick photo of Alec with Tom in the baritone's stylish Upper West Side apartment: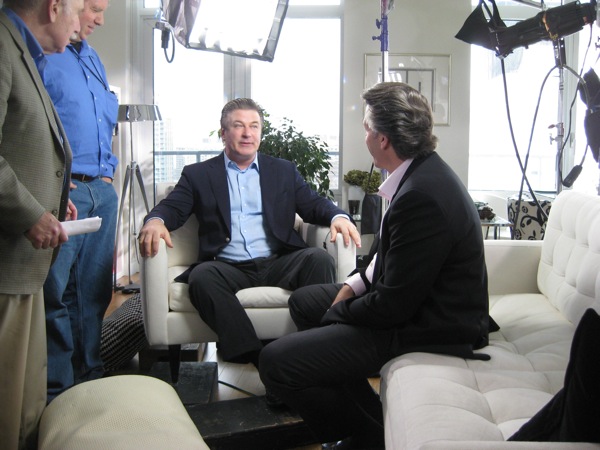 When I was a youngster, the non-musician who demonstrated the highest profile enthusiasm for classical music was probably Tony Randall, who helped the writers of the TV show The Odd Couple create story lines that occasionally touched upon his great love of opera. Such real opera stars as Marilyn Horne and Martina Arroyo appeared as special guests on the program, often given real character parts and not just cameos (Horne, for example, was "Jackie," the vocally-gifted secretary, and I still remember her threatening to bop Felix "right on the nose" if he didn't stop telling her what to do).

But, much as I loved Tony Randall and watch The Odd Couple with great pleasure on DVD, Randall reinforced the idea of classical music as a bit "strange" and as more than a bit elitist (even if his real intention was to lampoon that elitism), so having a "regular" Hollywood guy like Alec Baldwin share his passion for it somehow makes me feel that a broader cross-section of the public might find a greater variety of reasons to enjoy classical music than because it's inherently "great" and "important." Perhaps other qualities in the music, such as visceral excitement, revolutionary intention, spiritual transcendence and sensual beauty, might emerge as the best reasons for some of the uninitiated to take the plunge.

I have a personal reason, too, that I connect in such a big way to Baldwin's passion for classical music. He has told stories of how he discovered his attraction to classical music by hearing it on the radio, purchasing CDs and educating himself (just listening and reading the liner notes) as to what he likes and doesn't like. Having never taken a music class myself, I've long had a bit of an insecure feeling about my own credentials as a promoter of the art form and some of its very greatest musicians. What I know about classical music I know from my own experience: from listening, from reading and, lucky me, chatting with profoundly talented performers about composers and what they were striving to achieve. Alec told the Times that in doing his work for the Philharmonic he feels like the batboy for the New York Yankees. As a big (Bronx-born and longtime) Yankee fan myself, and as a self-educated classical music nutcase, I can definitely relate to that.
Related
Popular in the Community