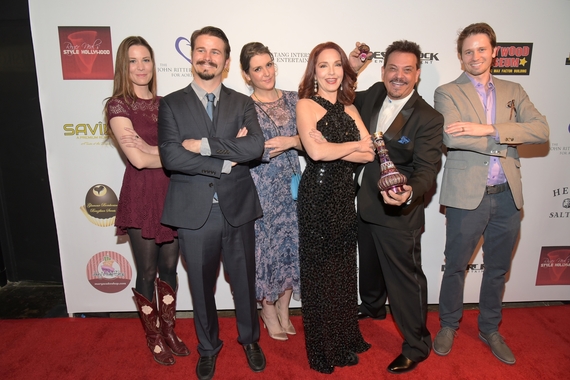 Photo (from left to right): Artist Mario Della Casa, Amy Yasbeck, Tyler Ritter, Jason Ritter and Carly Ritter with the Jeannie bottle.
Photo Credit: Neal Public Relations
Young and classic stars from TV and film had the opportunity to tour The Hollywood Museum, which houses the largest collection of celebrity memorabilia.
Before dinner, catered by Presidential Chef Kurt Ehrlich who has worked under President's Reagan, Ford, and Nixon, the stars aligned to celebrate the Academy Awards; including a special Academy Awards Exhibit, complete with Hors D'oeuvres and Wine & Champagne by Lorimar Winery. Rumtini provided special Oscartini's during the cocktail hour.
Each year the event gives two or three legends from the entertainment industry the ICON Award, this year at the Oscar Viewing Dinner George Chakiris, who won his Oscar in 1961 for West Side Story and Margaret O'Brien, who won her Oscar for Meet Me St. Louis in 1944 were both given the ICON award. Film Star Paul Sorvino was also honored with an ICON AWARD.
Presenting sponsors included DaTang International Entertainment and Desert Rock Entertainment, who partnered on a $100-million-dollar slate of films stated, "We are very excited to be a part of this Oscar night event."
Ms. Alice Wang from DaTang Int. Entertainment is a well-known and successful director/ filmmaker in Asia, she will produce, and Tim Lowly will direct two American films starring Ms. Candy Wang, the Jennifer Lopez of Asia. The films are "6 Days on A Raft," the true story of WW2 vet 94 yr. old Bill Harrison and "Seven."
Candy Wang is also a music star in Asia. Her most recent concert in China drew 50,000 fans. Before the event, Candy said "I am looking forward to working in America and meeting fellow actors on Oscar night."
Bill Harrison and Candy Wang attended the dinner and were given a rousing standing ovation when introduced.
Chocolatier Glamour Bombonier Brazilian Sweets made miniature chocolate award statues covered in edible gold that everyone enjoyed with some taking them home as souvenirs.
Gown Designers Sonjja Baram, DiPaula Designs, IC Trends with Esther Eyre Jewelry and Marcelo Calabrese Handbags were among the sponsors for this event and had informal modeling during the commercial breaks.
IC Trends www.ictrends.com president Ivonne Camacho said in anticipation of the event "We are looking forward to this spectacular evening."
REAL LIFE. REAL NEWS. REAL VOICES.
Help us tell more of the stories that matter from voices that too often remain unheard.