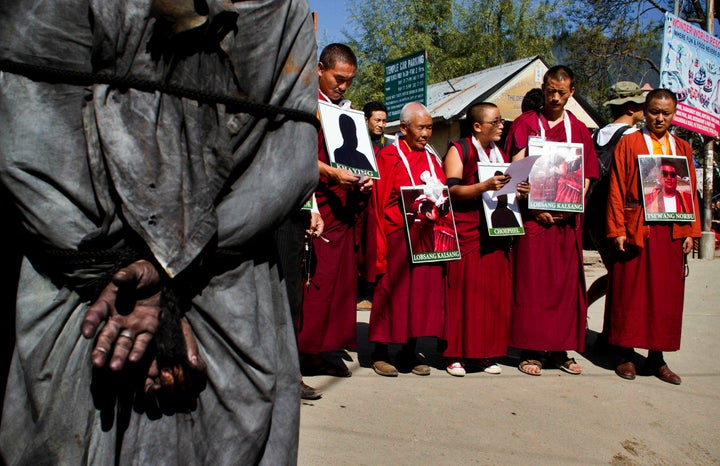 It's about time some visionary publisher woke up to those of us who are spiritual and readers here on earth! This Valentine's Day, I'm doing the Happy Dance over the nascent existence of a new imprint at Hay House called Hay House Visions. Their mandate, as I understand it, is spiritual fiction.
Full disclosure: I've been writing spiritual mystery novels for many years, and whilst they have received phenomenal feedback from agents, editors, publishers, and most happily, readers--alas, alack--publishers, manacled and enslaved in the dank galleys of their abusive marketing departments, have been slow on the uptake, to say the least.
No matter, I am delighted to be able to report that Gay Hendricks' and Tinker Lindsay's The First Rule of Ten is a delicious inaugural offering. Their subtitle is: A Tenzing Norbu Mystery (Dharma Detective). Enter Tenzing Norbu, known to his friends as Ten, about-to-be former cop, and definitely former Tibetan Buddhist monk, as well as about-to-turn-into private investigator.
This curious protagonist is a curious mélange. Sometimes, he reacts to the world as a cop. Sometimes, as a monk. Sometimes, as a damaged little boy. His response to the world, most of the time, is mindful--a nurturing message in the face of ordinary mystery novels. We readers who value spiritual practice over everything else in our lives are bound to dive in to these sorts of books over and over again.
Inspired by what young Ten deems the mindfulness of the legendary Sherlock Holmes, he models patience, compassion, diligence, meditation, mindfulness, mess-ups, and recoveries all from his worldly/otherworldly perspective. The story is fast-paced, and yet it slows down right when we want it to go deep. The requisite elements of traditional mystery are all present and accounted for. The teaching, if you will, is so integrated into the story that I've had to go back in my Kindle to catch their subtleties and their wisdoms.
Gay Hendricks, Ph.D., has served for more than 35 years as one of the major contributors to the fields of relationship transformation and body-mind therapies. Along with his wife, Dr. Kathlyn Hendricks, Gay is the co-author of many bestsellers. In recent years, Dr. Hendricks has been active in creating new forms of conscious entertainment.
Tinker Lindsay is an accomplished screenwriter, author, script consultant, and conceptual editor. She has worked in the Hollywood entertainment industry writing and developing feature films for over three decades. A practitioner and teacher of meditation, she can usually be found writing in her home office situated directly under the Hollywood sign.
I am so pleased that Dr. Hendricks and Ms. Lindsay have applied their talents to the mystery genre. Truth to tell? I can't wait to read the next one.
Related
Popular in the Community