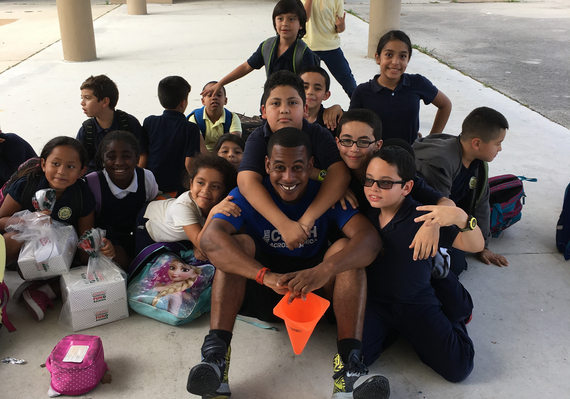 Many veterans have told me the first six months is what really matters. They are referring to the immediate time when they have finished their tours of duty and returned home to civilian life. During these first six months stateside, our military veterans must navigate a unique and often intense form of culture shock. During military service, they started each day fulfilling the responsibilities of their platoon, and now the wake up call at home no longer means a group of men and women whose lives depend on them. They once woke up with a definite purpose and mission, and now their wake up call at home has no immediate obligations. They often had to stay alert in areas of the world afflicted by trauma and now, waking up at home requires a new temperament.
It's during these months that the nonprofit sector is uniquely poised to help by doing what the corporate sector has been doing throughout the past decade - allocating jobs for our returning veterans. At Up2Us Sports, we have made a concerted effort to hire veterans to be coaches and mentors for the youth whom our programs serve throughout the country. We just launched a fundraising campaign on CrowdRise called $100k in 100 Days, with the goal of raising $100,000 by the end of 2016 to support our Operation Coach program. Our model provides veterans an immediate sense of mission and responsibility and, a team - this time of youth - who depend on them to be there just as their platoon once did. The goal of our program is to ease the transition for veterans by giving them an opportunity to use the skills and values they have learned from their military experience abroad in roles that address positive community and youth development at home. Our hope is to engage veterans as quickly as possible upon their return home. In this way, we are not just a transitional step to a potential career, but a therapeutic step to ensure that our military members start the next phase of their lives with purpose.
I encourage other nonprofits to explore how they can make their own service models welcoming to returning veterans and how they can develop outreach and recruitment policies that focus on this population during this important time of transition. I also encourage nonprofits to make their work environments veteran-friendly by partnering with veteran service organizations like Mission Continues. Veterans make fantastic employees. Just ask any of the kids in the urban communities across this nation who have experienced the encouragement of one of our veteran coaches.

The first six months matter. Let's make spaces for veterans as employees in our nonprofit service community.
Calling all HuffPost superfans!
Sign up for membership to become a founding member and help shape HuffPost's next chapter