Tingling is a weird word, but we can't really help it. Hidden in-jokes and Marvel references are all over this thing, just like Robert Downey Jr.'s Tony Stark. (He's basically everywhere.) You can also catch Michael Keaton as Vulture, which seems like a great part for a guy who once spent a whole movie wanting to be a "Birdman."
Here are four clever references in the trailer you might've missed.  
1. Cameos by Bruce Banner and Howard Stark
The trailer is just a couple minutes long, but Marvel still managed to sneak in cameos from both Bruce Banner and Howard Stark. Twitter was quick to point out that the pair's faces seem to appear in the background at Peter Parker's (Tom Holland) school.
2. A callback to "Spider-Man 2"
The shot of Tom Holland holding the ship together is giving us all serious vibes from "Spider-Man 2" (aka the best "Spider-Man"). Now if only that Dashboard Confessional song could make it in.
3. A background identity theft joke
While robbers are using the Avengers' identities, a sign in the background warns against identity theft. We see what you did there, Marvel.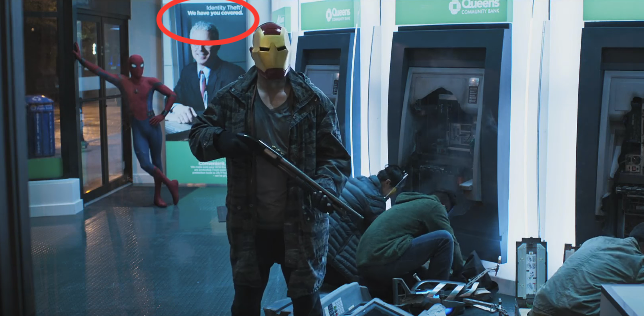 4. A copycat Pepper Potts shirt 
Peter Parker appears to be wearing a shirt that's very similar to one Pepper Potts (Gwyneth Paltrow) once wore, so there's speculation that Paltrow might be back in the new movie.
With great trailers come great Easter eggs. Now go on. Get out of here. "Spider-Man: Homecoming" won't be here until 2017. 
REAL LIFE. REAL NEWS. REAL VOICES.
Help us tell more of the stories that matter from voices that too often remain unheard.
BEFORE YOU GO
PHOTO GALLERY
Photographer Imagines What Superheroes Would Look Like Retired