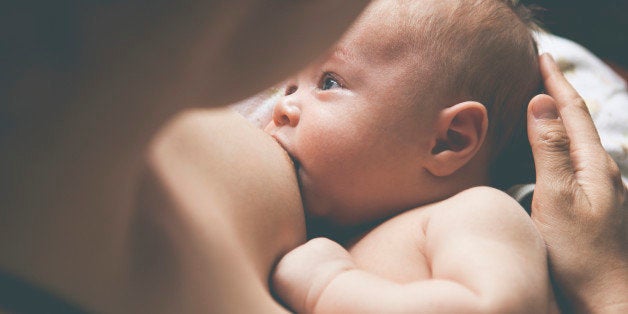 Every breastfeeding mama has at least two things in common. They have had sex, and they have attempted to latch a baby to themselves at least once. And while these two things seem to only have a linear relationship (first one, then the other) I found the first time of each to be surprisingly similar.
It makes sense really. The emotional stakes are high. A million people have told you that it is natural and therefore easy. You have all these soft lit pictures in your mind where everyone is relaxed and enjoying themselves. There are supposedly all these magic love chemical benefits that are going to be released in your body.
Meanwhile, you are both tired, and wearing less clothes than usual. It might be dark, you are fumbling around and you can't quite figure out what goes where. Your partner just wants to get to it. Over excitement can be a problem y'all. Your brain, which is supposed to be relaxed and chill is TOTALLY RACING!
These are the thoughts I had doing these semi-naked-totally romanticized-potentially awkward activities for the first time:
Okay, we can do this. You just put tab a into slot b. I mean, they are MADE to go together. How hard could this be? Oof, that didn't fit. WAIT! STOP SQUIRMING! I missed, try again, I missed again OMG STOP SQUIRMING
I am very tired. You seem very tired. Maybe we should not be trying to do this thing right now when we are very tired, but it seems like this is when we do this, so I guess it is time. I mean, I want it to be time. But I am very tired, you seem tired too.
Also... I am like... way more naked than I am used to. This is like way more people seeing my boobs than just me. Are they normal? I mean... I think so, but this is a lot more inspecting of my nipples than I am used to. THERE IS A HAND. Okay. There is a hand on my boob, we are doing this.
It is awfully dark. Maybe there would be less fumbling if there were more lights, but that is a lot of the looking, maybe everyone is more relaxed with the lights off. Yes. Lights off, but the fumbling...
Maybe I need to look at the diagrams for help. There is no way I can do that! YOU WANT ME TO PUT MY HAND WHERE? There is no way that is possible upside down. There is no way I can keep my balance like that, someone is going to get hurt. How does someone not get dropped in that position? What if I try it this way and someone gets hurt and I have to explain that to a medical professional? No way. I am sticking with basic positions forever.
I mean... I know it is probably going to be uncomfortable at first, but it shouldn't be painful. Is this painful? No, just uncomfortable... well maybe painful... no uncomfortable. NO! PAINFUL! FOR SURE PAIN. Wait. maybe just discomfort...
And we are in. We are doing this! What should I do with my hands? How come no one told me what to do with my hands? Do I just hold them here? Should there be patting or stroking? Will that mess things up. I guess I will just hold them here...
No one told me about the leakage and the clean up. Is this normal? Why didn't anyone tell me about the leakage? All those movie scenes where they finish and drift happily off to sleep ARE NOT REAL. All those magazine ads where there is no wet spot are FULL OF LIES.
And when you are doing it regularly at first you think. I am so different. This feels so different. Surely everyone and their brother knows that I am different and I do this naked thing with my body. Can they tell? That would be weird. But how can they not tell.
And also... wait. I am no different. This was supposed to change me forever. I was told I would get a million tiny magical love potions released into me and I would be bonded with the other person forever. Where are the love potions? WHERE IS THE BONDING I WAS PROMISED? I was supposed to be turned into a magic vessel of love. Why am I not a magic vessel of warm fuzzy feelings?
Then you get used to it and are like, wait. When DID I do that last? Should I do that again? Is it time?
Am I doing it too often, not enough, WHAT IS NORMAL? WHAT IF I AM A FREAK?
I have questions. But I can't just ask anyone... where is my wacky natural hip granola Aunt? I can ask her. Maybe I should Google it... should NOT have Googled it.
And finally, it is something your body does. Totally awesome, totally normal, totally natural, but not what the pictures promised, still totally real. Maybe that is the best part.