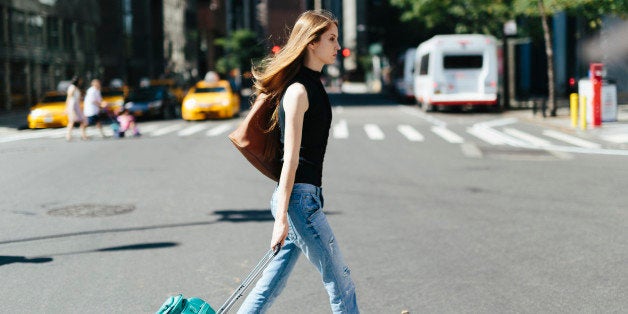 It's been twentysomething days since I moved to New York City.
It's been twentysomething days of me living in a place I used to only dream about. After all those daydreams, it looks like I finally manifested my own destiny. This time, it has been real days of accidentally touching someone's hand on the subway rails, learning to carry cash and walk fast, and lusting over strangers in ties on Wall Street.
It's been twentysomething days and I am quite honestly smitten.
I know people sometimes believe New York City is romanticized too often. I get it, they love where they live and don't understand this city life and the high rent it comes with. I get it because I wholeheartedly believed it myself for the years I was desperately in love in Miami.
But, damn. New York City is something else.
I'm quite honestly surprised that I'm not already writing about missing Florida, but I couldn't bring myself to feel regret after having the willpower to take this risk and to do it for no one but myself. TBD this winter, though.
I may or may not have even had to stop myself from crying out of gratitude on the subway in weird moments of intense retrospect. Because I love that I've read two books in two weeks while managing not to fall and while people uncomfortably stared at me because I already feel like I belong just like anybody.
And when people ask me, "How are you liking New York?"... If this was me a few years ago before ex-boyfriends, blogs, and careers were a thing, I would be 100 percent on a plane back to Florida begging my mom to cook me food I could afford (a.k.a. free). But this is me, all these years later. And I'm not only acclimating, but I really feel myself thriving.
Because I've come to discover that New York is custom-made.
There's a certain power in the air that you can breathe in every time you inhale. I promise you it's not the crazy rants in the streets, the smell of pipes and construction, or the cart hot dog (that I still have yet to try). There's a power in the air that makes you believe that you are something. Because you really are something.
There's a certain music to the way everyone walks with purpose... it's like everyone's dream is on the next block. We're walking so fast and talking on our phones but we're missing the skyscrapers and what got us here. But I'm not ready to miss it yet. I'm stopping on the street and pissing everyone off behind me as I look up and smile with gratitude.
Because this city is something special.
There's a certain vibe in the way the city moves with its lights and its traffic and its everlasting success on high rises. There's a vibe that exists that makes you want to succeed on the ground floor because you know you can get to the penthouse.
There's a certain taste in the bottom of the cocktail that I spent my paycheck on. It's a sweet reminder of how far you've come and how little you'll have when the bill comes. It's like a temptress winking at you because you know you want more. But you'll always order another one, because what is life when you stop at just one.
There's a certain life, yes a certain life that exists in the skin and the bones that inhabit the streets and the homes. There's a certain soul that breeds on the streets and makes these dreams a real thing. There's a life that takes hold of buildings and makes them turn the lights on. It's these lives that make the city sparkle all night long.
I thought I would sit here and tell you that I miss my old life. I am shocked that I'm not scared, that I'm not afraid, and that I'm not sick of being pushed on the streets.
It's because there's something positively magical about this city.
And it's not because I've fallen in love with someone in a suit or a beanie (although I hope one day I do). I've fallen in love with the way the hopeful breath falls like wind over a rooftop. It breathes life into every quick-paced passerby and every ambition-filled human. There is hope here. There is a different type of living here.
It's been twentysomething days as a twentysomething woman in New York City, and I can't help but feel like I am falling in love. I'm loving the hustle, the desire to do more, the views on every corner, the desperation to find the best version of yourself, and the everlasting need to keep going.
It's been twentysomething days and I can't wait to lose track of twenty thousand more. I'm not daydreaming any longer. I am here -- I made it, and I only hope that others can experience this same type of joy from being so uncomfortably comfortable in a place like New York.
I'm telling you, there's just something about this city that makes you feel like it's been longing for you.
Calling all HuffPost superfans!
Sign up for membership to become a founding member and help shape HuffPost's next chapter