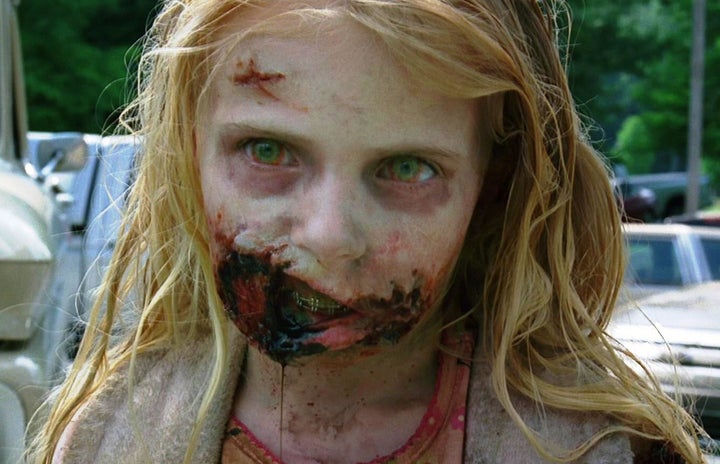 When we last saw Summer the Teddy Bear Walker, she and half of her face were looking to savagely tear Rick Grimes apart in the "Walking Dead" premiere five years ago. We know. Adorable, right? She was the first zombie to ever appear on the show and coincidentally the first to take a Grimes shot to the dome.
With Season 1 of "Fear the Walking Dead" ending, and the "total chaos" of "Walking Dead" Season 6 right around the corner, The Huffington Post caught up with Summer, aka actress Addy Miller, to see what she's up to now. And, as you can see, a lot has changed. Mostly, she's just not a zombie anymore.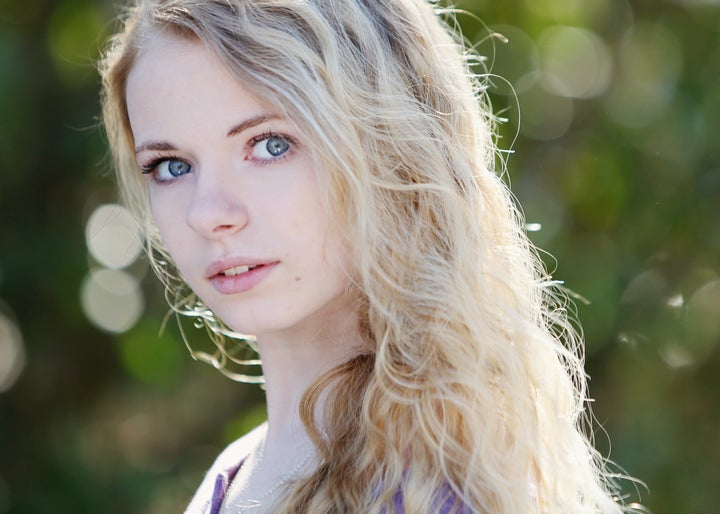 Miller says she doesn't get recognized for her "Walking Dead" role too often outside of conventions these days, being that she's older now -- 15 to be exact -- and has her "whole face." People might recognize her for her other work, though, which includes the movie "Dark Places" with Charlize Theron and Nicholas Hoult and the new horror film "June," which is now available on DVD.
The actress says she doesn't want to be typecast, but she loves horror and accepts whatever fun roles come her way. Miller opened up to HuffPost about her "Walking Dead" role, some on-set secrets and even what it was like to be Rick Grimes' first zombie kill.
What's it like getting shot by Rick Grimes?
It was the time of my life. Getting shot by Andrew Lincoln was great. A lot of people think I'd be nervous about it when I really wasn't. I felt completely safe on the set and very at home with it all. I think being shot, it's like, "Oh yeah, I survived my death. I have bragging rights then."
When I was actually getting shot, I had to jump backwards off a ladder to get that one shot. It was fun for me. I didn't know the risk of that, of course. I'm just like, "Oh well, that's fun!"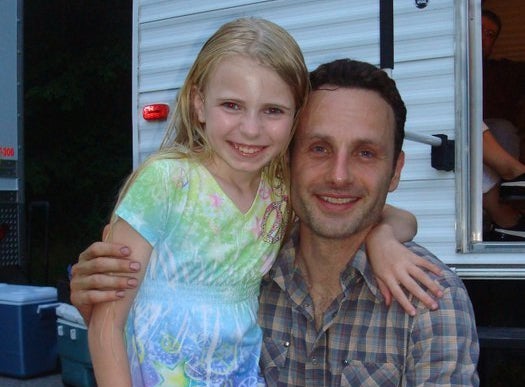 What's it like to look back on "Walking Dead"?
I really enjoyed that role. I wish I knew back then how big it was going to become and really enjoy that time on set and get to know every crew member and cast member. I didn't get to mingle with a lot of people. They had some really great people, but at the age of 10, I really didn't know what could become of just being a zombie on set. I was more paying attention to, "Whoa! Look at my makeup!"
Is it weird seeing yourself like that?
People thought it was gross on the show. Well, imagine seeing that in person. Like, all the detail. It was disgusting to look at. I would get nauseous when I looked at it in the mirror. I could barely recognize myself. It was insane.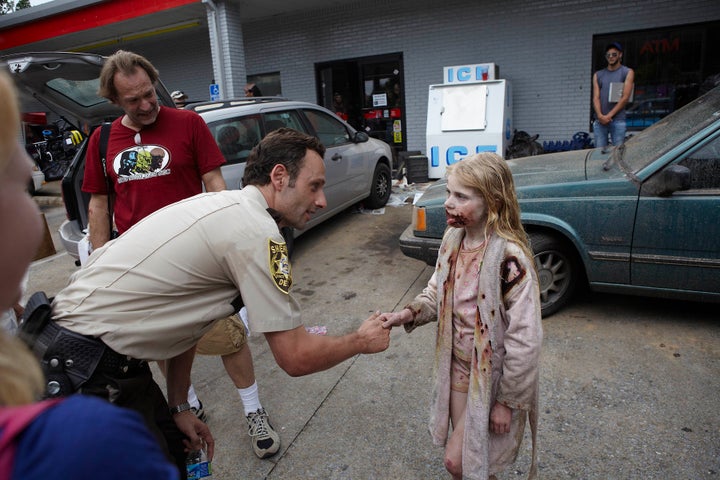 In the scene, you actually pick up a Teddy bear, but walkers don't normally do stuff like that, so why do you think that happened?
At the time when everything happened, I didn't think much of it, but now that I look more, I think it was more of an instinct. It was part of that human character she used to have, like Morgan's wife during the episode where she was trying to turn the door knob. I think it was more of an instinct with her.
There are a lot of little girl zombies on "Walking Dead." Why is that?
I think it's more dramatic or heart-wrenching or creepier with a little girl. But they did have a little boy I think last season on the show who got shot. We were like, "Yes! Equality!"
[Laugh] I agree, though. Like, for an adult zombie, I think I'd be OK, but little girls are scary as heck.
I didn't know that at the time because I was a little girl, but now that I'm at conventions and these little girls dressed as walkers come up I'm like, "Ah!" That actually is scary.
Do you keep up with the cast at all?
I keep up with all the other kids on the show, actually. Like, we have our own little "Walking Dead" club. We all hang out at conventions and go get dinner afterward and find some fun thing to do. Like, we were in Boston one year and we all went to Fenway Park and caught a game one day. That was fun.
Wow, do people notice the herd of "Walking Dead" kids traveling together?
Yeah, they'll recognize Brighton (Sharbino), or like Kyla (Kenedy) who are all on the show. And Madison (Lintz), of course.
Do you think you're better prepared for a zombie outbreak now?
I get all these zombie survival guides from people and all this advice. Yeah, I think I'm prepared. I'm probably gonna die, but I may as well think I'm gonna be ready for this.
What's your survival advice?
Climb a tree. Find an island. Kill the zombies on the island. There you go. Honestly, I'd just build a tree house and climb down when I need something.
That's actually great advice. Why don't people do that on the show?
Yeah, it seems so simple. They can't fly!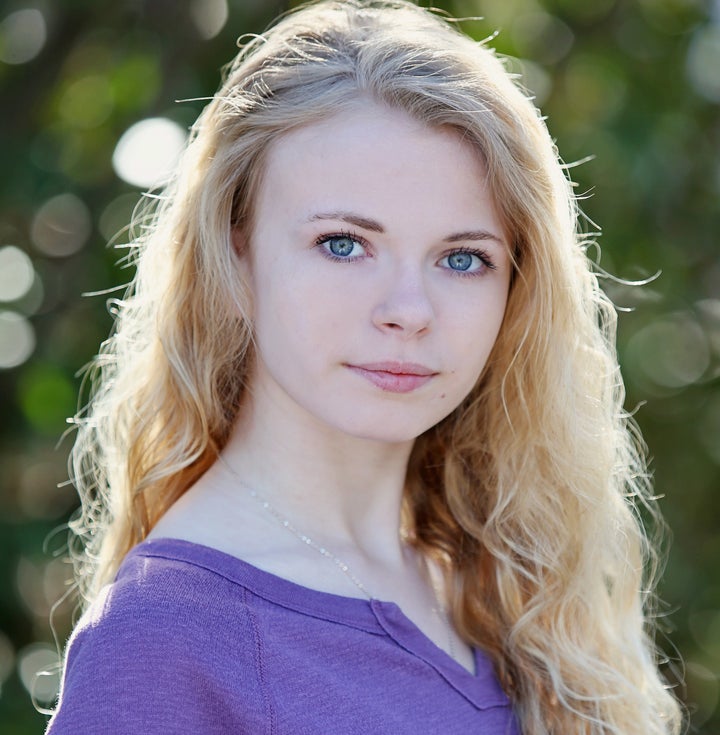 Did you ever dress up like a zombie after that?
I actually went as myself one year for Halloween, and that was great. I think it was a year after the show came out because it was premiering on Halloween.
Whoa! Did anyone make the connection?
No, I don't think anyone recognized me. They may have just thought, "Oh, there's a girl in that costume. She's killin' it tho." [laughs]
[Editor's Note: She is killin' it tho.]
"Walking Dead" Season 6 premieres Sunday, Oct. 11, on AMC.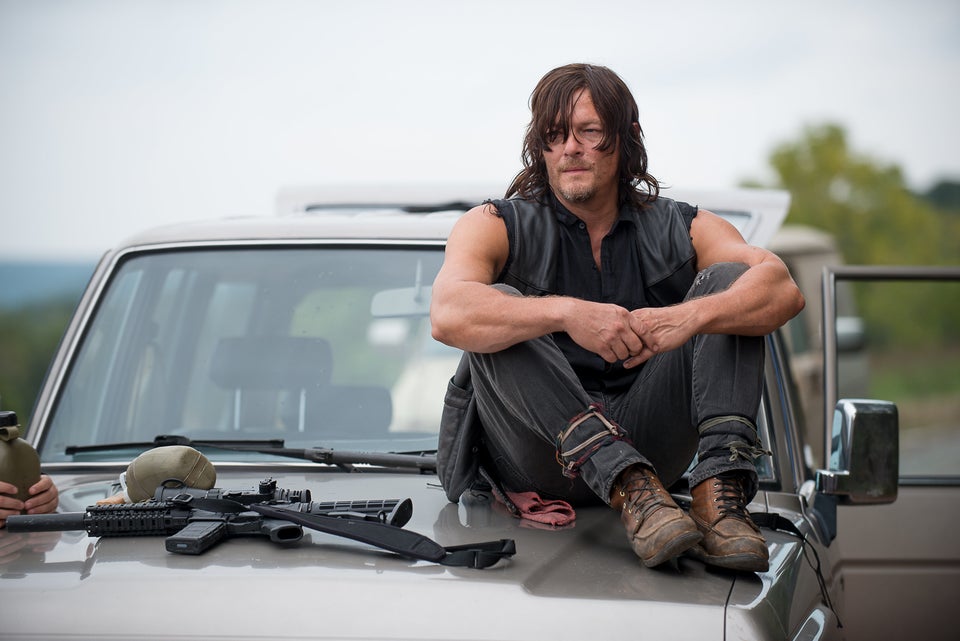 The Walking Dead
Popular in the Community