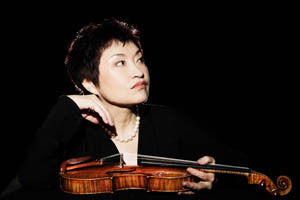 A package arrived at home recently and I was excited to open it, as I knew what it contained, the new recording of all the Bach Sonatas and Partitas for solo violin played by one of my favourite artists, Kyung-wha Chung. Listening to this wonderful recording brought back many memories of this great violinist and her astonishing career, which in turn inspired me to tell a story. (photo by Simon Fowler)

In 1967 an extraordinary political event occurred. The Leventritt International Violin Competition in the US announced after the final round that they were awarding two first prizes--to Pinchas Zukerman, who everyone expected to win outright, and a young unknown 19-year-old girl from South Korea, Kyung-wha Chung, a Juilliard student studying with Ivan Galamian. The judges had, in fact, decided that this young unknown was the only winner and it took the intervention of Zukerman's mentor and champion, the violinist Isaac Stern, to argue for the compromise that was eventually announced.
Kyung-wha's historic win, the first ever for a non-western musician, launched a legendary career. It also laid the foundation and inspiration for the astonishing talent from this part of Asia, including Kyung-wha's brother, the conductor Myung-whun Chung, and her sister the cellist, Myung-wha Chung.
Then in 1970, another major event occurred that was perhaps even more significant. The young violinist stood in for an indisposed Itzhak Perlman at the Royal Festival Hall in London with the LSO and Andre Previn, playing the Tchaikovsky Concerto. This came at such short notice that there was no rehearsal time with the orchestra so Kyung-wha just got up there and played as if her life depended upon it. My wife, Virginia, was at the concert and she still talks about it as one of the most exciting performances of the Tchaikovsky she has ever heard. The critics that night were certainly in agreement and Heifetz and Oistrakh, the then accepted gods of the violin, were invoked with very favorable comparisons, and the evening was seen as the beginning of a major career in Europe. It was also the start of a new relationship for Kyung-wha, and the LSO and Previn who took the young violinist to their hearts. Plans were quickly made to record the Tchaikovsky paired with the Sibelius Concerto. The latter was a work the violinist knew but had not performed for a long time and in flying back to London from Seoul for the recording she had to beg the use of an office at her layover airport, just to get in as much practice of the work as possible. If you listen to these two recordings today they remain as fresh, musical and extraordinary as the amazing events surrounding her of 1970.
I heard her play live for the first time in Cardiff in 1971 with the virtuoso showpiece Lalo's Symphonie Espagnole. I was totally smitten. This was a truly great violinist but also much more than that, a communicator, whose physicality when playing was unprecedented in my experience. She played with unbridled passion, making every note, every phrase something special, imbued with a type of energy and commitment that I had seldom heard.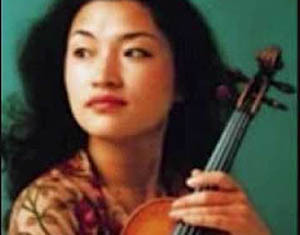 I have listened to her many times since in most of the great concertos and in one or two recitals including one devoted to the works of Kreisler celebrating his centennial in 1974. I remember the Elgar Concerto in Liverpool where she played this most demanding of concertos for the first time, exploring its vast emotional range in a reading full of musical eloquence. (You can hear this in her recording for DECCA.) Having conquered the heights of this massive work she left the stage to huge applause and was then heard to give a vast scream in the wings, not from frustration or anger, but just to release the tension of making it through this marathon work. This seemed to make the evening even more personal and special.
Then there was the Brahms Concerto, which I heard her play many times and each time it grew in intensity. A friend of mine commented after one performance that she played from the depths of the soles of her feet connected to the inner earth, and I have always found this a very accurate description of her music making. It's the duende that the Spanish apply to the most special artists.
In September 10, 2001, I heard her in the Sibelius Concerto with the Oregon Symphony in Portland, which I was then running. She played with the same passionate commitment you find in her recording from 1970. The next morning, September 11, I had to call her at her hotel with the news of the attack on the Twin Towers. It was early and she didn't know about the tragic events and pain and anxiety were suddenly there in her voice. But that night she played the concerto again with the orchestra for a bereft public contending with its own grief and needing music more than ever before. She gave the performance everything and then wanted to know if she could do more to help.
In 2005, she suffered an injury to her hand and announced that she would be retiring from the concert platform. Even though she had recorded extensively including all the major concertos, losing her live presence on the concert stage was the saddest deprivation.
But then in 2010, Kyung-wha reemerged and since then has been making a comeback. This has led to the above mentioned project and recording, the complete Bach Sonatas and Partitas for solo violin. These works represent something so special in the life of a performer. Perhaps they are the zenith of any career but without doubt to record them is something of a unique challenge and privilege.
I listened to this new recording and was deeply impressed and moved by her reading. It should be stated immediately that early music performance practice does not inform these readings at all. This is Bach in romantic style, so don't expect the sort of approach Rachel Podger--a violinist I also greatly admire but for other reasons--gives to Bach. Kyung-wha's reading has a wonderful authenticity, beauty of sound and phrasing and a heroic aspect, which you associate with the great violinists of the past. Maybe there is an echo of Joseph Szigeti with whom she studied in Europe after Julliard. It is a recording we should welcome not just as an addition to the catalogue but also as an announcement of the return of one of the greatest talents of her generation. She will be performing the complete Bach in many recitals around the world over the next few months (in Asia in December and January; in the UK and US in May) and I for one will make certain to attend and hear her play these works that obviously have guided her spirit for so long.
In May 2015 at New England Conservatory of Music in Boston I had the great pleasure of awarding Kyung-wha an Honorary Degree for her services to music, an award that she received with charm and humility. But it was the response from the Korean students in seeing her at NEC and having her on the stage of Jordan Hall, that was truly remarkable. She was greeted as their hero, their inspiration, a legend, a shining example of violinistic talent, and most notably the first from their country to conquer the world and find a place on the international stage. Many of these Korean students have talked with me about the gender and racial prejudices that they still encounter in the music world. Their stories fill me full of disappointment at the behavior of others. I do not know if Kyung-wha experienced this as well when she forged her early career, but as the first, she remains the inspiration for this new younger generation of wonderfully gifted artists who have hopes similar to hers in 1967.
After receiving her Honorary Doctorate she sat on stage with the other recipients and members of faculty demonstrably enjoying the positive energy that makes any Commencement Day so very special. One young musician from Seoul as he walked past her onstage to receive his degree just could not resist the moment and stopped to take a selfie with her. She seemed to relish every second of this inclusive and humorous act of total opportunism. It was my favorite part of the day and loved by everyone. I am so delighted that this great artist and her joyous musical spirit are back with us wanting to play and contribute as much as ever.
Calling all HuffPost superfans!
Sign up for membership to become a founding member and help shape HuffPost's next chapter