When I was young I had an aquarium. It sat next to my bed and held numerous communities of fish. Angel fish, goldfish, guppies, neons, black mollies, just to name a few. Every now and again, usually in the night, I'd hear a fish jump from the aquarium. An escapee was somewhere, out there, gasping for life.
Today I revisited my aquarium, the one I live in. It too is full of communities of diversity. I swim around taking care of my responsibilities, cleaning up my waters of "stuff" and overall enjoying the currents I'm caught up in.
While walking through a store today, I felt it... that urge to jump out of the aquarium. I immediately knew what that meant. I'd jump from the safe waters I had grown up in into the abyss, the unknown. It took me by surprise. No map to follow, no recon to rely on from the outside except what I'd read or heard about. The urge is strong.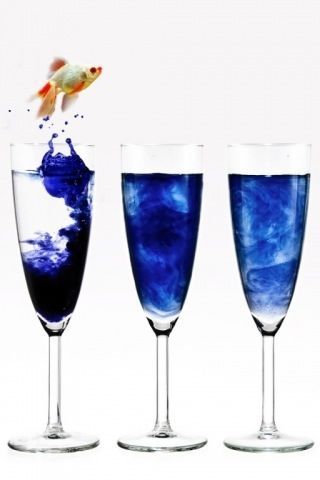 Reflecting back, I wondered who were these brave fish that swam in my aquarium? What was their destiny, and did they fulfill it? Did they jump for me to have that same courage, to show me the way, to literally jump out of their life line into uncharted territories. Had they been tutored to do this? Was there a kink in their DNA chain that made them "different?"
Running into the corner display, I was brought back to present moment. "What are you going to do?" I hear myself ask. "It's your turn." I continued pacing the aisles as a fish does when looking for its next prey. "What am I going to do? What am I going to do?"
"OMG!" I realize, I threw those fish back into the water when I was young. I'd get up and find them laying on my bed or on the floor flapping around. I threw them back into the aquarium. Did I change their destiny? Did I stop their transformation into a reptile? Did I save their life?
"You'll never know," I heard myself say. "What are you going to do now? It's your turn to find out what you'll find out." As I walked to the register, I looked at every person in the store with a searching yearn to find my mentor. All ages, genders, cultures were shopping today. Here in my community of diversity that I swim in, I found one -- one who seemed to have a clue for me.
It was a young "fry" in her 20s. She was texting me about an adventure she was having with her mentor. She had jumped and was sitting on a yacht in a far off country I had only dreamed of visiting. She was there. She was there because she said yes two days before when her chance came to jump. She was sending me videos and pictures of beautiful, calm, blue waters.
Calling all HuffPost superfans!
Sign up for membership to become a founding member and help shape HuffPost's next chapter