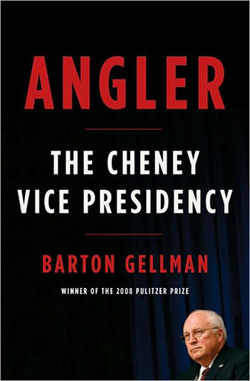 TITLE
Angler: The Cheney Vice Presidency
AUTHOR: Barton Gellman, Washington Post Pulitzer Prize Winner.
GENRE
Biographical History
LENGTH
13 Hrs, 40 min. - Unabridged - 11 CDs or Download
PUBLISHER
Penguin Audio
NARRATOR
Brian Keith Lewis, Rogue, Journey, Triptich
COMMENT
The Secret Service call him Angler because he fishes. In this audiobook, you'll hear why so many call him the most significant vice president our country has experienced - ever.
Whether you think of Dick Cheney as Darth Vader or Jack Bauer, this riveting account of the Bush-Cheney years may broaden your perspective as to the WHY of it all. Angler offers a faceted view of the man, his motivations and his relationship with his president.
The 'what' parts of the Bush years are well covered in other books. The focus here is solely on Cheney and his supporting players, the Scooter, David Addington, the indispensable John Yoo and all the others who created the legal justification for expansion of presidential powers, illegal torture, military tribunals, domestic wire tapping - all of it. By doing so, everyone was guaranteed immunity from any future prosecution. Sweet.
After 9/11, it was all about Cheney's goal of a unitary executive, meaning sole power rests with the president. "No law can place limits on the president's ability to protect its citizens," wrote Woo - sort of what Nixon said to David Frost, "If the president does it, it isn't illegal."

If you subscribe to the Vader view of Cheney. Gellman's coverage certainly re-enforces it, starting with the shadowy way Cheney became Bush's VP. As for the rest of the shenanigans, "Some of what they did was breathtaking in its dishonesty," writes Gellman.
But there's another angle to this Angler - Cheney as Jack Bauer, the consummate fighter who will do most anything to protect his country from another attack, a realpolitiker who subscribes to Churchill's war-time view that 'truth must be protected by a bodyguard of lies.
Cheney's flat, sober delivery and half-smile may be fodder for comedians but it's absolutely intimidating to those who meet with him - no excess, straight to the point, he gets it and moves on. He believes in the hard power of compulsion rather than the soft power of persuasion, writes Gellman.
Bush may have provided the bravado for the Iraq invasion, but Cheney and company provided the raison- d'etre. We went to war because we could, Gellman reports. There were stronger enemies in Iran, Pakistan and Saudi Arabia, but nothing could be done about them, so they picked the one they could fight. Iraq was 'a demonstration war' Cheney believed, a message to countries that sponsored terrorists that the U.S. will come after you.
As to the Bush-Cheney relationship, Gellman does not subscribe to the Bush-as-puppet model. Bush was The Decider but his impatience with wordy reports and a decision-by-gut style allowed Cheney to control input and output. Colin Powell, Condi Rice, Christie Todd Whitman, and others around Bush, often did their best to counter the vice president's positions but they were dealing with a black belt Washington insider who knew how to work the system. Gellman's reporting concludes that the secret to Cheney's inside success was his prodigious talent and his ability to outwork and out maneuver everybody around him.
He also concludes that Cheney is fundamentally honest about his objectives. Indifferent to public opinion, he believes the country is in mortal danger and he knows better than others how to avert it. It all came at considerably high cost though - to the country and the fisherman. This Angler had eight heart events in eight years.
BOTTOM LINE
Well documented, well written, well recommended.
Popular in the Community