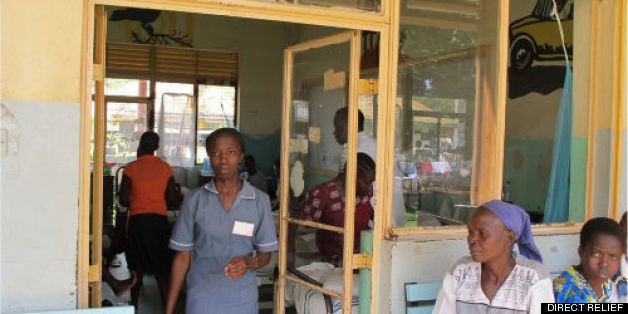 This post is part of the Global Mom Relay. Every time you share this blog, $5 will go to women and girls around the world. Scroll to the bottom to find out more.
I'd like to tell you a story about two mothers. Both were pregnant with their first child, and both were anxious and thrilled as they approached their due dates. When it came time to deliver, both women went into labor, with the universal pain that all laboring women face. After 24 hours, neither had delivered; both labors had become obstructed. And it's here that their stories diverge.
One of those women was me. After hours of pushing and a "failure to progress" inside a pristine delivery room in a New York City, my obstetrician finally ordered a C-section. I left the hospital a few days later with a healthy baby, who is now a thriving, freckle-faced teenage boy.
The other woman was a young mother named Beatrice, who lives in western Kenya. She had nearly completed her schooling when she became pregnant with her first child. When it came time to deliver, Beatrice gave birth at home in the presence of a traditional birth attendant, as was the local custom. But then something went terribly wrong. Beatrice's labor had become obstructed, and she endured two days of excruciating, prolonged labor before her situation became life-threatening and she was taken to the nearest hospital. By the time she arrived, her baby was stillborn and she had begun to leak urine.
The prolonged pressure from her baby pushing against her birth canal had caused tissue to die away, creating a small hole -- a fistula -- the cause of her incontinence.
It is this injury that my organization, The Fistula Foundation, works to treat. 500,000 women in the developing world suffer from obstetric fistula, and live lives of shame and isolation because others cannot stand their smell. Husbands often leave and communities frequently abandon these women, who have done nothing more than try to bring a child into this world. This number grows by 30-50,000 new cases every year because there simply are not enough trained surgeons available to provide fistula repair surgeries that only cost $450 on average -- the only cure for obstetric fistula.
Beatrice was lucky. Several of the staff at the hospital had recently received training in obstetric fistula management at a workshop sponsored by The Fistula Foundation, run by our partner, Direct Relief. The staff understood what caused Beatrice's injury, and knew exactly where to refer her for treatment.
One month later, Beatrice received fistula repair surgery at a hospital about two hours from her home. Today, she is cured of her incontinence and busily completing her studies.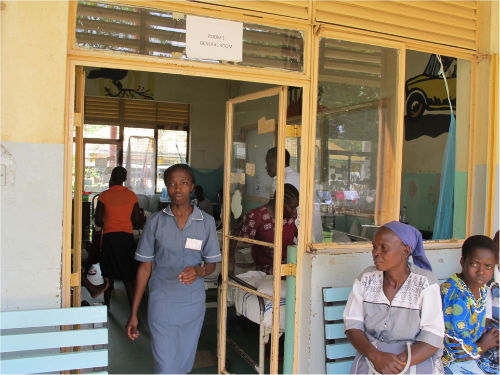 Fistula post-operative care. Photo courtesy of Direct Relief.
Beatrice's story is a story of hope. For women unlucky enough to give birth in places where emergency obstetric care isn't available, the best possible scenario is for a woman with fistula is to be identified and referred for treatment as quickly as Beatrice. Obstetric fistula had a minimal impact on her life, but most women who suffer this injury do so for years. Decades, even.
If Beatrice and I had changed places during our deliveries, the woman leaking urine in this story could have been me, and my son would likely have died as Beatrice's child did. If you think about it, this could perhaps have been you or someone you know.
That women still suffer today from an injury preventable elsewhere is a heartbreaking reality that The Fistula Foundation fights every day to change. We help end the suffering caused by obstetric fistula by working with dedicated corporate partners such as Johnson & Johnson and raising funds that go directly to our vetted partners in the field, so women like Beatrice can receive the free surgeries they need.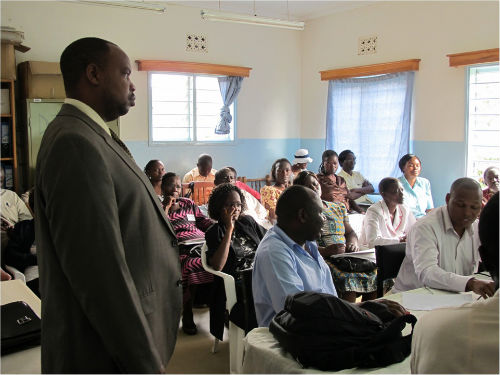 Health provider training. Photo courtesy of Direct Relief
Not every woman is lucky enough to give birth in a modern delivery room, like I was. But no woman, anywhere, should have to suffer a life of misery and isolation simply for trying to bring a child into this world. Obstetric fistula has affected mothers since women began giving birth, and it will continue to happen until all women have access to high quality maternal care. Until that day, we'll continue to work with partners like Direct Relief to ensure that women who develop this injury can be treated as quickly and efficiently as Beatrice.
Each time you share this Global Mom Relay piece on Facebook, Twitter, or Email, or donate $5 or more through clicking on the above graphic, a $5 donation (up to $500,000) will be donated by Johnson & Johnson and the Bill & Melinda Gates Foundation to the Mobile Alliance for Maternal Health(MAMA). $5 provides a mother six months of mobile health messages to guide her throughout pregnancy and baby's first year. Join us by sharing it forward and unlock the potential for women and children around the globe. For more information, visit www.unfoundation.org/globalmomrelay. The United Nations Foundation, Johnson & Johnson, BabyCenter, The Huffington Post, and the Bill & Melinda Gates Foundation created the Global Mom Relay, a first-of-its-kind virtual relay with a goal of improving the lives of women and children around the globe.
Related