This post is based on research and case studies by opendorse.
In Part One of this two part series on the best sports endorsements on the web, I took a look at three creative and results-driven campaigns that leveraged influential sports figures for solid business results.
Largely thanks to social media's effect on leveling the playing field, many of the best sports influencer campaigns of the past few years have effectively harnessed social media and "power middle influencers," or sports figures that have smaller circles of influence than the big-name celebs. However, just as much, or more, sway within these circles. In fact, a properly run power middle influencer campaign can produce results 16x higher than a traditional marketing campaign, according to Social Chorus.
From viral videos to a Twitter-driven race to comedy-infused socks, each of the previous campaigns highlights how to effectively harness the star power of big name celebrities and the community power of social media.
Here are two more campaigns that made waves by working with power middle sports influencers. These campaigns are not backed by multi-million dollar marketing budgets, nor do they work with tier one sports stars. These come from smaller startups that built smart relationships with influencers and relied on social media for exposure in their respective local markets.
4. Mobile App Fannect Is Downloaded Hundreds Of Times, Thanks To Four Sports Influencers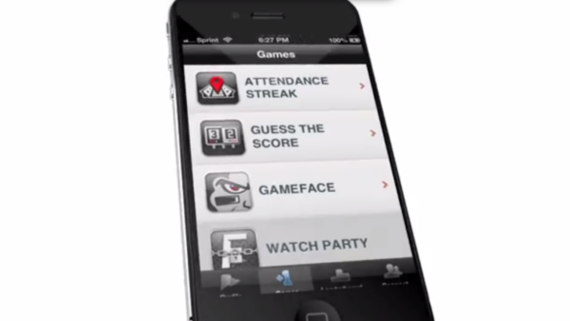 Photo courtesy of Fannect
As an unknown brand new to the marketplace, it can be difficult to connect with potential customers. But by using local sports figures to reach a local audience, and by distributing the message on social media channels only, mobile sports app Fannect was able to do just that.
Fannect determines which teams have the best fans, and where each fan ranks on his or her team's leaderboard.
The challenge for Fannect was in getting their app in front of the right audience. Generalized digital marketing campaigns, even targeted Facebook ads, couldn't ensure that the most die-hard sports fans would discover the app. So instead, they turned to four local sports figures -- from Eric Decker of the Denver Broncos to Golden Tate of the Seattle Seahawks -- to endorse their app via Twitter and help spread the word to the right audience.
Since the four athletes were connected to hundreds of thousands of fans, Fannect was able to mobilize nearly 200 sports lovers to download their app - the single most cost-effective download campaign they've ever run. The campaign reached 727,000 fans and produced 1,564 engagements as well.
Part of the success of this campaign was in the type of content provided to the sports influencers. Fannect didn't simply say "go tweet about our app!" Instead, they provided each athlete with an abundance of details about their brand so the athletes could engage in conversations with fans that they otherwise wouldn't have thus creating additional and impactful content at no extra cost.
5. iXL Do U Uses Twitter and Influencers To Introduce Their New Sports Drink To Consumers In Kansas
Not every sports drink brand is a Gatorade, but that doesn't mean they can't get influential sports stars to endorse their product.
Without a huge marketing budget, iXL Do U sports drink chose to enlist the help of three local athletes in Kansas to spread the word. These athletes didn't necessarily have name-recognition outside of Kansas, but that didn't matter -- iXL wanted to laser-focus their message.
The campaign saw 15 Twitter endorsements from three up-and-coming Sporting KC sports stars: Matt Besler, Kevin Ellis and Jon Kempin. Their tweets about iXL reached over 87,000 consumers, and it only cost $1,000 and a few cases of the product as samples -- not exactly breaking the bank, even for a new startup!
The endorsements resulted in 227 people clicking over the iXL's website to learn more about the product, at a total cost per engagement of $3.08. Plus, the iXL team was able to use the athletes' endorsements as part of their sales pitch to local retail outlets interested in carrying their product.
Calling all HuffPost superfans!
Sign up for membership to become a founding member and help shape HuffPost's next chapter