This summer I helped change the world. Well, not really, but I took part in a movement that is. I was in a summer program called Girls Who Code, which gives high school girls a crash course in how to program in order to close the gender gap in the tech world. It was a ton of fun, and I found out how important it is that girls code.
Girls are turning their backs on tech - and we have to change that. The percent of women working in tech has decreased since the '90s. I can hardly believe this! How on earth have technology fields become more male dominated as more and more women join the work force? In the '90s women made up more than a third of the tech workforce, but that number has dropped to just over a quarter according to the US Census. Did you know most of our workers are now women? Over 57% of the professional workforce is female according to the Department for Professional Employees. However women make up only a quarter of all jobs in computer and math professions.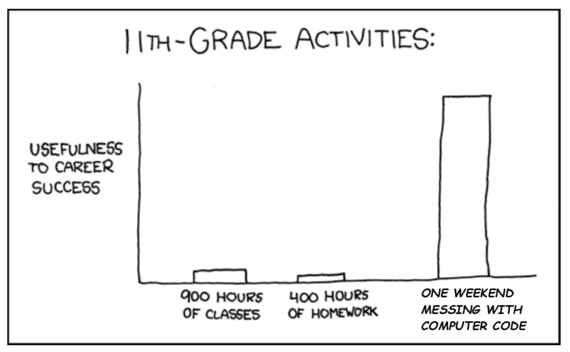 Image from xkcd.com
There are five reasons that all girls should learn how to code.
Great future jobs in every field - art, medicine, you name it - will go to people who can code. If we want to be part of one of the fastest growing job markets out there we need to jump on board! Over the last ten years growth in STEM jobs has been three times faster than growth in non-STEM fields according to US Department of commerce. Women will never be able to keep up with men in the professional workplace if we don't join the fastest growing fields.
Coding is the new literacy! Just like hundreds of years ago, people who could read and write controlled the future, now those who are at home with tech will shape the world we live in. You can use coding in every facet of your life, even if you don't enter a job field that involves coding. You can use coding to make your own website or to program games. You can animate your YouTube videos, or make graphic designs. Programing is now being used in every profession, including medicine and airplane design. I even used coding to format this article.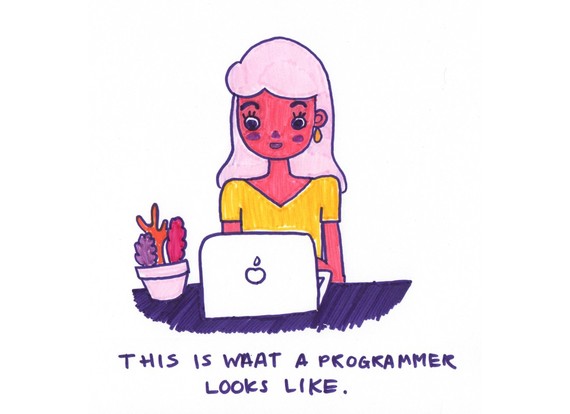 Image by @sailorhg
The tech job world is amazing! You could become a white collar hacker, where you hack for a company to make sure their site is secure. You could work for NASA, Homeland Security, or Google. You could design your own app and make millions. You could use coding to do anything you can dream of.
Coding isn't hard. You could learn to code on YouTube, in a Girls Who Code club, you could take a free course online on Code Academy, you can even just Google how to code - Google is your friend in all things related to coding. You learned to read, you learned to drive (or soon will) - now learn to code.
Coding is awesome! You can have fun by creating your own website, programming a robot to go get the remote for you when you're laying on the couch, photo shop pictures to change the color scheme to something better than the Instagram filters, create your own video game where you have to run away from your favorite Tv character, and so much more. Coding allows you to realize your wildest dreaming, create anything you can imagine. Coding allows you to rule the world!
Calling all HuffPost superfans!
Sign up for membership to become a founding member and help shape HuffPost's next chapter