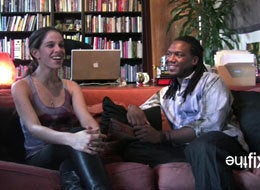 Now in honor of the Valentine's Day...the perfect gift to be psyched about.
Question: Would you go to for a reading with an intuitive counselor with your lover, regardless of how long you've been together?
Answer: Yes. While some may be skeptical of intuitives in general, I'm going to take you to meet Tony Leroy, a true intuitive counselor. Over the past three years, his predications have been right on with me--profoundly so. His insight and sensitivity humanizes this unexplainable realm. So much so that you can't help but take comfort in the fact that there's more to life than what we see. A favorite among boldfaced names in fashion, entertainment, finance, and what-have-you, he so cool you can't help but to want him as a close friend. A total sweetheart, he's also very matter of fact. He's not going to tell you something bad is going to happen, how to invest in the right stock, or the name of the person you're going to meet. In fact, to quote his website, "If you want someone to tell you the winning lottery numbers or promise you'll find true love, there's an 800 number somewhere out there for you."
Here's what he will do. He'll tap into your inner self, whether you're aware of it or not, and teach you to listen and trust your instinct. Each reading begins with a sketch of your body where he marks areas inside that may have and might cause trouble for your health (he pinned my endometriosis down as well as told me that I might have a little pesky ovarian problem down to the exact one), he'll then tap into your energy and discuss your present and future acknowledging elements of the past blocking you from doing want you should, and finishes up with a tarot card reading where you can ask about the people in your life.
So if you've opened up your heart to another, why not do so with your mind?
We asked people, both attached and unattached, if they'd be willing to go to an intuitive counselor. Some were skeptical for reasons ranging from superstition to defensiveness. Others thought it would be fun. Interestingly enough it was the unattached that understood the true beauty of it. The art of learning your own power to create the life you want.
He does readings in person in L.A. and New York and offers personal phone sessions. You can also check him out on Lime radio.
To book either an in-person or phone session with Tony, you can either call 877-818-2700 or email him at appointments@tonyleroy.com . For more information, go to tonyleroy.com.