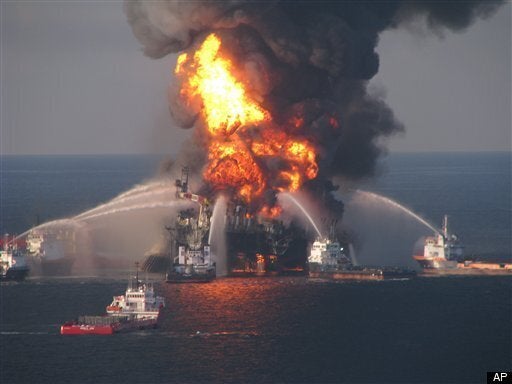 Like most Americans, I am horrified by the unending catastrophe in the Gulf of Mexico. Even with the latest containment cap in place, oil is likely to hemorrhage from BP's ruptured well until August or beyond.
As I try to convey in my new video, "The Fix," I am appalled by what this spill is doing to Gulf fishermen, families, communities and wildlife. But I am also disgusted by what it reveals about the oil industry's role in American political life.
With their deep pockets, oil companies have purchased loose safety regulations, slack oversight and support from key lawmakers. Last year alone, the industry spent a $168 million on lobbying -- $16 million of which came from BP. The blowout on the Deepwater Horizon is a symptom of this undue influence.
It is time for the collusion to stop. As long as it continues, Americans will pay the price in the form of devastated ecosystems and a fossil fuel addiction that benefits oil companies, not ordinary citizens.
I know what it's like to have a job that depends on towing the line.
I worked in the oil fields when I was a teenager, and my dad worked in the accounting department of Standard Oil. I remember the uneasy feeling that resulted when I heard company representatives claim oil exploration was great for American society, yet that contrasted with what I was actually experiencing on the job. The truth was that oil exploration was great for the oil industry.
Long after I left the oil fields, I felt disgusted by the way oil companies advertised themselves as conservationists. BP plugged itself as "Beyond Petroleum," yet oil still accounts for the vast majority of its business. BP claimed its technology was safe, yet 11 men are dead and oil still permeates the whole coast years after the "cleanup." Furthermore, the company has a long history of safety violations that have resulted in other deaths and environmental destruction. BP also said in 2008 it could handle a spill 10 times the size of the current disaster, yet its attempts to end the gushing in the Gulf have failed.
We need to stop buying into these fictions, and the BP spill is our reality check -- a reminder that the oil industry looks out for Number One in the Gulf, in the Arctic and in Washington.
Recently, President Obama announced several measures that will reign in Big Oil's influence. He strengthened regulations governing offshore operations and called on the Justice Department to examine BP's role in this fiasco. He also imposed a moratorium on new offshore drilling while a commission investigates the spill. And although I welcome the president's initial steps, some of these measures need to be stronger.
Ultimately, the only way to break the industry's hold on political decision making is for America to shift to more fuel efficient cars, more public transit and other technologies.
These are the solutions that will break America's addiction to oil and put more money in consumers' pockets. Right now, there is a clean energy and climate bill before Congress that could help unleash these solutions. The time for passage of this bill is NOW, not later.
I urge you to use your political influence -- your right to contact your elected officials -- and click here to tell your senators to vote for it. Citizen outrage and citizen action are some of our best tools for combating Big Oil's dirty influence.
You can also learn more about it in this short video I produced with NRDC:
Popular in the Community