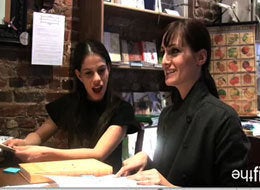 Letter writing. Admittedly a stress-inducing activity.
First, it's the what-to-write without sounding like a fake or sap. Then it's the reality that there's no spell check. And then there's the reality that your lovely letter might be just end up in the trash.
But sending a handwritten note doesn't have to be such a, er, waste of energy or time. The trick? Sending something that is both memorable and chic.
On this episode, we got the Beth and Amy Salvini, the creative owners of Greenwich Letterpress in the West Village, as well as our favorite author Lesley M.M. Blume to give us the skinny on how to get your character on paper.
Be creative. There are no rules. Remember personal stationery is a great way to celebrate your personality.
Be graphic. It's all about artwork. It's the latest trend in personal stationery. Ranging from the cute to quirky, images are the best way to add that wow factor to your notes. And similar to home design and fashion, the latest visual is birds. The most popular choice being owls. As a figure of speech, it could be a wise choice.
Play with layout. Don't be afraid to put a cool pattern on the back of your note. Or sticking it along the left side. A fave option used by Lesley. It's unexpected and can make for interesting eye candy. Another cool option is doing a postcard format.
Putting your name on the line. Again, monograms are great but can be boring. A fun thing to do is to use your first, middle, and last name. Why not?
Color choice. For the less daring, you can always do a standout color with your name. Like say, red or bright pink. Never use something too white. Fingerprints can make it look sloppy. A pearl is the best alternative to bright florescent white because it wears well.
Font choice. Again, it's personal preference. Some great options are as follows. A great serif like Garamond is versatile and classy. Great for using with titles. For something less stuffy, there's Mrs. Eaves. Or do your name in all lowercase. For business, a nice clean fresh choice is Copperplate Gothic.
Don't waste. Make sure your stationery store of choice uses environmentally friendly printing and paper. At Greenwich Letterpress, for example, they use all wind powered energy sources. And do yourself a favor. Check out GreenDimes will make sure your name stays off junk mailing lists. For a small fee, you'll be helping the environment.
So put your pen to your paper. Email and text messaging is just so last year.