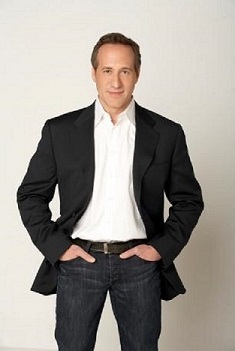 Photo: Winterhouse Studio
Joseph Finder is known to any reader who loves thrillers. His first book was published when he was only 24, and he's gone on to write critically acclaimed thrillers including Extraordinary Powers, The Zero Hour, and High Crimes, all of which became Hollywood films. In 2004, his novel, Paranoia, became a huge bestseller. His awards include The Barry, Gumshoe, and The International Thriller Writers Award for his novel, Killer Instinct. His new novel is The Fixer.
The Fixer focuses on Rick Hoffman, who has just lost his job as a reporter, has no income, and is forced to move back to--and renovate--the home in which he grew up. It has been empty and undergone decay since his father has been lying mute in a nursing home, paralyzed by a stroke nineteen years earlier.
When Rick begins tearing apart the house, he discovers something that will alter everything he thought he knew about his father. It will also irrevocably change his life. The discovery leads to a chilling chain of events filled with intrigue, intimidation, and threats to everything Rick values--including his life.
The premise of a son discovering something of his father's in the attic of the house they lived in intrigues me. How did that come to you?
The initial premise was a story about a guy down on his luck, who discovers a huge pile of cash in the old family house. While I was writing the book, my father died. He was nearly ninety seven. It changed my life in ways I'd never expected. I realized all I knew about my father was what I saw in the family. There are aspects of your parents you never know. They had lives before they had kids. The Fixer began to change direction on its own; it turned into a story about a son discovering what his father's life was really about. That's what I was going through myself. It's unusual for my personal life to intrude on my fiction, but it happened in this one. This is why I consider The Fixer the most personal book I've ever written.
Even though he didn't utter a single word, Rick's father became a real character in the novel.
That's what I hoped would happen. Rick's understanding of his father morphed from scene to scene. I really hoped that in the process of this metamorphosis, the reader would get to know the father just as Rick was discovering more about him. It was a slow reveal.
At the outset of The Fixer, Rick goes on a date with an old flame he hasn't seen in years. He makes a fool of himself, but as the novel progresses, he changes. Is it important for a character to evolve in a novel?
It depends on the kind of novel you're writing. When you write a standalone as opposed to a series novel, the protagonist has to be transformed by the story. If that doesn't happen, the book isn't really interesting. My standalones are always about my characters facing something completely changing the meaning of their lives. It was important to me for the reader to initially see Rick as someone who'd lost touch with his values, then appreciate the dramatic transformation he makes over the course of the novel.
As occurred in Suspicion and Killer Instinct, one small incident or decision changes the course of a life. Will you talk about that?
As the book opens, Rick makes one small move--he breaks open the wall at the back of a closet--and discovers a vast pile of cash. He's then faced with the dilemma: What do I do? Is this mine to keep? Because he decided to start renovating the house, events occur and his life is put in jeopardy.
As a general rule, do you feel a small incident mushrooming into something far larger is a good model for a thriller?
That's the sort of thriller I most enjoy. I want a reader to go on a wild ride--a rollercoaster. As a reader, I identify most with the everyday decisions we make, and how one small choice can change your life. It's the sort of story arc I'm interested in. It's not the only way to write a thriller, but when a huge transformation derives from a seemingly minor decision, a reader can identify very closely with it. It's Hitchcockian. I fully admit I steal from Hitchcock. (Laughter) I love when an ordinary man makes a small decision and his life is turned upside down.
Your novel, Killer Instinct, was written in the first person. The Fixer is written in the third person. How do you decide which approach to take? What are the advantages of each?
I write my Nick Heller books in the first person, but bring in third person chapters for other characters. I do that because I want the external sense of threat to be there, and do it by using the third person for another character. The Fixer could have gone either way, but I decided on the third person because I wanted the reader to witness Rick's transformation. I didn't feel a first person characterization would allow the reader sufficient access to that evolution. I wrote it in what I call a close third person, which achieves the voice and mindset of a first person narration.
As for the advantages of each kind of storytelling: with a third person narration, you can show simultaneous action and can show a threat to the protagonist in a way you cannot in a first person narrative. In the third person, you can also have the narrator, in essence, become a commentator. On the other hand, a first person narration feels immediate to the reader. One of the most appealing things about a first person story is you're literally in the head of the main character. It feels as personal and real to the reader as it does to the character. The first person is immensely attractive as a narrative tool. The question is, are you willing to give up the advantages of the third person narration?
What's your writing day like?
I'm very routinized. I have an office a few blocks away from my home. I usually get there by eight in the morning, and write until midday. I take a break to work out or have lunch with someone. In the afternoons, I tend to do the more business-oriented aspects of my job. Usually, in the late afternoon, I go back to writing.
What has surprised you about the writing life?
Many things have surprised me. One is how much I like my fellow writers. When I entered this field, I thought it would be very competitive. But I found, especially with the International Thriller Writers, my fellow writers are really supportive. They're great friends.
I'm surprised by the fact with every book I start, I feel like it's the first one I've ever written. As I begin each novel, it's as if I'm back at the beginning of my career. I often agonize at the early stages of a new book: do I really know how to do this? What am I doing? I'll say to my wife, "I just don't qualify. I don't know what I'm doing anymore." And she says, "This happens with every new book." But eventually, something kicks in and I'm able to go. The bottom line is: it doesn't get easier. I think as you progress in your career, your standards get higher. You expect more from yourself. Maybe it's necessary to make sure you're doing your very best work.
It's important to me that each of my books feels fresh. I don't ever want to coast along. I don't want to do the same book twice. I thought when I started writing, it would get easier, and I would turn out book after book. But there are pressures I never expected in the writing life: I feel pressured to make each book better than the last one, or at least better in some ways.
What do you love about the writing life?
One of the things I love about the writing life is that it's a creative outlet. I don't really have hobbies. Many writers I know don't have hobbies, either. Writing a book is so creative and takes so much out of you, it can consume you. I love coming home at the end of the day feeling blissful after having written well. Somehow, I got through it; I did it.
I also love being my own boss. I don't think I'd have worked well as a company man in a hierarchy. I really appreciate the autonomy that comes with writing. I love being an entrepreneur. I make my own business decisions: will I convert my website to a mobile-friendly website? Will I send out newsletters? And there are many other decisions. I get to make them all.
If you weren't a writer, what would you be doing?
I think about that. If I weren't writing novels, I'd probably be writing television shows.
What if you couldn't be a writer of any kind?
I would probably be some sort of movie producer. I would have to do something in the entertainment business, which is actually what I do now.
Congratulations on penning The Fixer a gripping novel beginning with an inadvertent discovery resulting in consequences far beyond the protagonist's (and reader's) wildest imaginings.
Mark Rubinstein
Author of The Lovers' Tango and Return to Sandara
Popular in the Community