"One can never be sure how much love you'll receive, just keep pumping it out... it could open a door," Cy Curnin sings in "Shaman," a standout track from The Fixx's new album, Beautiful Friction.

The lyric describes the position in which so many artists find themselves these days -- pumping out songs to a digital music industry and fractured audiences after decades of major-label deals and past glories (The Fixx have had nearly a dozen U.S. hits, although only "One Thing Leads to Another" pierced the top 10 [#4] in the Billboard Hot 100 singles chart in 1983; Curnin's pointed lyrics and guitarist Jamie West-Oram's soundscapes maintain a sizable cult following today).

You might be thinking, don't make me read about another retro act trying to make a buck off a summer tour!

I get it. The Fixx has just embarked on a 30th anniversary jaunt that will journey from huge outdoor festival crowds to Brooklyn's famed Knitting Factory, a Holiday Inn Crowne Plaza ballroom, and sundry places in between. But Beautiful Friction deserves some serious love, if not for just how darn good it sounds, then at least for reinforcing the idea that a rock 'n' roll band can remain a viable -- and influential -- creative unit long after its heyday.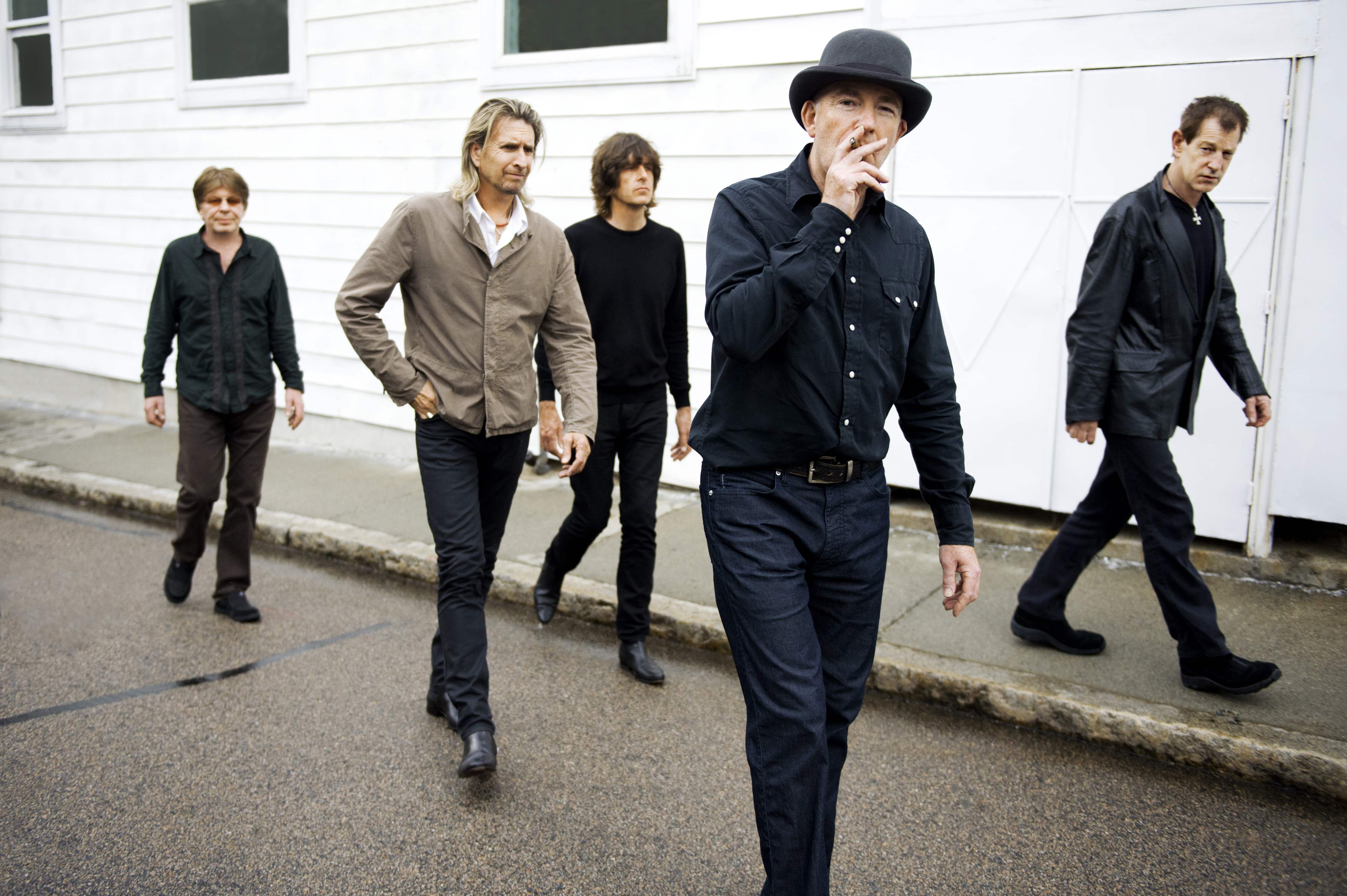 The Fixx. From left: Woods, Curnin, West-Oram, Brown, Greenall. Photo Credit: Liz Linder. Courtesy of The Brookes Company.
During a recent show at Atlanta's Summerfest, the same Fixx lineup that created the seminal album Reach the Beach seamlessly slipped its new tunes into a set list of standard-bearers ("Saved by Zero," "Red Skies," "Are We Ourselves?"), with drummer Adam Woods and bassist Dan K. Brown on board, plus Curnin's dramatic poses, keyboardist Rupert Greenall's flourishes, and West-Oram's guitar-hero stance intact.

"We never thought, 'Are we pop or are we rock?'" West-Oram tells me of the band's sound, which today still feels relevant as it straddles the line between atmospheric grooves and new wave beats. "We just did what we did."

As for the lyrical charge of classic singles such as "Stand or Fall" or "How Much is Enough," Curnin says, with a hint of sarcasm, "We've been a bunch of wise old guys since we first got together."

If the current mood of tough economic times and political vitriol can be inspirational, then the band's brand new single, "Anyone Else," should have universal appeal.
The Fixx has figured out a way to channel the news ticker into one of its most memorable melodies. "Anyone Else" reflects the frustration -- and defiant optimism -- of the 99 percent with a killer chorus about embracing individuality. The Occupy Movement, The Hunger Games, and the fight over Prop 8 all make cameos in the video (world premiered above) directed by Jon Tod Collins.
"The 'Occupy' movement came along, and -- for me -- it was a welling up of people realizing what humanity could aspire to," Curnin says.
Beautiful Friction's social overtones reflect Curnin's realization "that, for the first time in a long time, there's a real sense of change going on in the world."
Between projects, Fixx members retreat to their lives, which may be why the band's new music feels in touch with the times. Curnin runs a sustainable farm in France; West-Oram is a musicologist, composer and a frequent contributor to other projects (remember this Tina Turner number?); Woods is a bicycle enthusiast who owns a shop called Lunar Cycles, and longtime bassist Dan K. Brown and keyboardist Rupert Greenall remain busy with session and studio work. Curnin and West-Oram also travel frequently on behalf of the cancer charity Love, Hope, Strength Foundation, cofounded by Mike Peters of The Alarm (and now Big Country), with whom they've climbed some of the world's tallest peaks and appeared on the Palladia special, Everest Rocks.
As for Beautiful Friction, Woods says that a little airplay couldn't hurt, but at the very least, the recording process has given the band "lots of new ammunition" for its live shows.
The Fixx isn't sure how many doors the album will open, yet open a few ears it may.
"It's like stepping off the cliff," Curnin says. "If you believe that there's a next step to take, then you won't fall."
Here's to taking that next step.
To find Beautiful Friction on iTunes, click here. For The Fixx's tour dates click here. To support the Love, Hope, Strength Foundation, click here to purchase raffle tickets to win a two-week stay at Cy Curnin's farm in France.
REAL LIFE. REAL NEWS. REAL VOICES.
Help us tell more of the stories that matter from voices that too often remain unheard.