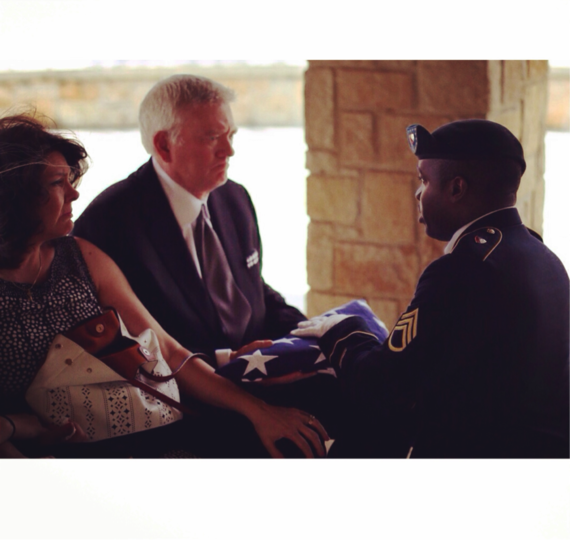 Saturday I buried my 88-year-old father, a World War II veteran who served well his nation and his God.
Dr. Arthur M. Ross, Ph.D, affectionately known as "Papaw," served well his country and his God. A Patriot who enlisted in the Army at the age of 17 to fight the Axis of Evil on the front lines in the South Pacific and Japan, he became a Pastor/Professor who has since been engaged in a life-long battle for souls, encouraging and equipping others in evangelism.

"On behalf of the President of the United States and the people of a grateful nation, may I present this flag as a token of appreciation for the honorable and faithful service your dad rendered to this nation," the soldier said.

But in heaven, The Lord said, "Well done, good and faithful servant; this eternal crown is a token of your Kingdom service on behalf of grateful saints - those I have given you, the ones with whom you shared the Gospel, your friends and family."

I am thankful for the life and legacy of my father, who in God's timing was welcomed into eternity by mother and brother, Steve, who died on the same day, June 17 - almost to the hour - eleven years ago.

My father and brother both died serving Jesus. Steve was piloting his missionary plane back from The Bahamas after delivering supplies to an orphanage, and my dad felt a compunction to share with my family the full import of the Gospel and nuance of the Resurrection over our last meal together before heading back to his apartment to finish preparing his weekly Bible study lesson for members in his residential retirement community the following day.

A noted Bible scholar and life-long student of God's Word, my father ministered right up to the end of his life. He would understand from Scripture, "You saw me before I was born and scheduled each day of my life before I began to breathe (Psalm 138: 8).

We grieve with hope, knowing they have both passed through merely the "shadow of death" (Psalm 23. My father looked forward to Jesus' promise in John 14: 3,4: "...And if I go and prepare a place for you, I will come back and take you to be with me that you also may be where I am. You know the way to the place where I am going."

Indeed, my dad knew where he was going, but more importantly he knew the way -- and spent his life sharing with others God's plan of redemption and reconciliation. I'm grateful he is finally home, in a new body free of suffering and pain.

As my family and I drove through the solemn, picturesque Dallas-Ft. Worth National Cemetery exactly one week before we celebrate the 4th of July holiday, we passed hundreds of U.S. flags standing like sentries and waving in metaphoric salute to honor my father and other veterans laid to their rest while supporting us in our time of grief.

As that powerful image seared into my brain, I never felt more proud to be an American. With newfound empathy and gratitude for the sacrifices these individuals have made in service for our country, I realized that for me,Independence Day will never again be the same.
But for my dad, a soldier of Christ, the Cross was his Statue of Liberty, with power to set the captives free, and the day we said goodbye was his Independence Day for eternity.

Larry Ross is President of A. Larry Ross Communications, a full-service agency providing crossover media liaison at the intersection of faith and culture. With more than 37 years' experience influencing public opinion, Ross' mission is to "restore faith in media," by providing Christian messages relevance and meaning in mainstream media.
REAL LIFE. REAL NEWS. REAL VOICES.
Help us tell more of the stories that matter from voices that too often remain unheard.