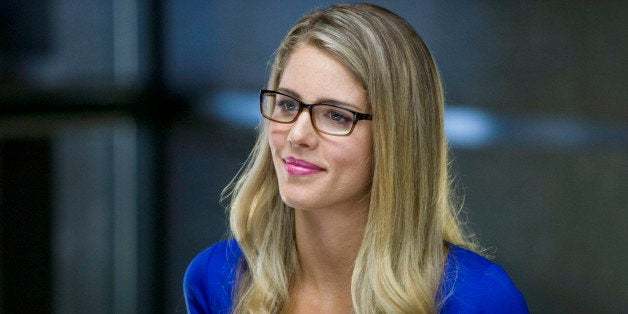 Not only will Felicity Smoak (Emily Bett Rickards) of "Arrow" appear on the fourth episode of the first season of "The Flash," but the eighth episodes of both CW shows will make up a "mega-crossover event," in the words of executive producer Greg Berlanti.
Berlanti and fellow executive producer Andrew Kreisberg, both of whom work on both shows, actually have three different classifications of "Flash"/"Arrow" interactions: "We have the cameo crossover, the big crossover and then the epic crossover," Kreisberg said. As "The Flash" revs up its engines, there will be "a few mini ones along the way," and then Felicity will be a major presence in Episode 4.
In a lengthy interview, Berlanti and Kreisberg said they understand why there is often hesitation about linking related shows too strongly.
Each drama has to "independently work and be great" on its own, Kreisberg said. But given how naturally Barry Allen, aka Flash, was woven into the second season of "Arrow," and given that the two spring from the DC Comics world, the relationship between the shows feels like a natural progression.
As Kreisberg said, "You want to feel like they live in the same universe."
The majority of my interview with Kreisberg and Berlanti will be posted closer to the Oct. 7 debut of "The Flash" and the Oct. 8 return of "Arrow." But there are a few more tidbits I want to share before the shows arrive this fall.
If you ever thought the "Arrow" flashbacks on the island were "treading water," Kreisberg agrees with you -- in fact, those were the words he used regarding some of the flashback sequences.
There were "just a limited number of characters and a limited number of things that could happen" on the island, Kreisberg said. "There were signposts that we had to avoid or not get to too fast. Some times we treaded water better than others."
But this year, part of the goal with "Arrow" is to bring in new viewers, and having a fresh set of villains and co-conspirators in Hong Kong-set flashbacks will allow the show to engage audiences who haven't checked out the show so far.
"Hopefully people who have heard about the show -- this will give them an opportunity to jump in and not feel so left behind," Kreisberg said.
More elements that new and old viewers can look forward to: Robbie Amell, the "Tomorrow People" star -- and cousin of "Arrow" lead Stephen Amell -- will play Ronnie Raymond, half of the duo Firestorm, and Martin Stein, the other half of that duo, will appear as well. Also, Wentworth Miller will play Leonard Snart, aka Captain Cold.
Last but definitely not least, "The Flash" will introduce a gay character at some point in the first 12 episodes of the season.
Berlanti noted that David Singh, a gay DC Comics character, will be part of the "Flash" TV universe: He will recur on the show and will be played by Patrick Sabongui. The producers said that in the episodes sketched out so far, "we haven't dealt with that" aspect of the character, who, in the Arrow comics, is Barry Allen's supervisor in the Central City crime lab.
But Berlanti and Kreisberg added that, in addition to Singh, another gay character will be introduced in the first half of Season 1 of "The Flash" -- a man who already exists in the DC universe (I tried to get them to name the character, but they didn't take the bait). Of course, fans of "Arrow" know that show already has a LGBTQ character in Nyssa Al Ghul (Katrina Law), who was introduced as a former lover of Sara Lance (Caity Lotz).
This is just a small excerpt from my interview with Berlanti and Kreisberg. Expect much more on "The Flash" and "Arrow" in a couple of months. To tide you over until then, check out the Talking TV podcast on Season 2 of "Arrow."
REAL LIFE. REAL NEWS. REAL VOICES.
Help us tell more of the stories that matter from voices that too often remain unheard.