Many are calling it "Colombias' Katrina". 6 months of constant rain leading up to a record 13 times more rainfall than the previous record, have caused one of the greatest humanitarian disasters in the history of a country that already has more than 40% of its population living bellow the national poverty line. La Niña Phenomenom -an oceanic and atmospheric phenomenon and cyclic counterpart to El Niño- has Colombia drowning, literally. About 450,000 families have been affected in more than 1.600 reported emergencies spread through 28 of the nations 32 states. Overflown dams, reservoirs, and river banks have erased entire cities. By December 21 2010, more than 2,000,000 victims had either lost their houses, seen their crops flood and livestock die, missing family members, or a combination of these. More than 300,000 homes have been destroyed and/or damaged leading to an estimated $5.3 billion in damage, about 2% of the nations GDP. The countries' map now shows over 200.000 hectares of waterlogged fields, collapsed arterial interstate highways, and regional highways with restricted traffic thus making the distribution of humanitarian aid a challenging task, and the rescue of isolated populations in the verge of water-borne illness outbreaks a crisis within a crisis (1).
According to the U.S. Army Corps of Engineers evaluation, although the country has acted rapidly to avoid more casualties, the unstoppable flow of over saturated rivers mixed with unplanned urbanization and uncontrolled deforestation makes what is happening in Colombia a crisis comparable and, in some cases, worse than Hurricane Katrina. The National government - lead by the newly appointed President Juan Manuel Santos - declared State of Emergency and has begun a fund raising campaign, called Colombia Humanitaria that has seen the support of local acting organizations, private sector, individuals, and the international community. Their website (2), regularly updated with information regarding the disaster, informs those who are interested in helping, getting involved, and donating where they can do so. The government has also created the "Committee of Ethics and Transparency" that will be focused on enforcing open and transparent processes in order to avoid the typical financial black holes historically found in local government programs.
With a general understanding of the magnitude of the disaster, the questions of what should be done and how to do so have been raised. The vastly spread crisis makes a common centralized relief plan impossible. Each region has to be seen as a project within itself, and local solutions need to be planned, evaluated, and executed. The involvement of national and international multi-disciplinary organizations with disaster response experience in all the three stages of the process will be the correct step in the decentralization of the reconstruction plan that has to reach almost every state. The country now needs NGO's and governments with disasters relief experience to stand out, get involved, approach the nation, and make themselves be heard by the local government who should be eager to learn from others' experiences, and willing to allow them to apply proven open collaborative community inclusive reconstruction processes, aimed towards a rapid and successful long term recovery.
Aside from a general evaluation of what is left and can be saved, the country must also understand the reconstruction process as an opportunity to:
• Revitalize underused transportation systems like trains and rivers.
• Relocate cities in strategic areas where they can live close to water resources, but far from danger.
• Equip new settlements with passive energy mechanisms allowing them to be virtually self-sufficient.
• Build houses following vernacular and regional traditions, but innovating in sustainable and technological aspects.
• Create job opportunities for the victims by involving them heavily in the reconstruction programs.
• Seek fresh economic initiatives geared towards micro-agricultural refinancing programs that will motivate farmers to return the country side and reduce the amount of homelessness in cities.
• Evaluate the current water resource management and reestablished it under sustainable and ecologically conscious principles.
The reconstruction process of the Nation will only be able to set off once the rain has stopped. At least one more month of harsh weather is expected followed by 3 months of mild rains, delaying many of the actions that can be taken, but also forcing authorities to invest the time in thoughtful strategizing. If well planned, the disaster could be a breaking point in the Nation's history, and an example of global multi-organizational commitment for disasters to come. The reality that the disaster has hit the vast majority of the country also means that a national campaign to create a sustainable awakening throughout society will necessarily impact all of its geography, shinning a light on the possibility of restructuring the country as a pioneering sustainable nation, and making the reconstruction campaign not only a necessity, but also (with the right amount of national and international experienced organizations) a community-conscious sustainable solutions laboratory.
*Organizations capable and interested in being involved please contact Colombia Humanitaria
http://wsp.presidencia.gov.co/ColombiaHumanitaria/prensa/Paginas/ColombiaHumanitariaEnglish.aspx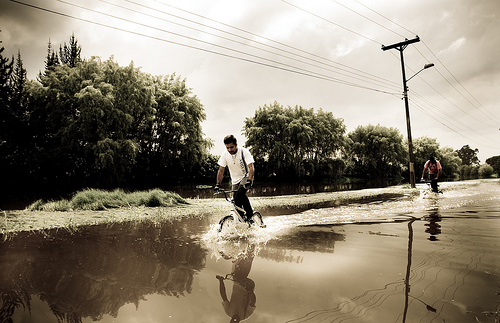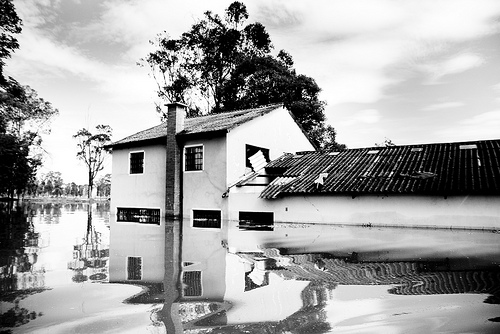 Images by: Troskiller/Flickr cc licensed
Additional Images: http://www.bbc.co.uk/news/world-latin-america-12006885
(1). Numerical data taken from: National Disaster Prevention and Attention System (www.sigpad.gov.co)
(2). Colombia Humanitaria: http://wsp.presidencia.gov.co/ColombiaHumanitaria/prensa/Paginas/ColombiaHumanitariaEnglish.aspx
Written by Daniel Feldman, Architecture for Humanity, Bogota, Colombia.
Calling all HuffPost superfans!
Sign up for membership to become a founding member and help shape HuffPost's next chapter