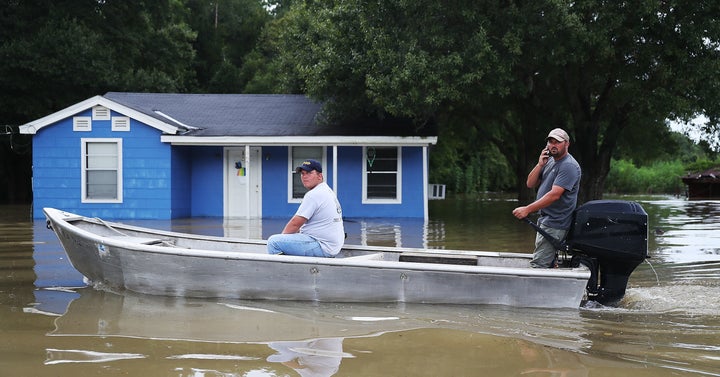 My younger brother, who as I write this is on his way to Baton Rouge to help flood victims, and I spent the better part of this last week doing two things: monitoring Louisiana State University flood maps and exchanging irritated text messages at how little national media attention was being given to the devastation occurring in our home state. Between August 12 and 14, four trillion gallons of rain fell, 11 river gauges in southeast Louisiana set all time record highs, 20,000 people had to be rescued, 10,000 people have been put in shelters, and a number of souls lost their lives. In my hometown of Denham Springs, roughly 90 percent of the people living there have flood damage to their homes. The flood is historic, tragic, and hard to conceptualize. Quiet little suburban towns that few people outside of Baton Rouge have ever even heard of became lakes of rainwater and debris almost in an instant. Conversations went from what clothes children would wear on the first day of school, to what the basic items of survival were for a family with small children.
Through it all, media coverage was so lacking that people living outside of the immediate area resorted to social media sites to updates themselves on what was happening in the area; using uploaded videos, pictures, and posts to piece together events and timelines, the pathways of the moving water, and how long the crisis would last. As cellular service failed, power went out across town after town, and families scrambled to find shelter, secure rescue, and just survive…news media coverage was virtually silent. A number of very good articles have been written about why, mostly speaking on the fact that the flood did not fit the narrative of entertainment the news media requires in order to garner coverage. The few articles that complain on the lack of national media coverage all have the same goal in mind… to get more media coverage on the event so that the scope of the tragedy can be known and help given to those people in need.
To accomplish this, they focus on the scope of the tragedy itself; as I resorted to earlier in this piece. In order to achieve the goal of coverage, those of us who care about the heartbreak in southeast Louisiana are forced to package it in those narrative frames of entertainment and historic loss in order to get anyone to care… and that to me is the larger tragedy. The tragedy is that strong, loving, cohesive communities, because of their strength and resilience, cannot be celebrated and assisted at the same time. That in order to be worthy of attention the very fabric of societal order has to have been sheered away; news media requires scenes that look like a zombie apocalypse, not scores of hometown heroes trying their best to rescue one another.
In these communities, families who lost everything feel guilty for letting someone give them money for a warm meal, because others have lost more. Neighbors organize care packages for people in the "devastated areas," while floodwaters seep into their homes. Friends let friends of friends, and complete strangers off the street, sleep in their beds and on their couches because they have a place that is dry and some room to spare. People wait anxiously for the water to subside so that they can go and help their friends rebuild. Former high school classmates put up online lists of people to locate one another, connect with one another, and share supplies. The local fisherman run rescue missions through streets that have become rivers to rescue families stranded on rooftops and trapped on highways; forming a "Cajun Navy" of volunteers. And former residents travel from cities like Chicago and D.C., taking vacation days from work, to make sure longtime friends have someone there to help them remove the water-soaked sheetrock from their house.
No stories of looting, no stories of riots, no devolving of society to the lowest forms of humanity…instead a tragedy that has brought out the best in friends, family, and neighbors; people who help others before they help themselves…who see the assistance of others as an assistance of self.
Rather than reward that with aid and bringing the full force of our collective national attention to examples of what resilient and strong American communities look like when challenged…these communities are ignored and left to fend for themselves…simply because they can. The consequence of being a strong community is that your tragedy is not mentioned in national news, your strength uncelebrated, and your needs unmet unless they can be met through your own resilience. Humility and selflessly helping others does not fit the script of our news media… that is more of a tragedy than any flood.
For those looking for ways to help, please see the following:
Related
Popular in the Community