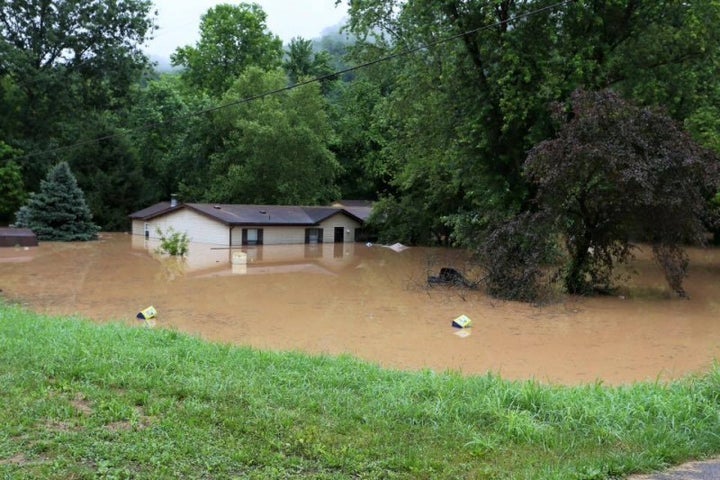 This is the hardest thing I have ever done.

The hardest thing. Ever.

My name is Autumn Hopkins, many of you know me just as Aum.  My family and I are from Elkview, West Virginia, for many generations back. You may never heard of Elkview until recently when you saw it on the news. 

I am the crazy cat/bird/turtle/chicken/goose/animal lady in Elkview, or people know me from yoga class, or Itty Bitty Kitty Committee, or roller derby, or church, or as Fred's wife, or Sarah's mom.  I have many titles but now I have one I never wanted.

Homeless flood victim.

Those words still seem surreal to me. I lay my head down at night in a bed that doesn't belong to me, and when the panic attacks stop, I wake the next morning to find the nightmare is real and we start again.

Thursday, June 23, 2016 started the same as any rainy Thursday morning. My brother brought my niece and nephew to spend the day with me. We laughed and they ran into my house, sopping wet to gather towels and cuddle on the bed, watching a movie as I prepared for the day ahead. 

We bundled up and left for Bible study at River Ridge. As we drove through the pouring rain I wondered if I would have to start hauling stuff out of our building that afternoon. It sits low on the creek bank and occasionally the water rises into the lower floor of the building where we stored our tractor, tiller, bikes, scooter, etc. The passing thought went in one ear and out the other. We hadn't had a good rain in days. The water was low and the ground mostly dry. This rain would be good for our crops, I thought.

We went on to Bible study. When we got there I called my mother, did she want to go with us to see "Finding Dory" at noon? Yes, she did! The kids were thrilled. My niece advised me she had already seen it, and it was sad, but she would deign to sit through it again for her little brother's sake. I chuckled, she is precocious, a 40-year-old trapped in a 7-year-old's body. 

We left the church to meet mawmaw at the movies. The rain hadn't stopped. But still it was only a nagging annoyance in the back of my mind. My truck's inspection sticker was dead. I knew I needed to replace the cracked windshield and torn wiper blade before I got it inspected. I worried as we left the movies that water might leak in on the dash. Mom took the kids home with her. It looked as though I would indeed need to start bringing our stuff up out of the building and chaining it to trees. 

I went home, checked the Elk River that bordered the back of our property, rushing but still low, checked the creek, still within its banks. I left the things in the building where they were and went back in the house to prepare a dinner I was excited about. Our friends had given us their CSA box from Hudson's Farm it was full of beautiful produce. Little did I know, we would barely enjoy a fraction of it.

Fred came home from work, soaking wet and in a terrible mood. We ate our dinner in a bit of a funk. It was delicious, I posted pictures of our plates on Facebook. Those were some of the last things I would share from our home. 

I went to the back yard to feed my chickens, ducks and geese. I have two flocks of chickens because I have more than one rooster I have rescued, and they don't all get along. I locked my backyard chickens in their coop--it sits well above our house. If the water crossed the creek line, I didn't want them hurt. They would be safe in their coop, or so I thought.

We walked down the back of our property. The water was coming up fast. We unloaded the building. Soaked to the bone, we chained our possessions to our camper that sat well above our building and house where we thought they would be safe. We talked about taking our animals out of the house. 

In the 24 years our home had sat on the property, the water had never entered the house.  But, thinking it better to be safe than sorry, we sent our 21-year-old daughter to her grandparents' with a change of clothes and the strict instructions not to drive through standing water. She left our home with a small overnight bag, not knowing this would be the last time she ever stepped foot in her room. The room we had just remodeled for her Christmas present, furnished with her new things.

Fred and I debated. Should we go to bed? It had been such a long day. We decided to gather up our animal carriers just to be safe and check the water levels again. 

The creek was touching the foundation of the building. 

Just to be safe we thought we would take our pets to my parents' house too, just in case. We still weren't worried. Water had never entered our home, only made us nervous.

When you are a family of dedicated animal rescuers moving pets is no small feat. We loaded 5 parrots into their travel carriers.  Seven cats were divided between 4 carriers.  Louie, our dog, loaded himself in the car. We left our 2 turtles in their tank. Our geese and ducks herded themselves up near the house. We grabbed the dog and cat food. We accidentally left the parrot food behind, but it was already dark, and they wouldn't need it till we got home tomorrow. I threw the dirty clothes from our hamper into a trash bag. I reasoned these were the clothes we wore the most and if we lost power I could wash them at my mom's. I stuck my wedding ring in my pocket. I really don't know why. After all, the water would never get in our house.

In my head, I was annoyed. I didn't want to schlep all the animals to my mom's. Rumors were flying around our neighborhood. As I stood in my bedroom picking a few things I needed if we decided to stay the night at my mom's, I heard a car pull into our driveway. Someone started to blow the horn frantically. I ran out onto the porch barefoot. It was the neighbor from two houses down. He looked wild.

"Where is your man?" he yelled at me. I pointed out towards our building and told him Fred was moving our beehives just in case.

"You have to get out!" he shouted in my face. "Water has breached the dam!" 

He meant Sutton Dam. Sutton Dam straddles the Elk River 100 miles north of Charleston. It brought to mind where my great grandparent had lived before the water--at the behest of the government and in a planned fashion--took their home. The town of Gad, where a dam created Summersville Lake. Normally, when the government builds a dam they name it for the town, but everyone agreed "Gad Dam" was too close to profane. It is funny the things that cross your mind in an emergency.

I felt a little more stress in the moment and went back in the house with a little more urgency. But still, water had never been in my home. I wasn't truly worried. I grabbed a few more things just in case, like this computer I am typing on.

Fred got a dog kennel from the yard, and we loaded the 5 hens and single rescued rooster from the front yard chicken tractor into the dog cage and tossed them into the back of the truck. Just in case. They sat low to the ground. But still, water had never been in our home. It was an unnecessary precaution. If only we had known.

We took the animals to my parents. I could see the worry in my daughter's eyes. We'd never brought the animals en masse like this. It was cramped at my parents' house. We sat glued to the news channel watching Richwood, West Virginia, be destroyed.

At midnight, my anger had overwhelmed me. I looked at Fred and told him I was going home. He tried to reason with me. When he realized it was pointless, he hopped in the passenger seat of the truck. I drove the four and a half miles home slowly. It was dark, the rain was driving down hard, trees were in the road and water was standing all along Route 119. 

We had cut all the power before we left, so it was pitch black on our property. As we pulled down the road, I could see my ducks and geese huddled at the fence line in the high part of the yard. their heads tucked beneath their wings, protection against the driving rain. As I turned into our driveway, it wasn't there. I pulled back, maneuvering the truck around so the headlights washed over the house. 

As the meager light shown over our home I began to wail. My beehives were gone.  Water was over our front steps. I jumped from the truck and began to run towards my home. Our home, everything we had worked for, everything.

I fell in the yard and sobbed. My beehives were gone. All of them were broken and floating away in the current. The water was everywhere. Fred pulled himself over the porch railing and ran into the house to put his guitar up on the kitchen cabinets. The water began to pour into the house. He ran back out. I lay wailing in the yard. He picked me up. Put me in the passenger side of the truck and drove us back to my parents. 

"It will be ok," he tried to comfort me, "I am sure they flew away. We will clean it all up." He knew as well as I bees do not fly in the dark or the rain. Who knew that would be a small loss in larger scheme of things?

We pulled into my parent's driveway and I tried to calm myself. I didn't want to upset my daughter. We went into the house and I fell into my dad's arm, dissolved in tears. All of my hard work was gone--my bees, my garden, our building, ruined. Who knew that it wasn't nearly over?

Exhausted, we went to bed. My almost-6-foot-tall daughter crammed onto my parent's love seat. At 1am my phone rang. My dear neighbor, who'd so very recently lost her husband, was evacuating her house. Everything we had chained to the camper and trees was under water.  Our home was covered, but she thought our chicken coop was still above the water line. I cried again. I cried so much I began to gag. Fred cried too. We held each other and sobbed in our borrowed bed and we fell into a fitful sleep.

It wasn't an hour later my mother woke me. 

"Aum, get up. The water is coming. We have to move the cars," she whispered urgently. 

Groggily, I came awake. The nightmare was real and apparently not over. I woke Fred, we woke our daughter, Sarah. We went out to the garage where we had pulled our car in and let our cats loose inside. Sarah stood on one side of the garage door, I stood on the other. We were watching for our cats as Fred pulled the car out. It was another worthless effort. We watched impotently as our cat Charlie ran out as soon as the door raised. Fred pulled the car out of the garage and we ran into the rain calling for Charlie. He was gone.

We moved the vehicles to higher ground and walked a little ways down the road to watch the water rise. I am 39-years old. My parents have lived in this neighborhood for almost 50 years. Never has the water even entered it, let alone come within 500 feet of their home. Was this the end of our world? I cried again. My face hurt, my eyes were swollen and I was choking on my own tears. What had we done to deserve this?

We went back in the house and lay sleepless in the beds waiting for first light. The horror had only begun.

As dawn broke. I wanted to go home. I needed to get to my animals, but we were surrounded by water. There was no way out. We comforted each other that we escaped with our lives. We had no bird food, no perches, the parrots were upset, screaming, the dog was barking. I still cried. My daughter wandered the neighborhood on the small stretch uncovered by water calling for Charlie. 

I needed to get to my home. I needed to get to my animals. In my desperation I pleaded on Facebook. My aunt who was also lived in our neighborhood text me. Her home had 20" of water in it. Twenty inches of water. Almost 2 feet. Her home sat much higher than ours. 

"Do you want to see a picture of your home?" she texted.

Did I? I asked myself. Yes. She sent me the picture you see above. My home was completely submerged; water was still rising. I couldn't get to my animals. She said my chicken coop was submerged but she could hear my rooster. There was no sign of my ducks and geese. I was heartbroken. I love all of my animals, but if you know anything about me, you know my goose, Elvis, is so very special to me. 

I lay down to sob, I should have brought him with me. I should have gotten all the chickens out of the coop. I should have taken the beehives. I should have... I should have... These words will always haunt me.

Still trapped at my parent's I was impotent. Helpless. Heartbroken. Angry. 

I walked to the 4-way stop, people were floating across it in rafts, and mallard ducks swam in the backwater as if it were a pond. People were stranded in the bank parking lot. The Red Cross closed the emergency center at the middle school, for it, too, had filled with water. People sat in the parking lot in lawn chairs their faces blank, shell-shocked.

I still couldn't get to my animals. Were they alive? 

My aunt texted me. Good new! She could hear my rooster and see a couple of my waterfowl. Was there hope? Would there be a small silver lining in this catastrophe. A dim light gleamed in my heart.

By that evening the water had receded till I thought I could drive the truck across. A dear childhood friend had made her way to Elkview with a van load of supplies. I met her at the gas station. I broke down and clung to her sobbing again, when I thought I had no tears left, as Fred quietly loaded the truck bed with supplies. 

We got back in the truck. I turned to Fred,

"I am going home," I asserted. He tried to convince me to wait, there was nothing I could do, our home was still submerged. But I had to bear witness. I had to see with my own eyes. I needed to secure my animals. 

So I drove through the standing water. Something that goes against everything I have ever espoused. And we proceeded with heavy hearts and trepidation. 

We turned into our neighborhood and stopped. That was as far as we could go. I threw the truck into park and jumped out onto the railroad right-of-way. I looked towards my home. The roof and top of the windows the only thing visible.
 
I was horrified. Then I realized my geese and ducks sat just below where I stood, outside the fence, covered in mud. They cannot fly, they had floated there. I fell to my knees and began to cry again calling for Elvis. He ran to me screaming and crawled in my lap. I held him and sobbed into his neck. As I crouched there someone pulled in behind us. It was another friend. She knew I was stranded and came from miles away to secure my animals. I will never ever forget that.

Some Good Samaritan had left them cracked corn. We got a bucket and left them clean water. We debated what to do, but what could we do? We had no way to transport them and nowhere to put them if we did. So we corralled them as close to the yard and as far away from the road as we could. We left them there with food and water and my heart broke all over again. I didn't want to leave them. I cried again. How many tears could one body hold? I felt like Alice flooding the locked room.

I could see the very top corner of my chicken coop and I could hear my roosters, but there was no sign of my hens and no way to the coop. I had little hope for their lives. I cried more.

We went back to my parent's house and gathered up our starving hungry parrots. We made our way to our dear vet's office--Good Shepherd, as the name implies--Sara Stephenson, DVM, the owner, would board our birds until we could reclaim them.

We made our way back to my mom and dad's and spent another sleepless night tossing and turning in our borrowed bed.

The next morning dawned, and at first light we made our way back to our home. The water had receded, but our property was barely recognizable. Everything was covered in mud. Trees were down everywhere, our fence was crushed in several places. I ruined my only pair of shoes but we were able to corral our waterfowl back into the broken fence.

I could still hear my rooster. I hesitated, then began to slog my way to the coop. I could hear nothing but his distressed crow. The other, smaller rooster perched high in the tree and refused to come down. I approached the coop. Took a deep breath. Opened the door. 

The horror that greeted me was indescribable. I dropped to the ground again. Down into the sucking, stinking, dirty flood muck I fell, screaming. All of my hens, every single one, had drowned. In the place I had locked them for their safety, they died.There in the dark, cold, terrifying waters of what must have seemed an abyss. Rooster refused to leave their bodies. He stood on his perch crowing, panting and holding his wings away from his body. Standing guard at the gates of hell.

Hell, that is what it was, my own personal hell. The hell of my community. Hell. Hell is not hot. It is not flames. It is unescapable flood waters.

Fred again dragged my filthy self back to my truck, back to my parents to await boots and supplies. We couldn't enter the house yet, not without at least boots for safety. So we waited.

We went back to our house at 10am. Friends began to arrive. So many friends. So many people showed up to carry us when we could not carry ourselves. I am still overwhelmed by the number of people who arrived. My mom showed up with our boots. We took a deep breath and entered what used to be our home.

It was destroyed. A total loss. Take a minute to think about coming home and finding everything below your shoulders in your home gone. But not gone. There but soaked in poison. All your pictures, all your books, all your furniture, soaked in death, scattered across the floor, moved and broken. The walls warped and broken. The refrigerator, face down. The floors buckled.  Your clothing ruined. Your few meager pieces of jewelry scattered through the mud like buried treasure.   

Now you have to throw it all away. 

You have to carry your life to the curb and leave it for the National Guard to haul away. 

My great grandmother's hope chest. Our wedding photos. Everything. Gone but still there, garbage, piled on the street. 

Do you remember when you were a child and you had to pick your own switch? Magnify that by a thousand times. If it weren't for the people who showed up to help us, I would have lain in the floor and died there. We could not have done it alone. And it is not over.

Our house is a total loss. Our remaining animals are scattered to the four winds of foster care.  We had no flood insurance because we could not get it--we tried. We have nothing and now we begin again. Today I apply for assistance from FEMA but I have little hope of receiving enough to reunite our farm.

We are not done. We have to demolish our home and look for somewhere new to live. We cannot build there again. It feels like an insurmountable task. Friends from all over the world want to help and so we will swallow our once self-sufficient pride and beg for your help.

We have started this GoFundMe account --, www.gofundme.com/fredandautumnflood -- so that people have an easy way to send us donations to help repair our lives. This money will be used for necessities and hopefully for a down payment on a new home. 

If in your heart our story moves you please give, pray, share. We appreciate everything everyone has done for us. I will continue to update this site as we travel this long and harrowing journey.

Much love, 
Aum
Calling all HuffPost superfans!
Sign up for membership to become a founding member and help shape HuffPost's next chapter