Early in the new movie "The Florida Project," 6-year-old Moonee gives two friends a tour of the dingy motel at which she resides. Strolling along a balcony, Moonee offers a short biography of the dweller behind each violet door. The woman in this room "talks to Jesus," she announces; the man in that room "gets arrested a lot." We don't learn how long Moonee has lived at the Magic Castle, where bright facades fade under the luster of nearby Disney World, but we know it's enough to glean her neighbors' goings-on.
Had Brooklynn Prince ― the 7-year-old Orlando native who portrays Moonee ― and her young co-stars gotten their way, we'd also discover that a certain superhero crashes at the motel when he's not saving the world. Director Sean Baker had asked Prince to improvise a few lines, as he often did during last summer's shoot.
Prince's ad-lib? "Deadpool lives in here! Deadpool lives in here!"
Baker, whose previous credits include the low-budget gems "Tangerine" (2015) and "Starlet" (2012), had to insist she not add the Marvel mercenary to the motel's residents list. "That's where a kid's imagination might get out of hand," he told HuffPost earlier this week, laughing at the memory.
Kids say the darndest things, scripted and otherwise. What they may not realize, as explored in "The Florida Project," is this: While they're off making mischief, gossiping and slurping ice cream, the adults around them are embroiled in hardship. Moonee's erratic but dedicated 22-year-old single mother (Bria Vinaite, whom Baker discovered via Instagram) searches for crude work to pay the rent, her green hair and unschooled elocution proceeding her.
Baker's film ― one of the year's best ― is partly a feast of ephemeral childlike quirkiness and partly a transcendent drama about existing on society's fringes.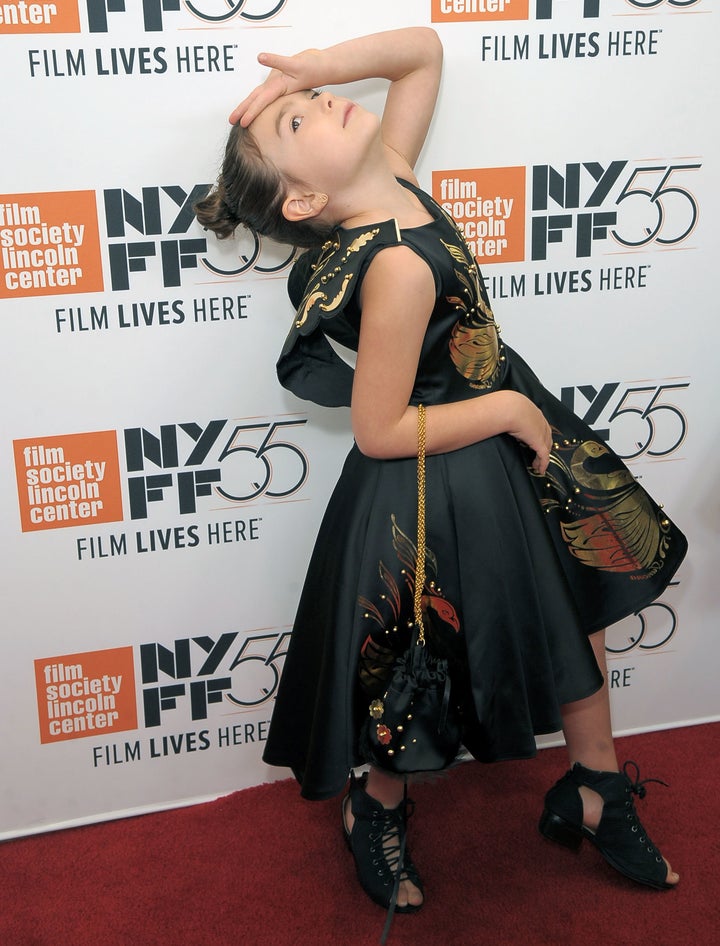 Prince understands the heavy reality that dogs her endearingly bratty character. Prince is also well aware of the fact that she is the movie's star. She's walked enough red carpets ― "The Florida Project" premiered at Cannes in May and screened at the Toronto and New York film festivals ahead of its Oct. 6 theatrical release ― to know what it's like to have a scrum of photographers shouting her name. Her celebrity indoctrination was swift.
In the words of Willem Dafoe, who plays the Magic Castle's paternal manager, Prince is a "firecracker." Having met her last week at the movie's New York junket, I can tell immediately that she's the type of natural talent undeterred by flashbulbs. Joyful and articulate, she has a no-holds-barred charm that befits a tyke whose portal into Hollywood is a lead role in an acclaimed independent film that defies genre classifications.
"I like to pose a lot," Prince said when asked what she thinks of the step-and-repeat ordeal that every famous person on a red carpet knows all too well. Sitting in a conference room at a hotel, she offered a demonstration. Launching out of her chair, Prince stretched her arms out wide and leaned forward, modeling for a non-existent camera.
"I have to be honest," she said, sitting down again to reflect on her most recent carpet, at the New York Film Festival last weekend. "It was very, very overwhelming because of those people that are like, 'Brooklynn, Brooklynn, look over here! Look over here! Look a little to your left!'"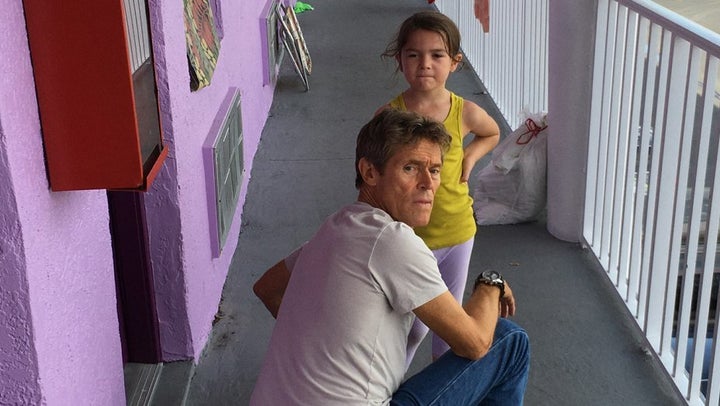 Prince leaned toward me, still cheerful. She had a secret. I promised not to laugh, or even to repeat it, though I think she'd find it acceptable to let you in on this innocent revelation, dear readers.
"I do not know my lefts and my rights," she said. To follow photographers' commands, she'd need to form "L" shapes with her pointer fingers and thumbs ― the standard shortcut taught in elementary school. "But I do not want to do that on the red carpet," she continued.
During our interview, Prince wore a shirt with four names scrawled on it, each stacked atop the other: Dakota, Elle, Emma, Daisy. That would be, respectively, Fanning, Fanning, Watson, Ridley. All she wanted from this lengthy press tour, really, was to meet Elle Fanning, which made Toronto her favorite city to visit. (She's also traveled to Los Angeles and Miami to promote the movie.) Fanning, she said, specifically sought out Prince while they were both at The Hollywood Reporter's studio in Canada, though the actresses only had a few minutes together.
"She really quickly had to stop by because she had an interview, and I'm like, 'These interviewers!'" she said in playful protest. "I'm thankful that I got to see her, but I'm like, 'Some of these photographers and interviewers get to look at her face for like two hours!"
Prince's favorite Fanning movie is "We Bought a Zoo." What does she think of Matt Damon, who plays its lead?
"Who's that?" she asked with the naiveté of someone who hasn't yet been totally seduced by Hollywood. (She also met Helen Mirren but didn't know any of her movies. Gary Oldman scored a few points thanks to his "Harry Potter" affiliation.)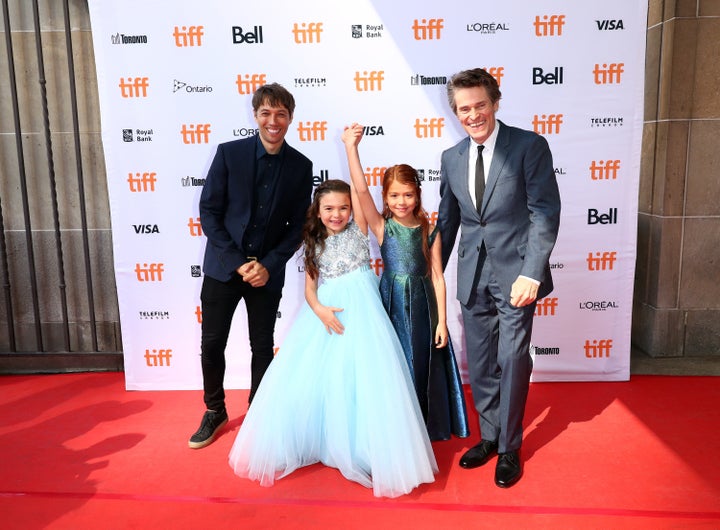 Cinema is peppered with remarkable child performances ― Tatum O'Neal in "Paper Moon," Anna Paquin in "The Piano," Quvenzhané Wallis in "Beasts of the Southern Wild," Jacob Tremblay in "Room" ― but even the best rarely achieve the resourceful naturalism that Prince displays in "The Florida Project." Moonee hocks loogies with abandon, but as the two-hour film develops, the gravity of her itinerant lifestyle sends a clear message: She'll have to grow up hastily.
To prepare, Baker studied "The Little Rascals," "The 400 Blows" and "Kes," bittersweet stories about kids who exist apart from affluent, mainstream society. Any young actor is indebted to his or her director, and Baker had a tall task before him: to facilitate the aforementioned naturalism, but also to get Prince to hit a hefty emotional note as the film culminates. She needed to burst into tears, à la Drew Barrymore, whom Steven Spielberg famously goaded into crying in "E.T." But Baker didn't want, or need, to force it. On the day of the scene, Prince asked her young co-stars not to speak to her ― she needed to concentrate.
"Let me tell you the story: OK. They were going to put drops in my eyes, but I didn't want them because they were so minty," Prince said. "They would go like 'boom' [she motions as if using eyedrops], and I would just have to hold them in. I told them, 'No, no, no, no, no,' so then [the makeup artist] was like, 'If you don't cry, I have to put the drops in your eyes.' I thought about the kids going through that situation, and I was like [motions crying]."
That's right ― a 6-year-old put herself in the shoes of nearly-homeless families to capture a finale so stirring it's like a gut punch. More than a year later, like a true thespian, Prince sees that as a point of pride.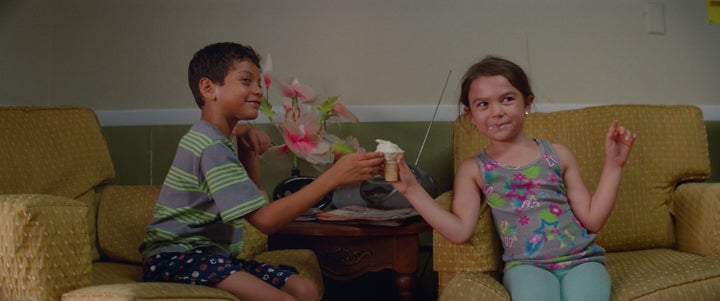 "Brooklynn has been loving the ride," Baker said. "She loves this, that's the thing. She's never exhausted. While all of us are exhausted, she's the one who's actually still willing to go. She was born to do this. I put her in the same category as a Mickey Rooney or Jodie Foster. I totally see that she just loves this. But we only had eight hours a day to shoot with her because of child labor laws. At the end of the eight hours, we'd be like, 'Brooklynn, you gotta go home now.' She would be almost crying because she didn't want to go home."
Of course, the experience wasn't all waterworks. During most of the movie, Moonee spends her days playing pranks around the Magic Castle grounds, near strip clubs and gaudy souvenir shops. She eats a lot of soft-serve ice cream along the way, often telling strangers she needs coins to buy cones, because a doctor said they'll help with her (probably non-existent) asthma.
If she's already mastered red carpets and learned how to delight reporters during interviews, one Hollywood fixture Prince hasn't yet acquired is a preoccupation with her diet. I asked how many ice cream cones she devoured during the course of the shoot. Wide-eyed at the thought, she flashed all 10 fingers four times, followed by another five.
"Forty-five?" I asked, shocked.
"Cones!" she proclaimed. Forty-five cones! Her father, seated in the corner of the room, corroborated Prince's declaration.
Brooklynn Prince knows how to put on a show. A star is born.
"The Florida Project" is now playing in New York and Los Angeles. It opens in additional cities throughout October.
Popular in the Community