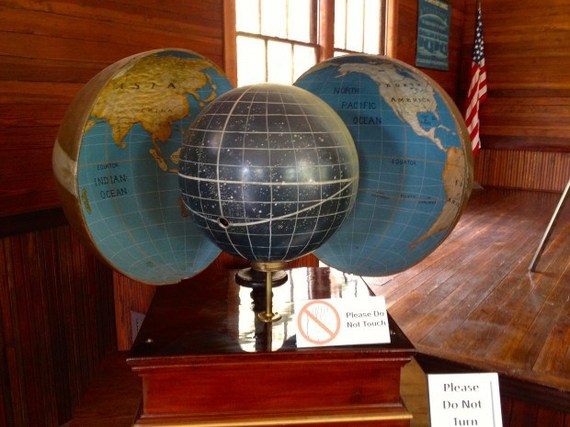 Continuing our visits on the trail of weird places in Florida, as we were driving down the west coast alongside the Gulf of Mexico, we discovered a small quiet park tucked away from the main roads and hidden from the touristic tracks.
The place was once the headquarters of a curious sect - the Koreshans. Their basic belief was that the entire universe was actually inside the planet, not on the outer skin of it. Hum. With the sky on the inside as well. I know, it's hard to picture, and even harder to conceive how people could have trusted that it was the truth.
As strange as it seems -- I mean, what proof did they have? -- the cult-like congregation had some followers. The parallel community was founded in 1894 by Cyrus Teed in Estero, Florida. The utopian facility was named Koreshan Unity, or Koreshanity.
The main teaching was that the universe existed within a hollow sphere. The Koreshans practiced celibacy -- effectively assuring their probable extinction -- because they believed in immortality. Membership started to slide down when Cyrus Teed died in 1908 -- as there was no one to really fill his strange shoes.
The followers reached 250 residents. The community claimed another 4,000 believers around the country. Teed's original vision was to establish a utopian city of 10,000,000 residents, with streets up to 400 feet (120 m) wide.
Here is the written premise of the Koreshanity -- do you see how it rhymes so well with insanity?
"The sun is an invisible electromagnetic battery revolving in the universe's center on a 24-year cycle. Our visible sun is only a reflection, as is the moon, with the stars reflecting off seven mercurial discs that float in the sphere's center. Inside the earth there are three separate atmospheres: the first composed of oxygen and nitrogen and closest to the earth; the second, a hydrogen atmosphere above it; the third, an aboron (sic) atmosphere at the center. The earth's shell is one hundred miles thick and has seventeen layers. The outer seven are metallic with a gold rind on the outermost layer, the middle five are mineral and the five inward are geologic strata. Inside the shell there is life, outside a void."
By 1961, the last four remaining followers ceded the majority of the land and property to the state of Florida to preserve it as the Koreshan State Historic State. Open to visitors, the visit includes members' cottages and meeting hall.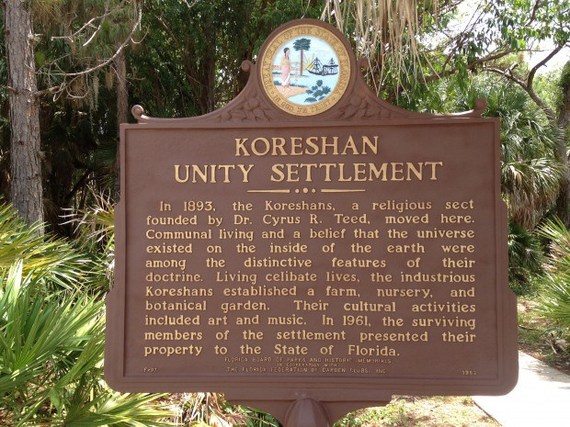 If you go:
Located right off of the Tamiami Trail (US41) in Estero, Florida -- North of Naples, South of Fort Myers.
Park entrance is $5 per car; the optional ranger-guided tour is $2 adults, $1 for kids.
Questions / Comments = sidoniesawyer@gmail.com
Visit my website for more stories.