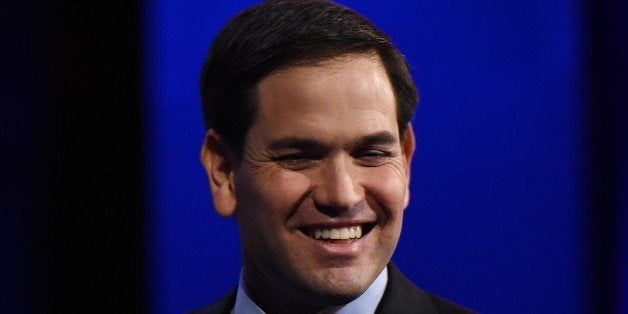 After Senator Marco Rubio woke up Tuesday morning to this headline on the editorial page of the Florida Sun-Sentinel, "Marco Rubio should resign, not rip us off," he knew that he had a problem. Due to his absence from 43 percent of the votes taken this year in the U.S. Senate, one of the largest newspapers in his home state challenged him "Either do your job, Sen. Rubio, or resign." So, when Governor Jeb Bush asked him whether he was working a French workweek, Rubio was ready. Rather than examining the underlying truth, the U.S. media superficially awarded Rubio's response -- in essence, Jeb! You're behind in the polls and someone is advising you to attack me -- as a key moment in the debate.
But, let's look at the substance. Is it right for a Senator to abandon his duties of representing his constituents, a service he is paid to do? Missing votes and intelligence briefings don't square with Rubio's recent statements about federal workers whom he wants to fire for not doing their jobs. What about Rubio, a Senator who makes $174,000 annually and misses more than 40 percent of the basic activities of his job?
Rubio has blamed all the reports about his missing votes on the liberal media. Such claims cannot withstand minimal scrutiny. The first person to raise the issue in the first Republican debate was Donald Trump, the frontrunner in the race for the GOP nomination to the White House. The second was Jeb Bush, who until the summer was the Republican Party's hope for 2016, and is the son and brother of the last two Republican presidents. He is also Rubio's constituent and mentor. In fact, the liberal media has been so enchanted with Rubio's response to Bush that it forgot the call by Trump and other conservatives to investigate Rubio's dereliction of duty.
The odd thing is that his supporters are presenting the Senator from Florida as someone bringing foreign policy knowledge to a Republican ticket. Just a year ago Rubio couldn't understand why Secretary Kerry described ISIS and Iran as sides in conflict. His supporters argue that he is acquiring knowledge in Congress. How could Florida's Junior Senator learn about America's national security challenges when he is profusely missing votes, briefings, conferences and hearings in two of his only five years in the senate?

During Wednesday's debate in Boulder, Rubio compared himself with Senators John Kerry and John McCain arguing that they also missed votes in their presidential campaigns in 2004 and 2008. Someone should advise Senator Rubio to count the decades that these two wise men had played in the foreign affairs discussion in the United States in the last three decades.
How can Senator Rubio criticize the Iran nuclear deal when he was not even present at the intelligence briefing about it? Not surprisingly when the Florida's missing Senator accused the Obama administration of having a policy towards Iraq and Syria "mostly driven by a desire not to upset Iran," Secretary Kerry schooled him by affirming "the facts completely contradict that."
Rubio adopts a serious face when he talks about terrorism, immigration, and national security threats. The extent to which one can accept such façade is far from clear. He was against immigration reform before he was for it when he joined the gang of eight led by Senators McCain and Schumer. The group proposed a major investment in granting security at the border together with a path to citizenship for the millions of undocumented immigrants living in the shadows. Now Rubio is running away from such comprehensive approach. Was he elected to put policymaking in such serious areas in the hands of his staff? Is that what America's framers had in mind when they designated Congress as the first branch and the Senate as its upper chamber?
Rubio's record stands in contrast with his fellow senators Rand Paul and Bernie Sanders who are running also for president but have missed only 10 votes while Rubio missed 59, including the ones about the Keystone pipeline and the Export/Import Bank. Rubio's problem with the votes began even before he declared his desire to run for president. The year 2014 before he declared his intention to run, he already missed twenty-nine percent of his votes.
If Marco Rubio is going to keep missing more than 40 percent of the upper chamber's votes, if he is tired of being a Senator, he should follow the example of Speaker Boehner and resign. Let Floridians elect someone committed to represent them, as Jeb Bush suggested. Florida law forbids seeking two federal offices simultaneously because the state wants to have in Washington someone committed to his or her job. Rubio is using time paid by taxpayers' money for his campaign. That is not fair to Floridians and Americans who deserve a Senator committed to the institution.
Popular in the Community