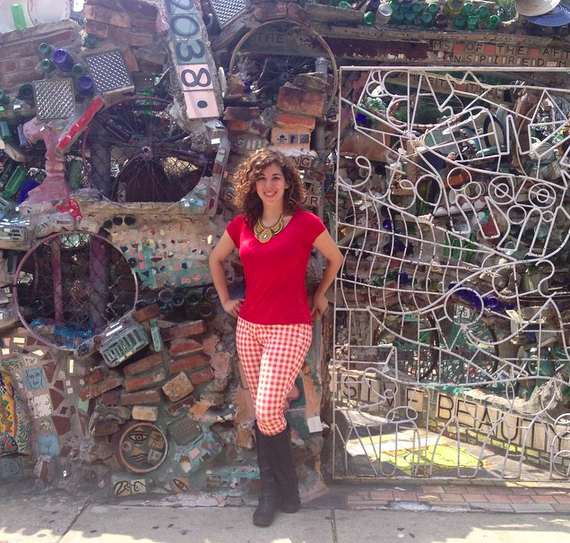 The first time I wandered past Philadelphia's Magic Gardens, I had just finished tabling for Quail Bell Magazine at the Philly Zine Fest. It had thus far been a weekend of exchanging stories and doodles with zinesters, cartoonists, and crafters from across the country--both an invigorating and exhausting experience. As an introvert, I needed my downtime.
So I wandered, stumbling and staggering like a drunk full of too many stories. Despite knowing that the city's ripe with art and artists, I wasn't expecting to find PMG, a so-called "mosaicked visionary art environment," at 1020 South Street. The conglomerate of repurposed tiles, bottles, figurines, and dishware immediately reminded me of the American Visionary Art Museum near Baltimore's Inner Harbor, a wild and brilliant monument to untrained and obsessive artists honoring the 'visions' that come to them. Though intrigued, I knew I didn't have the level of concentration I needed to really appreciate the work at that time. I needed to come back when I felt fresher.
Fast-forward two and a half years and I was back in Philly, this time visiting my sister who had just moved to Cedar Park. Together, she and I set foot inside PMG for the first time. It was almost noon in June and very hot, but we braved the temperatures to pose for a few pictures at the gate before stepping into the building, paying the admission, and entering the mouth of the labyrinth.
It may be tempting to look at PMG and think it's just a heap of junk. It is a heap of junk, but it isn't just a heap of junk. It is a very intentional work that depicts or references everything from Day of the Dead to 9/11 in mosaics that were drawn out before being filled in. As someone who spends hours gluing tissue paper and found objects to canvas, wood, and other surfaces, I admire PMG's astounding level of detail. The plethora of unusual found objects make it an Instagrammer's dream. One of the videos on display reveals that artist Isaiah Zagar works with many assistants but, even with help, his style requires many man hours.
After studying painting at the prestigious Pratt Institute in Brooklyn, Isaiah and his wife, Julia, joined the Peace Corps and served in Peru. There, they studied Peruvian folk art and helped local people make their creations more marketable. When Isaiah and Julia came to Philly in the 1960s, they opened the Eyes Gallery, a folk art store that's still in business, and also began livening up buildings with their mosaics. In 1994, Isaiah took over a vacant lot and started working on PMG. In 2002, had it not been for community support, the whole labyrinth would've been razed over when the property owner wanted to sell the land. Instead, the site was saved, completed in 2008, and incorporated as a nonprofit.
If you visit PMG, try to pick a day with nice weather. There is not much of a respite from the heat or cold since the majority of the attraction is outdoors. Parking is limited, so walk if you can. There are plenty of dining options nearby, whether you wish to eat pre- or post-visit. If time allows, search for more of Isaiah's mosaic murals throughout the city or check out Eyes Gallery. The next time, I'll be sure to visit when the basement is open and, better yet, when the labyrinth is illuminated and filled with performers for "Twilight in the Gardens."
PMG glitters and intrigues not only for art-lovers but for anyone interested in urban curiosities.
Popular in the Community