"You ask me what you want, and I'll either duck, or dodge or tell you the truth," says director Pat O'Connor during a telephone conversation from New York last Tuesday.
Because I'm a critic and not a psychic, I have no idea whether he was honestly fielding my questions, but his responses were consistently the opposite of dodgy. His lilting rural Irish drawl did nothing to leaven his passionate opinions.
In promoting his new film adaptation of Private Peaceful, a book by War Horse author Michael Morpugo looks back at a way of life that's long gone with only the slightest hint of sentiment. The movie opens in the Big Apple and Los Angeles this weekend.
It concerns a couple of English brothers named Charlie (Jack O'Connell) and Tommo (George MacKay), who struggle to get by on the Devon estate of a would-be aristocrat known only as The Colonel (the late Richard Griffiths).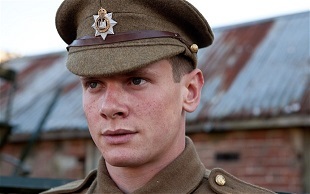 The two lads feud over a girl they both love (Alexandra Roach) and discover their lives become even more harrowing when they sign up for World War I.
Having cut his filmmaking teeth making documentaries and television dramas, O'Connor first came to international attention for helming the 1984 romantic drama Cal that starred Helen Mirren as the Catholic widow of a Protestant policeman who unknowingly has a relationship with Cal (John Lynch), the man who served as a driver for her husband's murderers. Mirren won Best Actress for the role at the Cannes Film Festival.
Since then O'Connor explored his roots again in Dancing at Lughnasa and Circle of Friends, but he also made the Stateside movies Inventing the Abbots (which featured rising stars Joaquin Phoenix, Jennifer Connelly and Liv Tyler), the comedy-mystery The January Man and the Keanu Reeves-Charlize Theron weeper Sweet November.
Talking about life away from the city with O'Connor proved surprisingly easy. My roots in rural Kansas and his on the Emerald Isle were remarkably similar, and living in a city that has a haunting museum and memorial for the Great War, makes the film's fictional battles seem less abstract.
Even though Private Peaceful is set during the Great War, much of the rhetoric a recruiting sergeant uses in the film is still frighteningly current ("If we don't fight them over there, we'll have to fight them here.").
Yes, yes, it is. Absolutely, because things don't change. People don't change, and young men going to war have the same problems that they did then and will in the future.
When you first encountered Michael Morpugo's 2003 book, did you notice the contemporary relevance?
No, I didn't. First of all, you're speaking from an American perspective; I was living in Europe at the time. Even though the wars in Afghanistan and Iraq were happening, I was a little bit removed, even though I've been living in New York for the last couple of years.
But war is always, unfortunately, relevant, in the sense that there's always a war somewhere with the same ghastly circumstances with people who don't think it's going to be anything other than some young man's fun, but it isn't that. It rapidly becomes the ugliness that it actually is.
Like one of the characters, there were 300 British soldiers who were executed for cowardice, and what's upsetting is that many of these men would have done no better had they charged into a machine gun nest because they would have died anyway. Recently, all of these men have been pardoned, which seems far too late.
Yes. They were cannon fodder. And with the whole business of cowardice, there was no knowledge of PTSD, Post-Traumatic Stress Disorder, anything like that. There was no time for it. There was no respect for it. They just set an example for the others. It was brutal in battle, but it was also how they were supposed to behave as members of the British Army.
Michael Morpugo's books are marketed toward children, but his stories deal with dark subject matter like war and the sinking of the Lusitania. Was it tough to achieve the same balance that he has in his books on screen?
What I was interested in, like most directors or all directors, is that you draw from your own background. Michael (who executive produced) asked me to become involved in this project years ago. Ever since then, we were trying to patch together what we knew would have to be a small budget film. And we were just trying to see if we could do that. In the meantime, War Horse, his other story, was made by Steven Spielberg, with a considerably larger budget (laughs).
When we were talking about doing it, you respond to the material. I responded to the fact that it's set in rural England. Now, I grew up in rural Ireland. Rural is rural. Rural Kansas is the same as well.
What I was interested in doing was reproducing the world of these poor kids. They didn't have money. They had everyday hardships, but they would have been used to it. It was kind of a dead-end world.
People often idealize these worlds. But they're not to be really idealized. Poverty is poverty, if it's rural or if it's urban. These kids would have seen the war as a way to break out of the hardness and the monotony of their lives. That's really what attracted me to it because if it was purely about the War, I wouldn't have been very interested.
I was very interested in finding out the world of these kids and then going to war, to hopefully carry that knowledge of them as younger people into the terror they then faced.
I find the character of The Colonel to be fascinating because although he has lots of opinions about war, he obviously hasn't kept himself in fighting shape.
And at that point, the Colonel, who has long been retired, and many of the active duty British officers don't seem to understand that war has irrevocably moved away from cavalry charges to machine guns and chemical weapons.
They found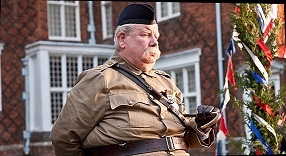 that out during the First World War, with the introduction of the tank and these huge guns they were using. It became a modern war, but they wouldn't have known.
The Colonel, with Richard Griffiths' marvelous portrayal, was a squire, a country gentleman. He would have control over people's lives, which is why one of the Peaceful brothers was so angry and enraged with him and his condescension in the pub.
The way that man would have lived his life would have been with a casual indifference to everyone else around him. He had his big house and these people around him who were not much removed from being serfs. They were working men with no unions or protection.
He blathered on about the Boer War, which was around 1900 I think. He had been to war as an officer, so there's a completely different mindset between him and those lads who went off in the First World War.
And to think this guy who runs the area like a divine right king, actually got the title through marriage and not through merit or even his own bloodline.
Yes, exactly. Often people like him grab hold of that and never let go. He was not a formidable man. He was just somebody who had married into an entitlement. That's what he did; that's how he lived. The difference between his life and the Peaceful brothers' lives would have been huge.
They would never have met socially. They would not have even met in a church after Sunday. They would never have met unless they were working on his farm.
Sadly, Mr. Griffiths, who was terrific in projects as diverse as The History Boys and the Harry Potter movies, is no longer with us. Did you have any sense while you were working with him that he was not long for the world?
No. He was very ironically humorous about the fact that he needed to lose weight. We used to laugh about that.
He was terrific. He was very, very bright man. He wouldn't suffer fools gladly, but there was no vindictiveness whatsoever in him. He came from a working class background. He was a terrific actor, obviously, you know.
There was no sense of impending doom. We talked often, and it never came up. Why would it? He was working and getting up in the morning and putting on his uniform. He was doing his job the way he'd always done it, with great commitment and great conviction.
He didn't know that would be his last performance. He was totally professional. He was never late. He never complained. I'm sure he had difficulties with his health from time to time, but he never complained about anything like that.
From going through your résumé, you've consistently embraced challenging subject matter. Cal, a romantic drama set in the Troubles in Northern Ireland, would not have been a safe subject in 1984.
No, it wasn't (laughs). Cal needed to be made at that time even though we had some weird experiences making it. I had done probably 20 documentaries on Northern Ireland during the troubles, so it wasn't as if I was going into a totally strange world.
The south of Ireland, the Republic of Ireland, was very different than the six counties in the north of Ireland. When I used to work for Irish television, I went up there quite a few times, so I saw a lot of things I would have preferred not to have seen.
I was pleased to do Cal because you can approach that world in a different way than you would in shooting a documentary. I had done many other dramas on the (video) tape and that stuff. We'd made nearly all of it in the southern part of Ireland, near the border of Northern Ireland. Certain things would happen that would make you a little bit uneasy about getting the film finished.
Well, on one morning at 6:00 o'clock in the morning we were getting ready to do an Orange parade. (In the film) the Orange parade was intentionally going through a Catholic area where Cal lived with his father.
When we came out to set the scene, all the stuff that had been set up for the parade had been destroyed by an activist group. You'd get the occasional direct threat, but you get that everywhere. You get those threats in the New York subway (laughs).
During the making of Cal, did you imagine that things would be like they are in the Six Counties now after the Good Friday Accord?
No. No. You didn't know what would happen. Like all complex situations, they tend to resolve themselves over time. When I made it, it was a very unpleasant time in Ireland. You didn't know what was going to happen. You certainly wouldn't have known they would have had peace, a year or even two years later. It went on for another 12 years longer than that.
A lot of people were working very hard trying to cool things down, but it took a long time. I certainly didn't have any crystal ball about what would happen over the following, 10, 20 years.
John Lynch, the star of Cal, plays a much different character in Private Peaceful. The gentle lover in that film has been replaced by a sergeant from hell.
Johnny is a terrific actor.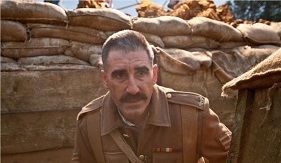 I've been in touch with him over the years, and it was interesting for me to see somebody who's very gentle in person play a part like that, and he's able to do those things.
He mainly does television now because it's easier to stay employed in television. Occasionally, he does some feature films. Back in England and Ireland as well, the difference between doing television and film is negligible.
The theatre, television and film are places of employment for all sorts and all standings of actors. You've got far more possibilities in moving between those areas and doing it a high level than perhaps you do in the United States, although that's changing with cable television. It has made a big difference. It wasn't always like that.
You've made movies here in the States like Sweet November, Inventing the Abbotts and The January Man. How was making Hollywood movies different than what you've done with Private Peaceful?
There is no connection with Sweet November. It's not a film that I'm delighted about.
Inventing the Abbotts has a connection. It's about young people in small town America trying to make sense of the world. They just didn't have a world war on their doorstep. That was the American film that I liked doing the most. It was the closest to what my ambitions were for it. The others were some sort of entertainments or other. I did those because I was asked to do them.
The January Man, I think that was the first film I made in the States. I had a great cast of actors. I had great fun doing it. With Sweet November, I was away from my family too much. I didn't enjoy it very much doing it in San Francisco.
You don't know how a film is going to work out. You try to do your very best, every minute of the day. Sometimes it works very well, and sometimes it doesn't.
I'm not a stranger to the United States. My wife (actress Mary Elizabeth Mastrantonio) is an American. When you grow up in Ireland, the next stop when you're going west is the United States. You grow up with East of Eden and Rebel Without a Cause. You're saturated with American popular culture in terms of film.
I've noticed in Irish novelist Roddy Doyle's books that American cultural references are all through them.
That's where your soft power is, Dan (we both laugh). It's much more preferable to the hard power.
After going over Inventing the Abbotts in my head again, I was struck with how that story might have appealed to you. We Americans like to believe there are not class divisions here...
The class divisions are more overtly based on money in the United States than other things. Say, for instance in England -- I say "England" rather than "Britain," because it's slight different in the other two countries. Class divisions are based on background, family, snobbery, private education vs. public. Now that's happened in the States as well.
In America, you have class divisions. Wherever human beings are, you're going to have class divisions. You have to control the power and greed of one group over the other.
All images ©Goldcrest Films/BBC Worldwide North America, used by permission.
Official Trailer for Private Peaceful.
Calling all HuffPost superfans!
Sign up for membership to become a founding member and help shape HuffPost's next chapter