Yesterday was the Fourth of July. That's the day we celebrate the vision and courage shown by our nation's founders. July 4th is the day they published a document which said it was "self-evident" that everyone has "certain unalienable rights," including the rights to "life, liberty and the pursuit of happiness."
There are solutions to our unemployment problems, which have created nothing less than a lingering depression for wide swaths of our population. All we need is willpower... and remembering.
Today the headlines cheered the latest unemployment figures as if they were some sort of victory, not the continuation of a human tragedy for millions of Americans. Apparently our political leaders don't want to talk about their suffering, perhaps because they're not willing to expend "political capital" by trying to help them. And our journalistic class, by and large, hasn't bothered to understand what's happening in our country.
So millions of Americans have joined the ranks of the long-term unemployed -- and the long-term forgotten.
How bad is it? The official unemployment rate is unchanged, at 7.6 percent, but even that figure - well above the accepted "full employment" rate of 5 percent - barely scratches the surface. As Drew DeSilver points out, the seasonally adjusted length of unemployment - a real indicator of extended human suffering -- is 35.6 weeks, barely down from its high of 40.7 weeks at the worst of the crisis.
Before Wall Street wrecked the economy in 2008 the average duration was 16 to 17 weeks -- less than half of what it remains today.
Dig a little deeper into this number. You'll find that one of the main reasons it's so high is that a core group of millions of people has been out of work ever since the crisis hit. They've gone from being productively employed citizens to economic cast-offs, written off as collateral damage in Wall Street's war on the human economy.
They've joined the ranks of the Forgotten Americans. And the Bureau of Labor Statistics tells us that there are 4.3 million of them. Picture them as ghosts, wandering the blighted landscapes of our rust-belt towns, inner cities, and dying farm communities.
Need a soundtrack for that image? Try Woody Guthrie's old ballad: "I Ain't Got No Home In This World Anymore." Tragically, the old is once again new.
The government's "U6" figures, which includes the officially under-employed as well as the unemployed, stands at nearly 15 percent, up from roughly 8 percent before the bank crisis. If we include the long-term unemployed who were removed from these calculations in 1994, as John Williams has done, we get a figure of 23 percent.
More than seven million Americans have given up in despair and stopped looking for work.
Seven million. They've been forgotten too.
The labor force participation rate -- the percentage of the eligible population that's actually working -- is still hovering near its post crisis low. The ones who are caught in that gap have been forgotten too.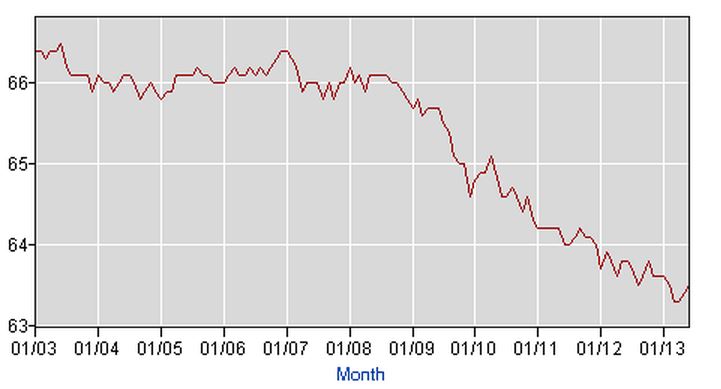 Labor Force Participation Rate
(Source: United States Bureau of Labor Statistics)
The number of people with only part-time work, despite seeking full-time employment, actually increased in June to 8.2 million. That's a jump of 322,000.
The unemployment rate for African Americans is 13.7 percent, more than double the white American rate. In 1952 Ralph Ellison wrote a novel about his experiences as an African American and called it Invisible Man. In 2013, African Americans are still invisible when it comes to job policy.
The Hispanic unemployment rate, while slightly better, remained unacceptably high (and well about non-Hispanic white rates) at 9.1 percent.
Under-employed? Forgotten African-Americans? Forgotten. Hispanics? Forgotten. And remember: These are the inadequate, undercounting official rates.
Americans love to profess their love for young people almost as much as they love to profess their love of country on patriotic holidays. But they seem to have forgotten than young people need and deserve job opportunities, and that unemployment at the start of a career reduces lifelong earnings.
The official U6 rate for young people is 16.1 percent. The declining labor force participation rate has left another 1.7 million young adults uncounted among the unemployed in these figures.
As with the overall population, African American and Hispanic unemployment is much worse than it is for the majority among young people.
Forgotten, forgotten, forgotten.
Remembering is an action, not a statement.
There will be occasional words of support for these millions of forgotten Americans. But will there be action? There are certainly solutions available. As Robert Borosage points out, Rep. Frederica Wilson has a jobs proposal that would create 1.9 million new jobs.
Government officials at all levels could also wake up to the reality that austerity measures are hurting, not helping, and could end their destructive binge of job-cutting. These firings are making unemployment worse while depriving Americans of needed public services like education and law enforcement.
A financial transaction tax would provide another equitable and just solution to our unemployment crisis. The tax's proceeds could be used to ease the economic misery these institutions have imposed on innocent Americans. (It would have the added benefit of reducing Wall Street's runaway gambling.)
And the ultra-wealthy who have benefited from our lopsided "recovery" -- thanks to the largesse of taxpayers -- could once again contribute their fair share in taxes.
Lastly, to provide justice for the young and a future for the nation we must end our destructive system of student debt servitude. Tuition should never be the source of debt. (The state of Oregon is working on an innovative and potentially game-changing system for ending college debt penury.) The young people of America deserve their freedom.
We've swept up the paper plates from our picnics. The ashes have been cleaned from a million barbecue grills. The smoke from the fireworks has cleared. Our public professions of love for country and youth have ended. But, as the poet Pablo Neruda once wrote: "Love is so short, and forgetting is so long."
It's time to remember these forgotten Americans -- our brothers and sisters, our neighbors, friends and children -- and to take action to help them. In this time of celebrated patriotism, anything less is hypocrisy.
Popular in the Community