Meet John McAdams. He's a former associate professor for my alma mater -- Marquette University. And, he's the center of a year-long controversy.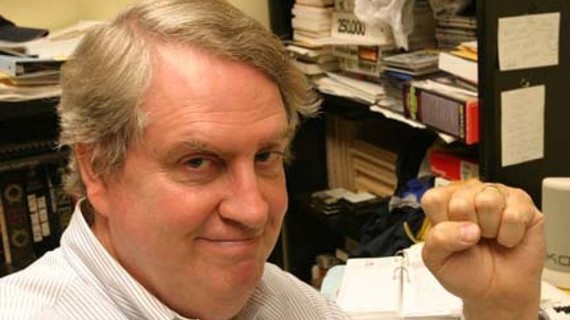 I tried to stay out of this conversation for a long time, but I can't stand by and watch people like him damage the image of Marquette. So, it's time to share my thoughts.
McAdams was suspended from the university in December 2014 for posting a critical article about another instructor, Cheryl Abbate. Why? Because he disagreed with the way she conducted her class. According to the Chicago Tribune, here's what happened:
During class, Abbate said gay marriage didn't need to be discussed because everybody already agreed with it. A student approached her after class to say he held a different opinion. According to a university document quoting the student's recording of the conversation, Abbate, who was in a graduate program at Marquette, told the student: "There are some opinions that are not appropriate ... in this class, homophobic comments, racist comments and sexist comments will not be tolerated. If you don't like that you are more than free to drop this class."
The author of this article, Diana Sroka Rickert, then wrote, "Regardless of how you feel about gay marriage, this isn't the way an instructor should treat a student."
I disagree. This is a classic response from people who feel entitled to share their disagreement with gay marriage. They can't stand it when people tell them to keep their bigoted, unsolicited opinions to themselves. The instructor did not ask for feedback. This student was out of place. This student wanted to engage in a debate about gay marriage. The professor who had the decency to prevent it was publicly bullied for doing the right thing. Bullied by a colleague.
I believe both McAdams and Rickert are wrong. They don't understand Marquette like I do. They claim that because it's a Catholic university, it should shun same-sex marriage and allow students to spread this culture of ignorance and discrimination.
That's not what Catholicism stands for.
That's not what Marquette stands for.
That's not what America stands for.
Marquette is a place of excellence, faith, leadership, and service. All of this is pursued for the greater glory of God and the common benefit of the human community. Therefore, it makes sense that Marquette, similarly to Pope Francis, respects all people no matter their race, religion, creed, gender or sexuality.
McAdams did not live out the mission and values of the university and was, rightfully, suspended. But the topic of same-sex marriage isn't even the main issue here. Let's look at this from a professional standpoint:
- It is inappropriate in most organizations to publicly write about a colleague in a negative way.
- McAdams brought negative attention to Marquette.
- Abbate has every right to shut down racist, homophobic, and discriminatory language in her classroom.
- More people should take Abbate's stance and say, "NO. This language will not be tolerated in institutions of learning."
- It's about time society take a stand against hate speech, which is not the same as free speech.
Rickert is right, tenure is a treasured tenet of higher education. However, to whom much is given, much is expected. Marquette professors are expected to model the way for student, to live out the mission and values of the university, and to "Be the Difference."
McAdams is not the difference. He's an example of the problem our country is facing. He has no place at Marquette. He is not a Golden Eagle. He is not a Warrior.
I am gay and came out during my time at Marquette. I chose to come out at 21 because I was finally part of a community that was loving and accepting of who I am and that empowered me to be successful. I am forever grateful for my Marquette family and the leaders who are keeping the university on a path to greatness.
My name is Aaron Jay Ledesma.
I'm from Houston, Texas.
I'm Catholic.
I'm gay.
I'm me.
Calling all HuffPost superfans!
Sign up for membership to become a founding member and help shape HuffPost's next chapter