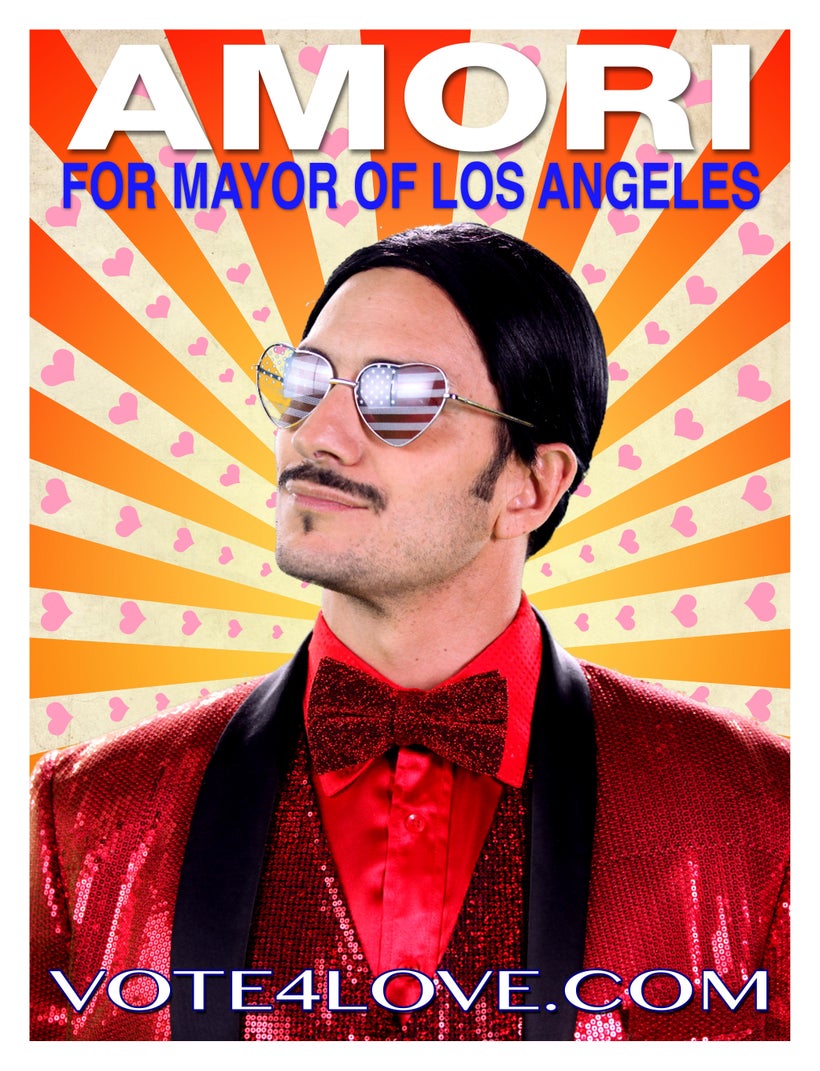 It was a rainy Friday afternoon at a coffee shop in Echo Park; the sidewalks were populated by little more than the occasional scurrying pedestrian when up walks a smiling man in a scarlet, three-piece suit. This man is one of the 10 candidates running for mayor on Tuesday, March 7th and his name is Paul E. Amori.
Amori was raised in San Francisco but has been working as a creative artist in Los Angeles for almost 17 years. He is the founder of Amori's Casino and Burlesque, an immersive experience that features live burlesque, cabaret, music, and fire performers. He and his casino have become fixtures at the Lightning in a Bottle music festival where he was elected mayor for three consecutive years during mock elections orchestrated by the Grand Artique. While his term as mayor of Lightning in a Bottle ended in 2015, his race for the mayor of Los Angeles is yet to be determined.
"Vote 4 Love" was the defining platform of his Lightning in a Bottle campaign and very little has changed since his decision to run for the prestigious seat in City Hall. "The seeds of the idea came from seeing the division and the anger that's being sewn in the national politics," he says over a chocolate chip muffin. "I've been talking about this idea of voting for love for a long time and thought, 'what would it look like if we actually put that into practice?'"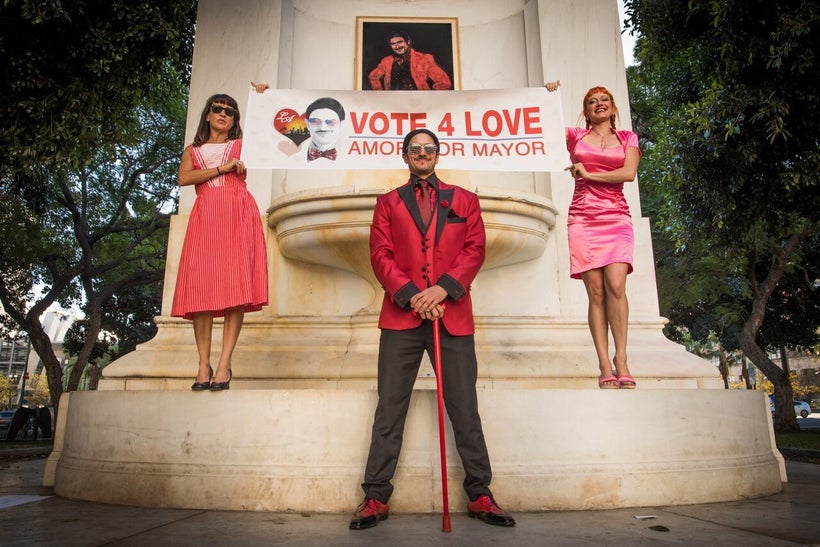 The answer to this question can be found in a series of videos released on Amori's website. In one series, "Getting Candid With the Candidates Over Coffee," he interviews other mayoral candidates in an effort to inform the voters and empower the contenders, even if it means compromising his own votes. "There's not a lot of glory in this, it's really all guts," he says while describing the other candidates. "People aren't doing this because they're trying to get famous, people are doing this because they really care about the city."
From ex-Venice boardwalk performer David "Zuma Dogg" Saltsburg to political strategist, environmentalist, and entrepreneur, Mitchell Schwartz, Amori is creating a dialogue and unity among this extremely diverse array of candidates, something rarely seen in the world of politics. Together they discuss several of the issues plaguing our city as well as important measures appearing on the ballot such as Measure S, or the Neighborhood Integrity Initiative, which is a proposal to modify the city's laws governing changes to the general plan and development projects.
Amori and the candidates he interviews all seem to share sentiments about the misappropriation of funds by City Hall as well as the rise of homelessness and decline of affordable housing. "How are we building luxury high-rises by the scores when we have a huge portion of our citizens living in the streets and we're doing nothing to take care of them," he says while passionately gesticulating with his hands. "The priorities are out of whack."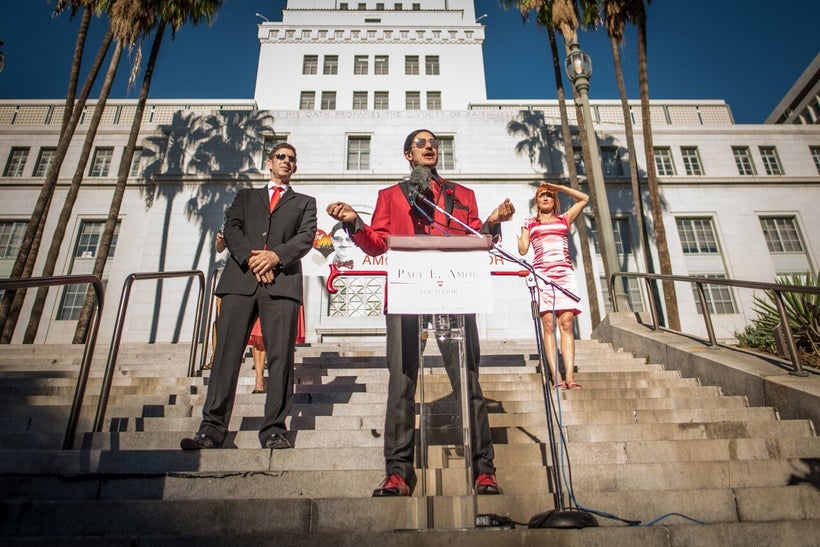 The race is almost as important to him as the seat itself. Determined to bring awareness to the election, Amori cites that voter turnout is projected to be under 20% which, according to LA Times, is based on Eric Garcetti's 2013 election where he won with only 12% of registered voters casting ballots. These shockingly low numbers are reflected in another one of Amori's campaign videos where he hits the streets of Los Angeles and discovers how few people know that there is an election this March 7th; many of the people featured in the video don't even know the name of our current mayor.
"My whole campaign has been about paradigm shift," Amori claims. "It is issues related, of course, because my number one issue is homelessness, but it was really about trying to reengage people, trying to reengage the city, and trying to inspire people to care about their local politics."
While Amori has interviewed half of the candidates, his attempts to reach Garcetti were met with silence. The Los Angeles mayor has not appeared at any debates or forums and has barely campaigned for this election. This, Amori claims, is a political strategy meant to keep Angelenos in the dark about local politics to increase Garcetti's chances of being re-elected.
"The less he shows up, the less people know about the election and the more he wins," Amori explains. "It's an interesting strategy but the problem is that it's not exactly fostering the democratic process."
Admittedly, Amori has no expectations of winning the mayoral seat but he has already made waves in the days leading up to the election. He is an outside-of-the-box-thinking, Burning Man-veteran who has unified the mayoral candidates and brought love into the political world—something it so desperately needs. In addition to his stance on creating more affordable housing, he also believes in renewable energy, fostering the creative economy, and establishing the love party—an affiliation whereby a democrat, republican, or independent would simply be subscribing to a code of ethics that are centered around (you guessed it) love. He is not the first dreamer to run for mayor, nor will he be the last.
"I'm not looking to be a career politician, I'm looking to help my city," he says as we discuss his post-election plans. "Whatever happens in this race, this is the beginning for me."
REAL LIFE. REAL NEWS. REAL VOICES.
Help us tell more of the stories that matter from voices that too often remain unheard.
This post was published on the now-closed HuffPost Contributor platform. Contributors control their own work and posted freely to our site. If you need to flag this entry as abusive,
send us an email
.