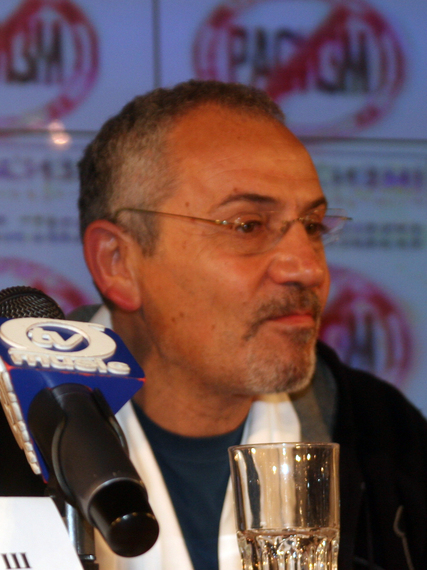 Image: Savik Shuster, a TV talkshow host in Ukraine, began a hunger strike on Tuesday to protest the government's decision to revoke his work permit. Shuster says the move is politically motivated. By Aleksandrit (CC BY-SA 3.0/Wikipedia)
Journalist Savik Shuster knows what it's like to get expelled from a former Soviet country for his reporting and commentary.
Shuster, who was born in Lithuania during Soviet times but now holds dual Canadian and Italian citizenship, was host of a popular political talk show in Russia during the early 2000s.
It was a free-wheeling affair. Shuster and his guests were often critical of the government, which was headed by a new president named Vladimir Putin, who chafed at some of the show's barbs.
In 2005 Russia refused to renew Shuster's work visa.
He took up residence in Ukraine, where he also became as a political talk-show host.
The show's criticism of the Poroshenko administration recently led to his being kicked out of another ex-Soviet country for the second time in 11 years. The boot came this month, when Ukraine revoked his work visa on grounds that he is being investigated for tax evasion -- an allegation Shuster said is bogus.
His two deportations are indicative of the former Soviet Union's penchant for expelling foreign correspondents who get under their leaders' skin.
Russia has made two high-profile deportations of Western journalists in five years.
The first was Luke Harding, a correspondent for Britain's Guardian, in 2011. He was the first Western journalist Russia to have been expelled since Soviet times.
The stage was set for his expulsion in 2007, the year he arrived in Moscow, when he reported that Putin was worth $40 billion, making him one of the world's richest men. Other Western journalists would report later that Putin was the world's richest man, worth upwards of $100 billion. Russian leaders resented Harding more than the others, however, because he opened the door to reporting on the topic.
Putin denied Harding's $40-billion report at a press conference in 2008, saying that those who write such accounts "dig it out of their noses and smear it on their papers."
Harding also reported on Wikileaks disclosures that embarrassed Russia. One was an American diplomat's description of Russia as a "virtual mafia state."
Putin left the presidency in 2008 to become prime minister because the Russian constitution prevents a president from serving more than two terms consecutively. But he was still the power behind the throne in Russia, and thus would have had to sign off on Harding's expulsion, which caused a diplomatic row between Britain and Russia.
Russia's justification for deporting him was that he had committed a visa violation.
The same excuse was served up when Russia expelled American journalist David Satter in 2014. Satter, a former Financial Times reporter, was in Moscow as a consultant for Radio Free Europe/Radio Liberty when he was deported.
That work was probably not what got him expelled, however.
The real reason was likely Russian officials' lingering anger over his accusation in a book in 1999 -- "Darkness at Dawn" -- that Russia's security service, the FSB, was responsible for the bombings of apartment buildings that killed more than 300 people.
The FSB's contention that Islamic radicals were behind the bombings gave Putin, when he became president in 2000, a justification for starting a second war in 10 years against Chechen insurgents. Putin was dissatisfied that previous Russian government had failed to crush the radicals.
To this day the FSB's official stance is that the bombings are still unsolved.
In an irony, sometimes the journalists whom countries in the former Soviet Union expel are not Westerners, but from other ex-Soviet countries.
That was the case when Turkmenistan expelled a Russian working for the RIA Novosti news service in 2005.
Turkmenistan maintained that Viktor Panov had used a journalist's cover to spy for Russia.
While many countries in the former Soviet Union toss out foreign correspondents whose reporting they dislike, some of them welcome correspondents when they believe they can make use of them.
In early April of this year the worst fighting in two decades flared up in the Nagorno Karabakh region that has been a source of contention between Armenia and Azerbaijan since the late 1980s.
The ethnic Armenians who are in control of the enclave tried to get foreign journalists on their side by inviting them to the territory for briefings and to look around and talk with people.
Because the Nagorno Karabakh functionaries had little experience with foreign reporters, press-relations people from Armenia scurried to the enclave to help.
One was Samvel Farmanian, Armenian President Serzh Sargsyan's former press secretary and now a member of parliament from Sargsyan's Republican Party of Armenia. Farmanian asserted that his press-facilitation work in Nagorno Karabakh was strictly as a volunteer.
Other Armenians who rushed to the enclave to help included television personalities Narek Margaryan and Sergey Sargsyan, and even actress Nazeni Hovhannisian, presumably in a morale-bolstering role.
The examples in Ukraine, Russia, Turkmenistan and Nagorno Karabakh indicate that if foreign correspondents can be of use, then let them in, but if they're stepping on your toes, get rid of them.
And, as always in the former Soviet Union when it comes to journalists, the truth be damned.
Armine Sahakyan is a human rights activist based in Armenia. A columnist with the Kyiv Post and a blogger with The Huffington Post, she writes on human rights and democracy in Russia and the former Soviet Union. Follow her on Twitter at: www.twitter.com/ArmineSahakyann
Calling all HuffPost superfans!
Sign up for membership to become a founding member and help shape HuffPost's next chapter