If you think selecting the perfect floral arrangement for your dinner party is stressful, Laura Dowling's resumé just may make you faint. The former official floral designer for the White House, Dowling spent six years working with the Obamas, the State Department, and the White House Social Secretary to devise floral arrangements for state dinners, meetings, holiday gatherings, and other White House events. In a forthcoming book, Floral Diplomacy at the White House (Stitching Kunstboek, $45), Dowling elaborates on her experience, shares behind-the-scenes insights from America's most famous address, and reveals why a floral arrangement in the White House is always more than just a pretty centerpiece. AD caught up with Dowling to hear more about her story and see her favorite arrangements from her White House tenure.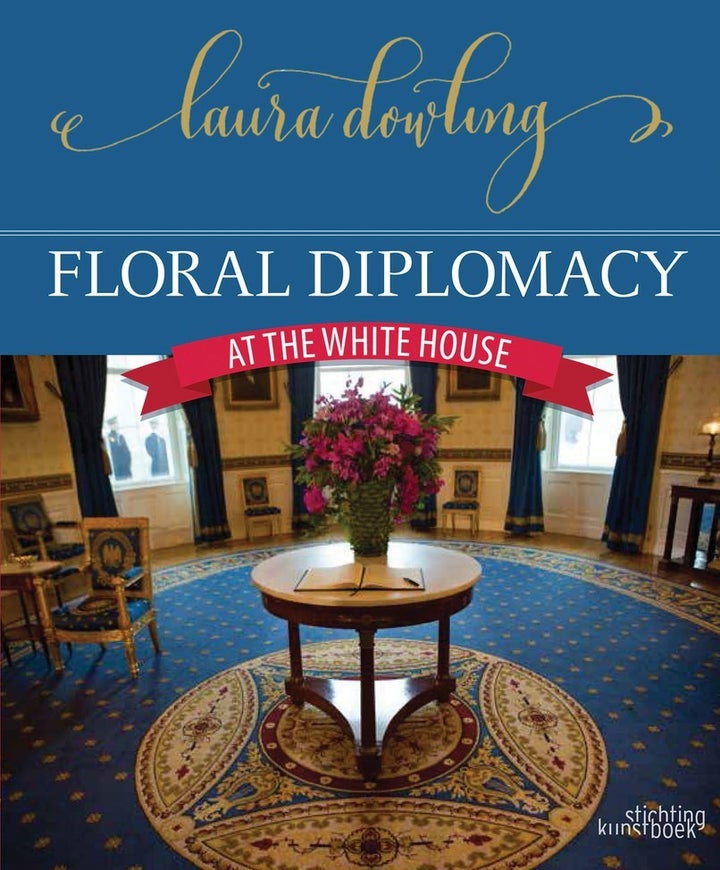 Architectural Digest: Can you tell us a little about your background? How did you get into floral design?
Laura Dowling: I had been working in communications in Washington, D.C., and then I took a trip to Paris with my husband, where I was struck by the flowers I saw. I was just so inspired. I had never seen flowers put together with so much thought. It was almost like couture fashion. It was so different than anything I'd ever seen. So I spent some time studying in Paris, and then when I got back to D.C., I opened a little studio out of my home. I was still working full-time and doing floral arranging on the side when the White House put out the application for a new floral designer. After a long application process, I got a call telling me I was a finalist, which was just so exciting. As finalists, we had to prepare several arrangements at the White House. Many interviews later, I found out I had received the job. It was pretty incredible. I hope people will be inspired and look at my story as "If I could go from my kitchen to the White House, maybe I can, too."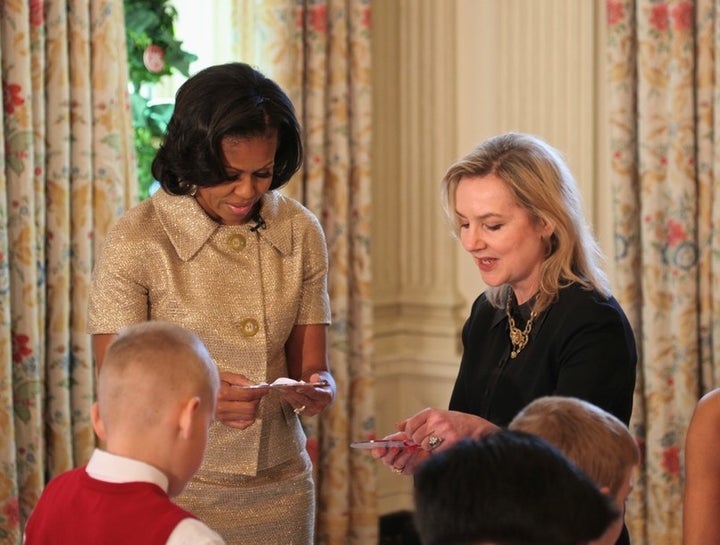 AD: What was the adjustment like to working in the White House?
LD: Well, to go from doing flowers on the side part-time to the White House was sort of an amazing experience. It was probably a good thing that I didn't know how big the portfolio was when I started, because it would have been daunting! There were hundreds each week, sometimes more when there were big events. I do think my previous career helped me more than I realized it would. Being at the White House, which is an inherently political environment, I felt that I used the policy skills and communications background a lot.
AD: Can you tell us about your "floral shop" in the White House?
LD: The flower shop is on the ground floor of the White House. It's an underground office; it wasn't as glamorous as people might think! The best part, though, was this big walk-in cooler. So even though it was small, I packed in tons of volunteers.
AD: How did you work with the White House staff?
LD: There's a lot of collaboration. A state dinner, for example, was always a really interesting project because the overarching goal was to tie in what's best about America—in the decor, in the food, in the entertaining—but it was also a way to honor the visiting guest. So I always collaborated with the State Department to get ideas on special flowers that would reference the visiting country.
AD: Why do you think flowers carry such influence?
LD: It's a timeless and ageless custom, going back to the beginning of man. The lure of the garden. I think it's that tie that we have to nature's beauty. And it is something that cuts across cultures and backgrounds, and something that we use for every symbol in our life. Flowers are the way we communicate in times when words aren't enough. In a political setting, flowers are more than just simple decoration. When they're there on the prominent White House stage, they naturally convey meaning since they're so highly visible.
AD: What was the most inspiring part of your job?
LD: I loved the idea that my flowers could be a central part of what was happening diplomatically. For example, when Angela Merkel came to visit, we did these arrangements inspired by molecular biology, since she used to be a biologist. And I thought, "I wonder if she'll notice that and they'll talk about it." The flowers provide something they can talk about. So I always thought it was a cool thing to have it happen on that personal level, too.
AD: What was your favorite project?
LD: One of my favorite projects was these robotic dogs we did in collaboration with the Office of Science and Technology Policy, the president's advisers on technology initiatives, and the Presidential Innovation Fellows. We made computerized versions of White House dogs Sunny and Bo. That was so neat, because it was all about connecting design with science and technology.
AD: How did the job change in your time there?
LD: Before 2009, the idea was that you just got flowers from wherever you could within your budget. After that, there was more of an awareness about the carbon footprint, or using locally grown flowers, so I always felt it was important to build that into our portfolio. When flowers were in season I worked with local D.C. farms, and I thought they often provided some of our most beautiful, most special things.
More from Architectural Digest: