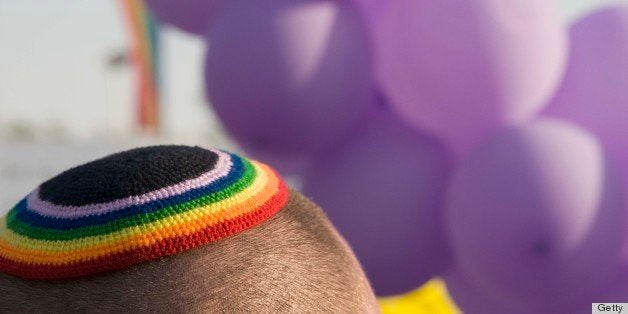 This week, The Forward , the national Jewish news organization, is launching a month-long series on the lives of transgender Jews. Our project kicks off with six profiles of transgender rabbis and rabbinical students.
As the editor of the series, I first became interested in transgender issues after I spent a year reporting on gay and lesbian inclusion in Jewish settings. In the past several decades, the non-Orthodox Jewish world has made enormous strides in welcoming gays and lesbians as congregants, rabbis and community leaders. But there are still many questions regarding inclusion, particularly when it comes to halacha, or Jewish law. For instance, after the Conservative movement officially sanctioned gay marriage in 2006, it took another six years to provide guidance on how rabbis should conduct a gay wedding ceremony that meets the requirements of Jewish law.
In the course of my year of reporting on gay and lesbian Jews, I began to wonder about the untold stories of the "T" folks in the LGBT Jewish world. Of course, there have always been transgender people in synagogues and other Jewish settings. And it's been a full five years since Joy Ladin -- formerly Jay -- made headlines when she returned to Yeshiva University's Stern College for Women as a woman. Yet after a few Jewish LGBT advocates told me that transgender inclusion was the "new frontier," I began to look more closely at how Jewish settings are welcoming trans Jews, and at how trans Jews are creating communities of their own.
I was assisted in my research by Michael Berson, the teenage son of a friend of The Forward, who spent a month looking into the topic for me. He mailed me an inches-thick pile of printouts on everything that has ever been written about transgender Judaism, it seemed (or at least everything that's available on the Internet). On a bus ride from New York City to Maine, I pored over his findings and delved into the book of essays he included with the packet: "Balancing on the Mechitza: Transgender in Jewish Community." As I suspected, the story of transgender Judaism is rich, complicated and evolving, with a fascinating cast of characters -- a recipe for great journalism.
Many trans Jews, I learned, see Judaism as a faith that embraces transition. Bar and bat mitzvahs, weddings, baby naming ceremonies and brises all mark the passage from one phase of life to another. Today, trans Jews are creating ritual to mark aspects of transition, from chest binding to hormone treatment. They are writing about the lesser-known characters in rabbinic literature whose identities fall outside the categories of "male" and "female." They are being heartily welcomed by some synagogues, half-heartedly accommodated by others and ignored or rejected by still more. At the same time, they are pushing the Jewish world to think more critically about gender. (One trans rabbi I spoke with recounted a teaching moment in his congregation when a member asked about the gender of his sibling's newborn child: "They haven't told us yet," he replied.)
I won't spoil the surprise by revealing exactly what we'll be publishing this month, but I will say this: My hope is that our series will introduce our cisgender readers to a portion of the community that has, for the most part, been overlooked by the Jewish press. For our transgender readers, I hope the series is an invitation to become a more active part of The Forward's network -- to share stories, tips, commentary and criticism with us.
Most of all -- and at the risk of tooting my faith community's horn -- I hope that our series shows what it means to be a deeply religious transgender person. I have heard countless stories of LGBT people who feel that they must leave their faith groups behind when they come out. Yet for many of the trans Jews I interviewed, coming out was a religious experience in and of itself.
Check out the first two installments in The Forward's new series on the lives of transgender Jews, including profiles of six transgender rabbis and rabbinical students:
Related
Popular in the Community