Every day of the week, The Pollination Project (www.thepollinationproject.org) provides $1000 in seed funding to an individual who is working to make the world - or just their own community - a better, more peaceful and more sustainable place. Here are the extraordinary people and ideas changing the world this week:
Earlier this year environmentalist Todd Lehman founded EnviroHub, an all-volunteer effort to curate materials and create a central location for science writing and environmental literacy resources. Since then, Todd and his team has partnered with several other environmental websites to offer content on critical issues like climate change, resource use, and population dynamics. The site also offers more than 170 scientific articles from the Environmental Literacy Council and as a result, EnviroHub is already one of the most comprehensive online collections of environmental science research.
English teacher, activist, and multimedia artist Neal Sehgal is founder of the grassroots advocacy group Evolve For Animals. Unlike other organizations in the animal advocacy movement, Evolve for Animals promotes veganism in terms of lifestyle, not just diet, and animal exploitation in terms of use, not just abuse. Their approach includes leafleting, tabling, public speaking engagements, film screenings, and other tactics particularly aimed at reaching college students and the 18-25 age group.
Trista Hendren is the author of The Girl God Book, a children's book that celebrates the Divine Feminine. Trista is working on her second children's book, The Mother Earth Book, a loving tribute to Mother Earth and a call to action for children, their parents and grandparents. The book will include illustrations by renowned Norwegian artist Elisabeth Slettnes as well as inspiring quotes from Vandana Shiva, Alice Walker, Winona LaDuke, Jane Goodall, Raffi Cavoukian, Arundhati Roy and many more. "We must drastically change the world on so many levels: war, poverty, global warming, rape, violence against women, sexual and other forms of slavery," said Trista. "The best place to start is at the beginning, where humans are the most open."
Julia Metzger-Traber and Davide De Lillis are dance and performance artists who are passionate about collaborative, creative work with international participants. They are currently planning a workshop for the youth residents of the Hanoi Vietnam Village of Friendship, a healthcare provider for more than 100 children and 40 adults with a variety of mental and physical conditions, many a result of Agent Orange exposure. Julia first became interested in this community working with the film Lighter Than Orange, a documentary on some of the four million Vietnamese veterans who have been victims of Agent Orange. Julia and Davide intend the workshop to facilitate and communicate a love for these residents' unique bodies, regardless of normative shape or abilities, and have partnered with The University of Fine Arts, Hanoi, and the Berlin Technical College of Design.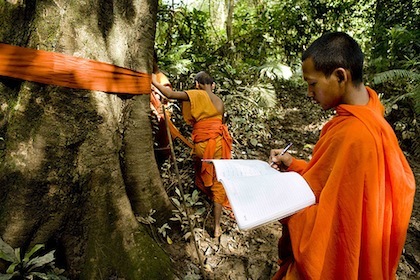 Mother Nature is a movement of nature activists and Buddhist monks fighting for environmental justice in Cambodia. Led by Alex Gonzalez-Davidson, Somnang Sim, Heng Meng, and Ven Lek, Mother Nature is working on a campaign to preserve the Areng Valley, one of Cambodia's most important biological hotspots and home to the Khmer Daeum indigenous groups. Their work aims to stop a proposed hydro dam that would obliterate this incredible biodiversity and obliterate the livelihoods of the 1500 people currently living in the area.
Monica Mueller and Bryn Merrell are a power duo of passionate cinematographers, artists, social entrepreneurs, and storytellers. They founded the online boutique Artful Venture to help artisans in Ecuador reach an international audience, help the artisans support themselves, and create a personal connection between the consumer and the creator. A percentage of each sale supports Arte del Mundo, a non-profit free afterschool program that provides literacy and arts classes for the children of Baños, Ecuador.
Earth Science teacher and geospatial technology expert Alex Chaucer created Geocreds, an innovative digital badge-based website, to encourage higher-education students to gain greater knowledge of geographic information systems (GIS) and technology skills. Alex believes these key educational foundations, along with critical thinking skills, are essential to addressing problems like climate change and increased environmental disasters. "We live in a changing world and students are not getting the education they need," he said. "I see a great need for leadership in getting our youth and professionals the right access to geography and GIS education."
Congratulations to our grantees this week for their outstanding work.
These are just a few examples of what a little seed money can do when put in the hands of someone with a vision and a plan to change the world.
If you were given $1000, how would YOU seed the change?
The Pollination Project makes $1000 grants every day, 365 days a year to individual changemakers. Please go to our website at www.thepollinationproject.org for funding guidelines and application.
Popular in the Community