When Mario Batali, Joe Bastianich and chef Mark Ladner opened Del Posto three years ago, Batali and Bastianich did not try to hide their ambition. They wanted Del Posto to be the first four-star Italian restaurant in New York, and they weren't shy about telling the world that.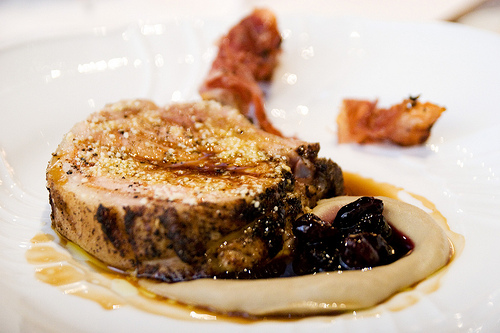 Which was all well and good, except for the fact that I'm not sure that they really know what that meant—and I'm fairly certain the dining public didn't, either. Del Posto had all the trappings of a four-star restaurant: lots of pomp, fancy plates and cutlery, slabs of marble, people in white coats to replace your napkin if it happened to fall off your lap, footstools for women's purses, and mostly excellent Italian food that Ladner produced using lots and lots of terrific, high-end ingredients.
There was only one problem: the Del Posto brain trust never presented to the dining public a coherent vision of just what a four-star Italian dining experience consisted of. As a result serious eaters didn't understand, either. The result: a restaurant that never quite coalesced into a recognizable whole.
Now three years later, much has changed on the New York foodscape. A number of Italian restaurants serving haute cuisine with a side order of multi-star aspirations have opened: Marea, Alto, and Scarpetta immediately come to mind. Meanwhile, Batali, Bastianich, and Ladner are doubling down on their dream. They are throwing down the gauntlet at Del Posto. They have pulled the plug on the less expensive inoteca menu (which was my favorite part of the old Del Posto), taken out some tables, and introduced a $29 prix fixe lunch in the newfound four star tradition of Jean-Georges and Eleven Madison Park. And, in fact, Batali told the Times's Sam Sifton that they have done all this to get the fourth star from the Times and the third star from Michelin.
Never ones to pass up a bargain, the serious eaters have paid a number of lunchtime visits to Del Posto. What we found and tasted was stunning: Ladner has somehow managed to reconcile the earthy and the elegant, just what a four-star Italian restaurant has to do. In so doing he has taken complete charge of the mammoth kitchen, and serious eaters are in good—no, great hands. The food at Del Posto is now grounded, focused, and crazy good. Ladner is not a household name, but he should be.
And that $29 lunch deal? It's a steal. Here's why.
Let's start with the bread basket, which by itself could make a fine picnic lunch in the Italian countryside. It is, as I have written before, the best bread basket in New York City—all made in-house by Ernesto Gonzalez, himself trained by La Brea Bakery founder Nancy Silverton. The salted grissini are perfect, slightly thick breadsticks. His mini-focaccia are light and moist and just oily enough. His crusty mini-baguettes have perfect hole structure and are a perfect foil for the whipped and tempered Luigi Guffanti Italian butter and the whipped lardo that comes with the bread basket.
Amazingly, all these breads come out warm. Do not let your waiter bring you more bread. (They will. It's tempting.) You need to save room for the rest of the food.
Like the three amuses, primi assaggi, that are presented to the $29 lunchers. Stracciatella, an extraordinarily savory and light Roman egg drop soup. Saffron suppli, a perfect little hillock of Marchesi's famous saffron risotto with edible gold leaf. Yet another perfect bite, mortadella in pastella, a porky, creamy mini-bologna panini.
The meal continues with your choice of an appetizer. Roasted vegetables are inherently boring. They even sound boring. Ladner's Roasted Autumn Vegetables with Robiola Sformato & Truffled Hazelnuts, however, are a thing of genius. The truffled hazelnuts make everything they touch seriously delicious, the robiola cheese sformato lends the vegetables a smooth souffle-like creaminess, and even the vegetables and fruits on their own are intensely flavored, alternately sweet and savory.
Bollito Misto Terrina with wild mustard and Umbrian lentil vinaigrette is a deftly prepared boiled meat terrine featuring pressed-together cotechino sausage, lamb's tongue, hen, stinco (veal steak), and short ribs.
Carne Cruda (steak tartare) with truffled salsa, Parmigiano-Reggiano and shaved porcini, is worth every penny of the $10 supplement. It is earthiness to the third power on a plate. Every bite is an unalloyed pleasure. Lobster salad fra diavola mingles with broccoli rabe, dried orange, and the sweet-sour agrodolce. It carries a $15 supplement, but there's no shortage of lobster meat on the plate.
Ladner has always been a master pasta chef, and Garganelli Verdi al Ragu Bolognese reflects that particular talent. Hand-shaped and cut green garganelli come in a proper and perfect Bolognese sauce. Orecchiette with lamb neck sausage, cherry peppers and broccoli rabe is another gorgeously executed pasta dish that emphasizes the earthy side of Ladner's cooking.
Del Posto's Agnolotti dal Plin with Parmigiano-Reggiano, served in a white napkin, are impossibly delicate little veal, pork, and mortadella-filled ravioli that you eat with your hands—dipping each one into a ramekin of freshly grated Parmigiano Reggiano. You should pass them around your table so that everyone will get to taste one. But you will be sorely tempted to hide them under the table in a probably futile effort to horde these suckers.
Roasted lamb rack with tail ragu alla Puttanesca and sauteed basil—one gorgeous chop (at least at lunch) and a pile of earthy lamb tail right on the plate.
Wood-grilled lobster has a subtle woody flavor. It comes with little semolina-based gnocchi, gnochetti sardi, and salty shards of salicorni. Grilled pork, "an ode to Emilia-Romagna," comes with sunchokes braised in milk and pureed with butter. It's a rich, satisfying, and filling dish. Salmon with chestnuts, watercress, black truffles and trumpet mushrooms was the least interesting dish we tried (if perfectly prepared). But I rarely find salmon dishes interesting.
We did step off the $29 menu to splurge, with a perfect plate of fettuccini with white truffles and butter... and cleaned the plate. It's $57 for one plate of pasta, and it's worth every cent. Order one dish for your table. Watch it disappear.
Del Posto has another secret weapon. Rocker turned pastry chef Brooks Headley, who also trained under Nancy Silverton, is simply the best New York pastry chef you have never heard of. That should not be a surprise. In fact, it should be noted that Mario Batali has singlehandedly elevated Italian desserts in this town. Consider our own monstrously talented Gina DePalma of Babbo, or Meredith Kurtzman of Otto. Headley's desserts are simultaneously Italian-inspired and elegant.
A delectable chocolate ricotta cake with toasted Sicilian pistachios and extra-virgin olive oil gelato. Sfera di caprino, spherical goat cheesecake balls rolled in salted olive oil bread crumbs, are accompanied by celery and fig agrodolce and celery sorbetto. Who knew that celery could play such a prominent role in such a fine dessert.
The best dark chocolate coffee tartufo imaginable, served with a little candied lemon. I am ready to foresake all other tartufo. A not-very-sweet butterscotch semifreddo is split and served with a sour orange sauce made with rehydrated dried cantaloupe and some cookie crumbles.
Okay, so now everyone at the table has had a dessert as part of your $29 lunch. You are perfectly sated. Maybe a little beyond sated. But this $29 meal is like a late night infomercial—there's more. There's more food coming, more dessert, and you must forge onward and upward:
Warm Bomboloni with vanilla-orange crema pasticierra: the best little doughnuts you could have.
Roasted dates filled with yogurt and almonds with olive oil and sea salt from Trappani. I don't even like dates, but I loved this sweet tart salty oily combination.
Chocolate-olive oil popsicle, the best ice cream on a stick I've ever had in my life. This is a chocolate-covered olive oil ice cream pop rolled in crunchy bread crumbs. It's the drumstick of my dreams.
You open the box of goodies below the three mentioned above, and yes—there's even more.
A thumbprint-sized one-bite polenta crostata made with Anson Mills polenta.
Two tiny bites of candied grapefruit dipped in Amaretti crumbs and caramel. Sweet and tart and crunchy at the same time.
Free-form bitter, black chocolate truffles.
The gamble has paid off. Del Posto is now as good an Italian restaurant as exists in this country. It's Mark Ladner's show at Del Posto now (along with Ernesto Gonzalez and Brooks Headley), and what a four-star show it is.
Ladner's food has grown immeasurably in three years. He is now cooking Italian food at a level we New Yorkers are not used to. He has threaded the Italian-American food needle, in that he has reconciled the elegant and the earthy elements of fancypants Italian food.
Go and see for yourself. Amuses, a starter, bread, an entree, dessert, and all six post-desserts? At $29 they're practically daring serious eaters to try it. Take them up on it. You will spend $29 for a transcendent lunch. Think of this great bargain as Ladner's (and Batali's and Bastianich's) holiday present to serious eaters. Just report back and tell me what you think.
Del Posto85 10th Avenue, New York NY 10011718-623-0570
Service: Formal, proper, but a little more relaxed these days Setting: Cavernous, elegant, still a little cruise-shippy Must-Haves: Bread basket, roasted vegetables, carne cruda, agnolotti, orecchiete, roasted lamb rack, butterscotch semifreddo Cost: $29 for three courses, amuses, extra dessert bites, and the best bread basket in townAvailable: Weds-Fri, may expand in the futureGrade: A
Related
Popular in the Community