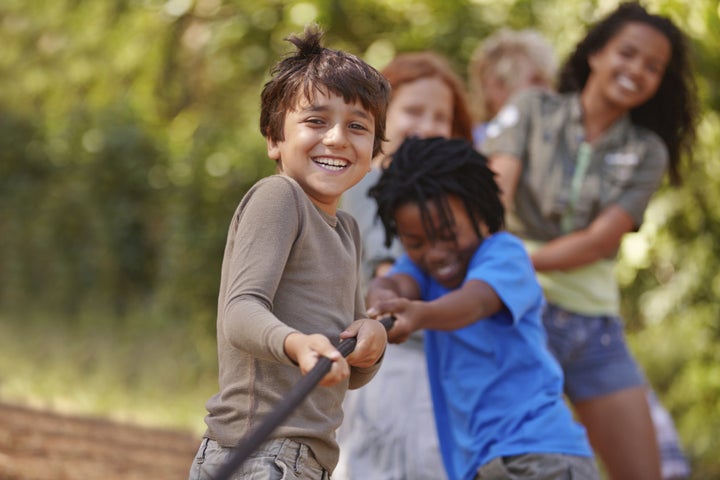 The concept of sleepaway camp has always been a bit foreign to me.
I only fell into the camp world when my oldest son requested to go the summer our youngest was due; quite honestly the thought of having one fewer child to amuse for a month with all those sleepless nights we had ahead of us was too tempting to pass up.
Neither my husband nor I ever attended sleepaway camp, so we didn't see it as the inalienable right of passage that many of our friends who attended sleepaway camp did.
But after listening to them wax on about Camp Equiwinnebego Pine Tree Trails West and seeing all three of our sons earn three, five and seven-year water bottles, T-shirts, and jackets (respectively), I concluded that there are four basic types of camper and bloodlines.
Color War General legacy notwithstanding, the category into which one falls does not directly correlate with the experiences and level of enthusiasm exhibited by the prior generation.
The Non-Camper will never ever be a camper no matter how hard you try and no matter how much you loved camp. This individual will hate every moment of sleepaway camp from the moment they arrive until the moment they depart and at some point will probably refuse to go back.
This isn't the child who needs time to adjust to get over his or her homesickness. This is simply a miserable camper; one who hates the food, the bugs, the activities, the kids, the counselors, etc. Do not despair ― this does not mean they will never leave home and will be with you forever.
My good friend's son was not a camp kind of kid; switching camps did nothing to improve his feelings about spending summers in a bunk. I am happy to report he is a successful, productive and well-adjusted adult.
If you have a child who simply hates camp, do not read too much into the situation or take it personally. Perhaps a different type of summer program, one which does not involve traditional camp activities, would be a better fit.
2. The Fine-With-Camp Camper
The Fine-With-Camp camper is just what the name implies. This type of camper likes camp well enough when they are there. They are neither miserable nor ecstatic. They compliantly get on the Leprechaun bus and show a mild amount of enthusiasm for things camp related. They may experience some degree of homesickness initially, which they can overcome without too much difficulty.
They enjoy some of the activities and have camp friends but are also happy to go home at the end of the summer. These campers may willingly return for several summers, however when their tenure at camp is over they don't look back.
The Happy Camper looks forward to camp every year, perhaps even counting down those last months before camp begins. They attend camp reunions and keep in touch with their camp friends during the entire year. These are the campers who go back as waiters and perhaps even become counselors for a few years.
They share the inside jokes, know the camp songs and feel that camp is a home away from home. When the summer ends they are sad to say goodbye, however, they are excited to go home and sleep in their comfy beds and air-conditioned rooms and see their pets and family.
Unlike the Fine-With-Camp camper, when their camp years come to an end, they may feel a sense of sadness and even loss but accept that it's time to move on.
We all know an Ultimate Camper. This is the die-hard camper who talks about camp all year 'round (even when they are old enough to have camp age children themselves). The Ultimate Camper knows how many days until the start of camp, even in the winter. Camp is a HUGE part of their life; the place where they found their tribe and feel most comfortable and happiest.
Ultimate Campers dream and talk about owning a camp – their camp – someday, or at least want to work there every summer for the rest of their lives. These campers continue to go back for reunions and color war long after their camp days are over. The Ultimate Camper writes their college essays about the virtues of camp and really means every word.
You will be able to spot an Ultimate Camper from a distance because they will be wearing their camp sweatshirt or hat (even 30 years after their last summer). Right about now you are probably thinking about an ultimate camper you have met and how camp courses through their veins.
There are sometimes blurred lines as well as movement, (generally upward), between the camp categories. For instance, a Fine-With-Camp camper can become a Happy Camper over time. The type of camper one is destined to become cannot be predicted. I have been surprised by my sons' varying feelings toward camp.
As an initial non-believer in camp I have grudgingly been won over by the many positive aspects and benefits of camp, for both campers and their parents. The right camp at the right age for the right amount of time can be a wonderful thing. Conversely, forcing your child to attend a sports camp when they are a computer kid can lead to disaster.
Here's hoping for a summer of happy campers and happy parents!