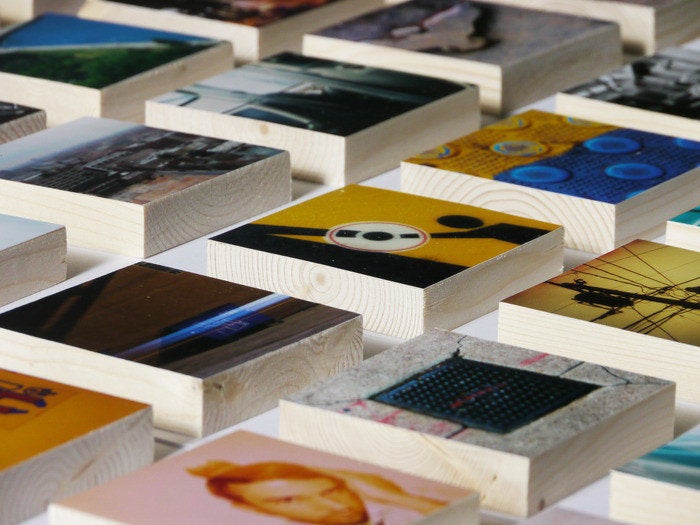 Although many works of art are dubbed "priceless," we rarely encounter any that are actually free. On that note, we giddily introduce you to our new favorite Kickstarter project, The Free Art Machine which is exactly what it sounds like.
Created by Chicago artists Leo Rosen and Max Goldman, aka Chicago the Beautiful, The Free Art Machine is quite possibly the most generous public art experiment ever, producing thousands of limited edition artworks and distributing them to lucky collectors.
The FAM is a magnificent beast that yields a compact artwork for only one dollar. The works are 3.5" x 3.5" x .75" wood blocks with a photo mounted on the front. The public participation extends not only to the art consumer but to the art maker as well; you can upload an image of your artwork to the FAM and connect your work to a Chicagoan who loves it.
The FAM project is aiming to raise $8,000 on Kickstarter, with half going toward the art-making itself and half toward production of rewards. The result? Four thousand works of art which will then be displayed in cafes, museums and public spaces. People are free to take a work of art home with them, providing a space for art evaluation, awareness and appreciation to live and flourish. The artist's information will be on the back of the photoblock, allowing the art collectors-in-training to reach out to their new favorite artists. What's not to love?
Check out their groovy Kickstarter video above and let us know your thoughts in the comments section.
CORRECTION: An earlier edition of this article stated the artworks were sealed with epoxy resin. Only the rewards are sealed with epoxy resin.
Related
Popular in the Community