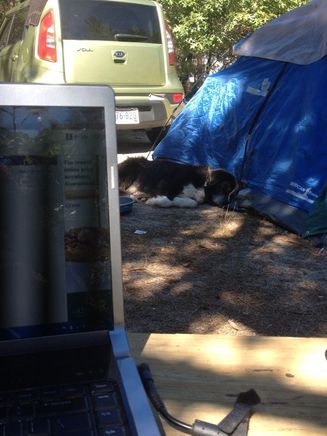 Be creative when selecting office spaces.
I sat in a rocking chair by a blazing fireplace with my computer in my lap, typing, in what I thought was new favorite café/office. All week long, interesting people sat and chatted with me -- an old woman out for her weekly winter outing in our small Oceanside city, a man who had a penchant for good fountain pens, even a Catholic priest.

The café owner scowled at me from behind the counter, motivating me to purchase sandwiches at least twice a day. He deliberately refrained from making eye contact when I ordered. I didn't know why the owner might have it in for me, and convinced myself I was paranoid. The scowl, the lack of eye contact could have been the man's natural state.
Then he came over to talk to me.
"Let me tell you what's going on here," he began and proceeded to tell me how his place was no longer a café, but was now for sit-down meals. He said that when summer came the place would be packed and there would be no room to loiter all day. I scanned the ten empty tables in the waitressless, less-than-$7-a-plate cafe, smiled and nodded. At least three people nursed cups of coffee. I ran my hand through my hair. It was clean and brushed.
"I don't mind you staying here for an hour maybe, but not all day," the angry man said.
I stood, deposited my used plate and cup into the bus bin and did a walk of shame to the door. People stared. I reached the fresh air and tried to figure out what happened. I'd been bounced from a public place, presumably because I was spending too many intimate moments with my computer. Let me tell you what's going on. Did that mean the man had been sending people over to talk to me? Had the old lady, the fountain pen aficionado, the priest, been plants? I remembered the intensity of the man's scowl. It couldn't just have been the computer. I must remind him of an old girlfriend or a niece that he'd loathed, I thought. It was the first time in nearly seven years of freelance coffee shop-hopping that anything remotely like that occurred.
I begin this blog with this anecdote as a cautionary tale.
This café was an oddity, the owner's actions a freak of etiquette you'll probably never encounter.
Still, the possibility exists that you'll find yourself somewhere our kind is not welcome. If that happens, trust your instincts. If you sense you aren't welcome, run.

The Freelancer's 3-Step Guide to Finding the Perfect Workplace
1) Know your own nature. I live on an organic farm in a two story "cabin" with warm wood walls, a flower garden, ten miles of hiking trails and a semi-private skinny dipping pond. I'd let over a full year pass before I admitted that for me, it wasn't a near perfect working environment.
I grew up in New York. My mind often requires people, noise (subdued) and movement to pull off the acrobatic feats freelancing full time requires. People watching inspires me, gets my creative juices flowing. Too much city, however, disorients me. I also require down time, being grounded in the natural world. Weekly combinations of couch writing and café writing balances me -- keeps me at my most prolific.
Know yourself. Ninety percent of artist retreats are offered in rural locations. If country based solitude is the key to your artistic soul, wonderful, congratulations. You have so many great options. If you are part city mouse -- consider alternatives. Cafes, hotels lobbies, train cars, sleepy bars, can all be wonderful places to get good work done.
2) Be creative. Campgrounds and other makeshift office spaces. A few years ago, I spent about six of the warmer New England months renting out my loft in Providence on Airbnb. When somebody rented my apartment, I went to campgrounds. My favorite early fall-time campground was located on Cape Cod. After sunrise, I drank coffee. Then my dog and I walked two miles through a soft pitch pine needle forest to the ocean and back. When we returned, my dog crawled under the car to sleep. I sat down at my makeshift office. My best rested against a tree trunk (the tree also offering shade for my screen). I plugged my computer into the electrical outlet, set it on a tiny wooden lap desk my friend built and got to work. In the afternoon, I watched crows darting around pine trees, cutting through clear blue sky. I often shared dinner -- store bought lobster and wine with the other campground occupants (more than a few of whom were renting their homes out for the summer and living in RV's).
Possibilities for creative space are endless. Just make sure your central focus is an "office" where you can spend hours focusing on work.

3) Café checklist. Cafes are an obvious choice for whittling away at some of the tasks at your day job.
Style
Personal tastes are eclectic and varied. Learn what environment works for you.
My personal tastes include: a) High top tables and/or cushy chairs; b) free WiFi; C) an electrical outlet; d) dark lighting; e) staff that are friendly, but not overly attentive; f) mellow singer/songwriter type music; g) good coffee and salads.

Etiquette
Always be conscientious of your environment. If it truly is a café where seating is limited and the owners work hard to pay rent -- stay less time and/or purchase more food.
Budget
I keep my café budget at a fixed rate -- generally around $30-40 weekly or so. If it is a place where I feel compelled to purchase more food, I limit my café days to three.

Things to include in pack:
Earphones, music, backup batteries. A notebook to handwrite in for people watching/journaling and manageable to-do list.
Things to Avoid
Corporate chains
Places where too many people know you by name and distract you.
Nasty café owners (see story above)
Stay tuned for part two of this column. Freelance Wanderlust. Ways to maintain the life/work balance while traveling.
Calling all HuffPost superfans!
Sign up for membership to become a founding member and help shape HuffPost's next chapter