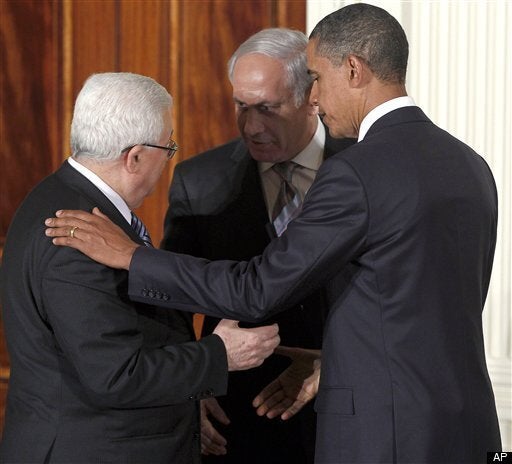 European High Representative for Foreign Affairs & Security Policy Baroness Catherine Ashton decided to head to China instead of participating in the Middle East stakeholders dinner hosted by President Obama in the Old Family Dining Room this week.
Former British Prime Minister Tony Blair covered a lot of national and transnational categories as head of the Quartet -- meaning theoretically that the EU, Russia and the UN were in the room along with the US, Israel, Palestine, Egypt and Jordan.
But two notable stakeholders were absent, and President Obama's team took care to address this by issuing a "readout" of phone conversations between himself and France's President Nicolas Sarkozy and Saudi King Abdullah.
Readout of President Obama's Recent Calls on the Middle East

President Obama called President Sarkozy earlier today to thank him for his support for a comprehensive Middle East peace, and to consult on next steps to encourage further progress in the direct talks between Israel and the Palestinian Authority. The President noted that he had a productive series of meetings yesterday, and said that he believed the two parties were committed to achieving progress. President Sarkozy affirmed his full support for the peace talks and his commitment to working with President Obama and the other leaders to advance the process. Both leaders agreed to remain in close touch on this issue as part of their ongoing cooperation.

Earlier in the week on [Monday], August 31, the President called King Abdullah of Saudi Arabia to discuss the situation in the region, including direct talks between the Israelis and Palestinians and the end of the U.S. combat mission in Iraq.
I don't know whether the Saudi King wanted to attend, but through the grapevine have learned that France's political CEO was miffed not to be included. France takes affairs in the Middle East and what is unfolding with Israel-Palestine, Lebanon and Syria -- as well as Iran -- very seriously.
An Obama-Sarkozky phone call on the fringe of this renewed effort is probably not enough, and France needs to be built in more directly. Lady Ashton has other affairs to tend to -- and these make sense -- but when there is a chance of securing a new equilibrium in the Middle East, France on its own merits should be a core partner.
One of the realities of the "messy status quo" that was reachieved by restarting direct peace negotiations is that Hamas remains outside the camp of those consulted. Hamas' power and influence have grown with attempts to isolate it -- and ultimately, Hamas needs to be part of the package.
While there are enormous political impediments to the US managing direct discussions with Hamas -- which only contributes to a sense in the Middle East that America's affections in this mess are one-sided -- the US can "remove the veto" on other nations dealing with Hamas to see how its views and parameters can be heard or potentially moved through some kind of engagement.
In my view, the only modern-day Kissinger who is operating in European foreign circles today is French national security adviser to the President Jean-David Levitte, former French Ambassador to the United States.
One senior US State Department official I discussed Levitte with, and who took mental stock of the various foreign policy hands in important European positions today, saw Levitte as the only one who had both a granular understanding of equities at play in the Middle East and a good vision of where things needed to go.
There is a behind-the-scenes veto on our allies dealing with Hamas, and this needs to be lifted. Levitte is the right one to be working quietly and privately to see if Hamas can be brought into a structure largely consistent with that which could be forged by Netanyahu, Abbas and the others in the rather limited group trying to jump start the Middle East peace process.
Popular in the Community