British sculptor and multimedia conceptual artist Jane McAdam Freud continues to excavate deep within the bowels of humanity. In her first solo exhibit in New York City, Random Plus, she creates visual paradigms that shed light not only on crucial transgenerational bonds (in her own family and in ours), but also unearth the hidden gems to be found in authentic psychoanalytic inquiry both on and off the couch. Using clay, bronze, and copper, the artist continues the Freudian tradition of a fascination with tactile works that echo our primordial roots.
It's no accident that the show was co-curated by Los Angeles psychoanalyst Esther Dreifuss-Kattan and coincides with McAdam Freud having been chosen as the speaker for the Presidential Symposium of the American Psychoanalytic Association's Centennial Celebration. Her artwork evokes the wisdom and universality of analytic concepts grounded in the dynamics between what is conscious and unconscious, contemporary and ancient, known and unknown. Take for example, the artist's massive sculpture, Sisyphus. It references an ancient Greek myth that no doubt resonated with her great grandfather and reveals his notion of the repetition compulsion, in which even the strongest among us are doomed to repeat situations that remain unexamined, which often involve what we are most tied to and familiar with that fail to be worked through. Hence, in this amorphous sculpture, Sisyphus and the boulder with which he struggles so desperately have no clear boundary between them and therefore no end to their conflict--no matter how tragic the consequences. In earlier incarnations of Sisyphus (whose images can be found in the link below), especially in her medallic work, there is a higher degree of relief and, therefore, more of a boundary between man and what obsesses him. In this current version, however, McAdam Freud makes painfully tangible the concept of the repetition compulsion in a manner that even her great grandfather never could.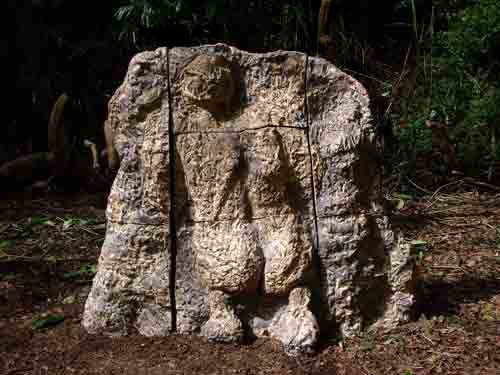 McAdam Freud's latest incantation of Sisyphus, more amorphous than its medallic counterpart, which makes palpable the conceptual roots of Sigmund Freud's repetition compulsion. Photo courtesy of the artist.
Out of the art gallery and into our offices, as practitioners of psychoanalytic psychotherapies, we witness the pain of patients stuck in interpersonal relationships or, more often, intrapsychic conflicts (demons known as negative introjects). Stepping inbetween them--with a corrective emotional experience that can only emerge after a rocky transference; a series of relevant, well-timed interpretations; or the sheer force of empathy in which we put into words the torment and exactly what else the patient has suffered--is our primary, but no easy, task.
Other works such as the After Bacon series, Subjective Object, and Taken are, at their core, also inspired by psychoanalysis and riff on the nature of human sexuality and the dreamwork, which make palpable unconscious defense mechanisms such as condensation and the concept of multi-determinism. (If only the media, policy makers, and politicians could entertain the latter, they might have a golden opportunity to untangle the intricate web that coalesced as the nightmare of Tucson, AZ.)
Also on display are McAdam Freud's collection of drawings inspired by her artist's residency at the Freud Museum in London, her medallic art, and her short film, Dead or Alive. The conceptual sculptures in Random Plus--each one a signpost on "the royal road to the unconscious"--will be exhibited at the Sundaram Tagore Gallery in Chelsea from January 13 through 29. And lest you believe that Jane McAdam Freud is only celebrated in the analytic world, it's worth noting that her artwork has been acquired by the British Museum, Berlin State Museum, and National Gallery of Greece and is on permanent display at the Victoria and Albert Museum in London, among many other prestigious venues.
To read more about the life and art of Jane McAdam Freud and view more of her work with commentary by noted art curator and artist, Souhad Rafey, click here.
Calling all HuffPost superfans!
Sign up for membership to become a founding member and help shape HuffPost's next chapter