They were born three months apart. As infants, they would lie together on a brightly-colored activity mat, gleefully kicking the toys hanging above, squealing with delight. All of the textbook "developmental milestones" they achieved together. No one could have imagined that, eight years later, she would again be with him, by his side, as he boarded a plane from Dallas to Seattle and we embarked on his last adventure -- literally a last-minute, last-ditch attempt to save his life.
Julia and Zach -- inseparable, neither by distance nor disease. Leukemia was no match for this pair. Even though Zach moved to Dallas at age 4, leaving Julia in Austin, their friendship was one of the most remarkable, loving and lasting ones I've had the privilege to witness. Some years the visits were frequent, and others, few. However, they always picked up right where they left off, in that comfortable place that only soul mates know.
Then one year, the unthinkable happened. At the tender age of 5, Zach developed AML, or acute myeloid leukemia -- a disease rare in children but the most common form of leukemia in adults (average age of onset is 66). Treatment for AML is insanely intense, both physically and emotionally, requiring months in the hospital and possibly even a dangerous but lifesaving bone marrow transplant. And Zach was one of the unlucky ones, as his leukemia returned not once, but twice. Each time, more brutal, pedal-to-the-metal chemo and a bone marrow transplant were his only curative options.
But as Zach's leukemia grew stronger, so did his friendship with and (dare I say) dependence on Julia for life-affirming love and for the feeling that with her, he was always home. Their conversations shifted from the phone to FaceTime and yes, even texts, as the years passed. I used to laugh as she'd talk and talk and grill him with girl-style open-ended questions to which he'd reply "huh," as if she was speaking another language. They were, in many ways, like an old couple, wise beyond their years... from long, deep conversations to holding hands on the beach to the occasional teen-style argument to worriedly wondering why the other didn't return a call. She, at age 9, would travel solo often to visit Zach, once even flying all the way from Ft. Lauderdale. Julia traveled thousands of miles at least five times during Zach's last year of life, a great credit to her, to her school and to her family for teaching that the lessons of love and compassion always trump those of reading, writing and arithmetic. We always said that Julia was Zach's "best medicine." We never knew which visit might be the last. It takes an extraordinary young girl and an uncommonly brilliant soul to travel alone for long distances on an airplane, to witness central line dressing changes, nose tube insertions, vomiting, nosebleeds, high fevers and a shedding head of hair. And most of all, it takes an incredible friend to listen to the hopes and fears of a young boy whose time may be running short.
Being a kid with cancer is extremely isolating, and enduring friends can be in short supply -- not because people don't care, but, oftentimes, because life just goes on. People are busy being "normal" while a cancer family's existence is careening in the opposite direction. Chasing a cure for pediatric cancer is usually a marathon, not a sprint. Many kids battle their disease for years -- in and out of school, in and out of hospitals, traveling to multiple cities. It's easy to lose touch.
Then there is the literal physical isolation of having a weakened immune system. We always had to be incredibly vigilant about germs. Any random virus, bacteria or fungus (commonly found in dirt, construction sites and on pets) could spell disaster, or at minimum score you a nice hospital stay. And as an added "bonus," if a cancer patient happens to get a bug, he is isolated in his room for days on end to protect others on the floor. Zach spent his last months of life, yes, in isolation in a hospital room, fighting to qualify for a novel third bone marrow transplant, his weak immune system unable to clear a common cold virus.
The scene in the cancer unit for visitors can also be intimidating, to say the least. Many parents worry how their kids will react to their barely recognizable, tube-tethered, balding friends -- that maybe they are too young to handle in-your-face mortality. Or, maybe subconsciously, the parents fear how they will react or what they'll see. Yes, you'll see tubes, monitors and IVs. You may witness a vomiting episode, incontinent diarrhea, a Halloween-style nosebleed, blood transfusing, lovely bedside toilets or any manner of "unpleasantries" -- Zach's friends did. Yes, the hospital is a difficult place. But I maintain that if you can see past the wreckage, you'll find a treasure trove of life lessons and true perspective.
Articles abound on what we can do to help patients and families stricken by pediatric cancer. While many families face financial and other real hardships, I think one of the most difficult aspects of cancer for Zach personally was social isolation from his peers. I give great credit and thanks to parents who made a real effort to bring their kids to visit Zach both in the hospital and at home. And surprisingly, some of the most frequent visitors in every city were previously total strangers -- families who answered simple emails or requests we'd made for "healthy kid visitors" on Facebook. They exposed their children to very raw, real life, as well as the great possibility of seeing death's shadow up close in the face of another child.

I remember vividly one playdate I'd arranged for Zach. The kids were playing a game of modern-day tops when Zach suddenly became nauseous and hurled into his Beyblade "arena." Zach and his friends all paused, a bit stunned, while I whisked the toy tub away. As kids will do, they laughed it off and had resumed playing two minutes later. It's funny: while kids can often be cruel in groups or on the playground, in more intimate settings, their ability to see beyond cancer, beyond the nose tube and the missing eyebrows, beyond the fearful specter of what could happen, to feel true compassion and acceptance and just be kids, playing, was breathtaking and eye-opening.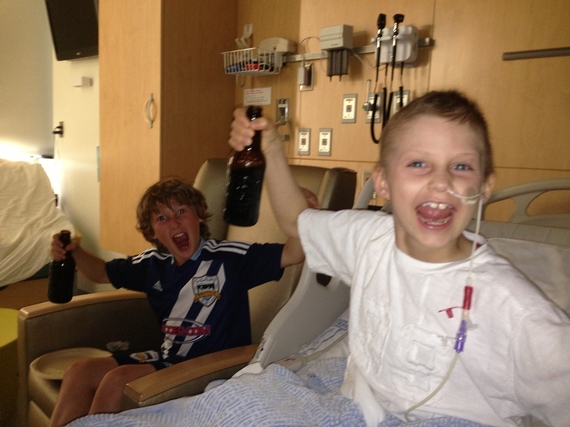 Running wild through the house in superhero costumes, blasting through an intense video game, sharing a song from their playlists, bringing root beer and pizza for Friday "boys' night" at the hospital, building a gingerbread house, sending mountains of handmade cards and presents to a distant city where he had NO friends to even attend what could have been his last birthday party -- all were gifts of gold from children to a young boy fighting for his life, a thousand miles away, and a million miles from normal.
Zach passed away a few months ago following complications from a third bone marrow transplant. There is no way to adequately thank "BFF" Julia and the kids who made time for and stuck with him -- those who brought doses of the best medicine known to Man -- doses of "normal" during his years-long illness. I also thank their parents, who, instead of shielding their kids from the ugliness of cancer, deliberately put them squarely in heartbreak's way, many going out of their way and to great expense to do it!
I'll never understand how knowing Zach impacted and will impact his young friends. I have photos of many of them writing virtual novels on balloons they released at his memorial service. I can only hope that their gifts of unwavering friendship and acceptance will return to them someday a hundredfold and whatever seeds of sadness and fear they may have experienced will blossom into great compassion, awareness and a motivation to help others who are suffering, especially children. I also hope it helps them appreciate their home sweet home in the land of "normal."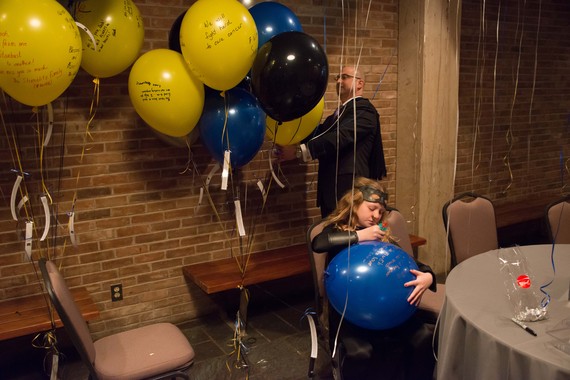 And to Julia... thank you for unconditionally loving our boy, and allowing him to love you in return.
One final note: I wanted to mention that it is critical for all visitors to be healthy and not recently exposed to illness. We never allowed any visitors who were coughing, even from supposed allergies. We always asked school-age friends to shower and put on fresh clothes before each visit, and during visits we encouraged lots of hand washing and made regular rounds with hand sanitizer. On occasion, Zach and his friends even played in masks.

Every cancer family and situation is different. Some may shut out visitors altogether to prevent infection. And some hospitals even ban visitors under a certain age on some floors and during bone marrow transplant. I probably tended to be more deflective during Zach's early years of diagnosis when a positive ending was in sight, but I relaxed later when I realized this battle might last for years and I began to prioritize his quality of life.
Special thanks to Sally Rosenberg for proofreading and edits
Like Us On Facebook |

Follow Us On Twitter |

Contact HuffPost Parents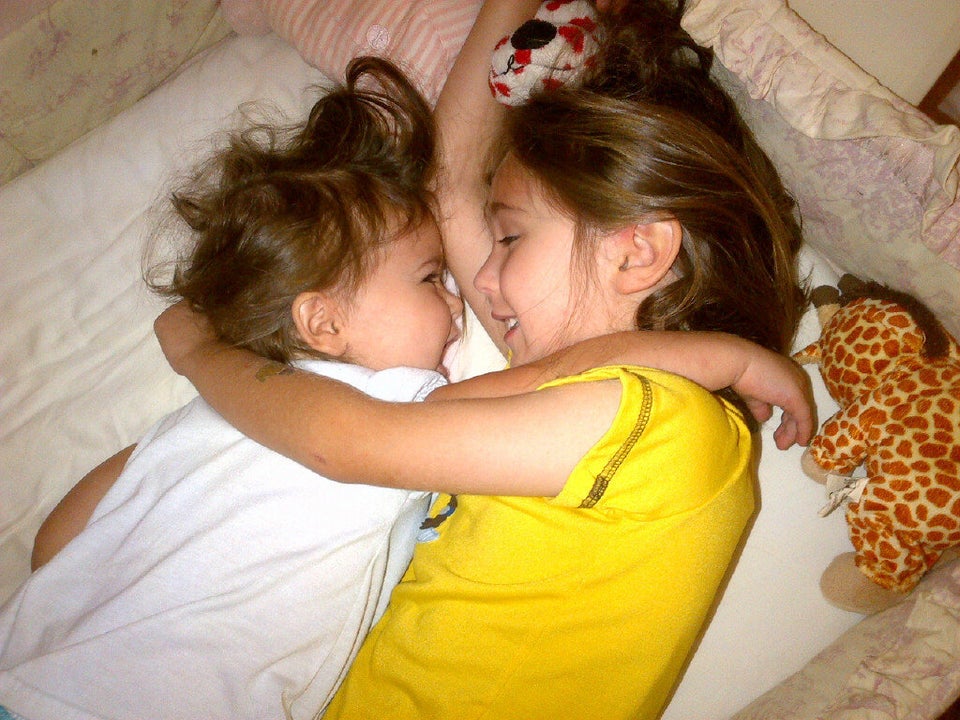 Love in One Photo
Related