With Treme Episode 5, we're halfway through Season 1. Former Times Picayune reporter Lolis Eric Elie wrote this episode, so it's a good time to describe the headlines that may have inspired plotlines. Some are hauntingly familiar, since our new mayor has just declared a state of emergency from a man-made disaster.
We start off with John Goodman's character Creighton Bernette creating a You Tube video message to President George Bush to follow his, "Fuck you, you fucking fucks" based on the work of Ashley Morris. I can only imagine what his response would have been to the quarter million gallons of oil a day filling the Gulf of Mexico and shutting down fisheries. Because now they're fucking with our seafood. And seafood is probably on the menu at Upperline where the Burnettes dine, and in the character Janette's restaurant on Webster Street. In a restaurant scene, writer Roy Blount, Jr. turns out to be a fan of Creighton's videotaped id. Goodman's character also finds out his agent is on the way to New Orleans, and he fears he'll lose his advance which has already been spent replacing his roof.
Big Chief Albert Lambreaux is fighting to reopen public housing projects, some of which were demolished after sustaining little or no damage. When he tells a councilman, "My people need to come home before Mardi Gras," to little or no response it makes you wonder, did he not see the toolbox episode? HANO was federalized by the U.S. Housing and Urban Development and it still is. There was a theory at the time that low-income housing was being denied to keep crime down, which did not work out in the long run. Mardi Gras Indian Chiefs like Lambreaux carry authority in the community, and Dr. John and Cyril Neville, who have recorded with many Mardi Gras Indians over the years, will be part of a Voice of the Wetlands performance for Sunday's Gulf Aid environmental benefit. So will John Legend, Allen Toussaint, Mos Def, Lenny Kravitz, Zachary Richard, Jeremy Davenport, Ivan Neville, Big Sam's Funky Nation, Rebirth, Irvin Mayfield and Treme's own Kermit Ruffins. Community minded Treme and HBO will host their own event with Tim Reid, Frank's Place series creator Hugh Wilson and Elie in a May 24th Benefit for the New Orleans Center for the Creative Arts.
There has been a great deal of celebrity support over the last almost five years (case in point the Sandra Bullock Shops! headlines), and we'll need all the star power we can get in the clusterfuck that is the response to a quarter million gallons of oil a day spewing into the Gulf from the Deepwater Horizon rig failure. Post-levee failure, many of our New Orleans icons were inconceivably broke but nationally popular so it was a strange dichotomy. In this episode, Chef Janette Desautel, based on Susan Spicer, gets the chance to cook for chefs Tom Colicchio, Eric Ripert, David Chang and Wylie Dufresne. She demonstrates the sheer exuberance of a New Orleans meal. You couldn't ask for a better cultural ambassador than chefs like Spicer, John Besh or Leah Chase. The Tennessee Williams Festival hosted a Treme Writers Panel and an Oyster tasting with recipes from Kit Wohl's P&J Oyster Cookbook. Which brings me back to the fact that some of our oyster beds can no longer be farmed because they are fouled with oil.
Fats Domino's former drummer Smokey Johnson invented a second line beat he called, for some reason, Ratty Number 9. He lives in the Musicians Village, you can ask him about it any time. Ringo Starr's producer Mark Hudson once told me that The Beatles were so taken with Smokey's drumming, it influences musicians to this day. Rebirth, almost the house band of Treme, helps lead the second line and elation is shown in the meeting of old friends along the route. Then the gunshots ring out. Three people were shot and wounded near the end of a post-Katrina second line mid-January 2006 prompting a rise in second line fees, and protests from Social Aid & Pleasure Clubs applying for more expensive permits. The tee shirts worn at the parade were ReNew Orleans by RopeaDope. At the time, the shirts benefitted the New Orleans Musicians Hurricane Relief Fund, and they now benefit the Tipitina's Foundation, Replant New Orleans and Common Ground. A telling remark at the end of the episode is when TV Davis insists he didn't hear any gunshots. There are things we are ready to deal with and things we can't yet process.
Which brings us to something I'd rather not revisit. If Annie and Sonny are based on the French Quarter couple Zach and Addie, then the boyfriend will sink further into PTSD and drug induced paranoia,and his girlfriend will die. It's been a theory with anyone who has read Shake the Devil Off or was here during the grisly 2006 murder. So dear Treme writers: if it's not too late, please don't have Sonny kill and cook Annie. None of us can take it.
Musician Delmond Lambreaux was missing from this episode, which also mirrors the musicians who evacuated and have found a life elsewhere. Post-Katrina Henry Butler, Cyril Neville and hundreds of others have moved away. Some died before they made it home. Louis Armstrong left New Orleans when his integrated band was not allowed to play because of the black union and white union rules, and he never came back. For the rest of his life Armstrong said that his proudest moment was being the King of Zulu. The push and pull of New Orleans is well represented in Treme.
The character Daymo is still missing, possibly in a Zeitoun style nightmare aptly described in the book by David Eggers. As Toni Burnette points out in this episode, over 3,000 people were still not accounted for in 2006. The scenes where Daymo's sister Ladonna dearly hopes to find him alive remind me of those first months after the storm. A great talent and lost soul Barry Cowsill was missing for months until he was found in the Mississippi River. A moving tribute to Barry is found in his sister Susan Cowsill's wonderful new "Lighthouse" CD with her cover of his song, "River of Love." His estate has released the posthumous, 'US-1." For Barry's second line, the New Wave Brass Band played with all new instruments.
This episode's instrument donor reminded me of Japanese musician Yoshio Toyama who, through his Wonderful World Jazz Foundation has continually brought instruments to New Orleans. The culture would have been lost without an international community of music lovers. A jazz loving couple from England founded the New Orleans Musicians Appeal Fund and brought more than $70,000 to New Orleans music charities. They paid a year's rent for a New Orleans Musicians Relief Fund apartment musicians could stay in after gigs when they were commuting in from Houston. Those musicians included trombone player Jerome Jones of The Hot 8, which seems appropriate to "Treme." One night at Donna's, the Europeans gave grants to each musician playing, then the head of the New Orleans Musicians Appeal Fund jumped up and jammed with the band. He had brought his clarinet.
Antoine Batiste manages to argue with his Superfan over which recordings Kid Orry performed in. It's not Disneyland, as Treme makes clear, and not everyone who came to help left with the experience he or she was hoping for. Antoine is someone who second lines with a baby stroller full of beer. He does eventually bond with the music lover when he plays a solo in thanks for the new instrument and donation. Seeing Phyllis LeBlanc Montana smile was a rare light moment for the couple. A South Korean filmmaker came over one Jazzfest and followed NOMRF around filming instrument donations and the inevitable parties. By the end of the week he was cursing like a sailor. Not that he didn't curse at home, but he certainly got comfortable with us.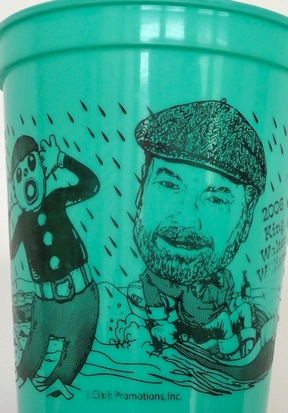 In the midst of all the post Katrina chaos, Creighton is planning the first parade after Katrina. Environmentalist Walter Williams was the king of Krewe du Vieux that year, and I hope Treme shows his Mr. Bill float next week because it's beyond description. Walter made a wetlands awareness film series the summer Katrina hit, and Senator Mary Landrieu told Congress in a subsequent hearing, "How could Mr. Bill have known more than Mr. Bush?" I knew there was a chance of getting back to normal with the 2005 announcement that read:
"We've learned that you never leave behind a refrigerator full of seafood. We've learned that sometimes you can't help but sleep on the wet spot. We've learned new meanings for open house and waterfront property. We've learned that FEMA's just another word for nothing left to lose. What's Krewe du Vieux's response to all this insanity? In the laissez faire spirit that has so typified our home town that even the Army Corps of Engineers got swept up in the tide, the Krewe will stage its 2006 parade with the theme of Cest Levee! Leading the soggy celebration will be New Orleans environmentalist and comedian Walter Williams, creator of Mr. Bill of Saturday Night Live fame. As Mr. Bill knows much more about flood protection than Mr. Bush or Mr. Brown, the Krewe considers its 2006 king a true wet dream." (Pictured is the cup he threw that year).
For parade planning, Creighton meets with the Krewe captains including New Orleans' own Becky Allen, an actress so campy she usually makes Bette Davis in "Whatever Happened to Baby Jane" seem like she's phoning it in. A decision must be made on whether to keep the parade lighthearted or add a somber tribute. Wax Ernie K-Doe abstains from voting. Wax Ernie broadcast his sayings for years on a radio signal from his home at the Mother-In-Law Lounge. When musician James Andrews called my husband asking him to pass along the message that the Krewe wanted Dr. John to serve as this year's King, he described the level of political satire, grass roots goodwill and bawdiness to seal the deal.
When character Toni Bernette asks a policeman about her client's impounded and sold trombone she asks, "It's all coming back isn't it?" He tells her that suspects held in Houston had informed police that when you shoot someone in New Orleans, you're held for sixty days and then released. He concludes, "The wheels are off the cart. The crime is coming back and we ain't ready." It did and we weren't. Ned Sublette describes in "The World that Made New Orleans" how the French brought over to colonize were told they were going to a tropical paradise, but New Orleans was still an uninhabitable swamp. When that no longer worked, convicts were brought in. In later years, the city was partially built by men strong enough to navigate barges downriver, build homes from those barges and party like they had never seen a red light district. Because they hadn't. So the animosity and hustle run deep. Cut to Davis in a barfight.
Davis Mcalary is clearly based on Manny Chevrolet who has often run for mayor with the slogan, "A Troubled Man for Troubled Times." This year's was "Troubled Now, More Than Ever" and he stole the show at any debates he was allowed to attend. In the same election, Dr. John wrote a mayoral campaign song, "The Only Thing New in New Orleans is James Perry" with the line 'He knows the Youth Study Center Ain't Nothing But a Jail." TV Davis ends up recording his campaign song with real Davis on piano, breaking the fourth wall once again. Then Davis, overserved and underfiltered, gets his ass kicked. In a city where you can wear your drink like a necklace, the altercation is only a matter of time for those with no impulse control. The late Bunchy Johnson is wonderful as he looks at Davis and holds out no hope for anyone who acts a fool with such consistency. It took a reporter to write an episode this real. Davis, after lying in the street, asks the next morning: "You guys brought me in?" "We're your neighbors." And if there's a happier ending than a bombastic neighbor taking his speakers out of the window, I can't think of it just now.
"It's Raining" by Irma Thomas has the last line, 'I guess I'll just go crazy tonight."
Creighton's daughter prepares to go to Krewe du Vieux as sperm. No, that's not a typo.
Treme has been described by some reviewers as a little too inside baseball, so this will either serve to give some backstory or way too much background. At the end of two years, I'll be curious to see what the world thinks of not only the show, but New Orleans as we respond to yet another crisis in ways that no other city could.
Calling all HuffPost superfans!
Sign up for membership to become a founding member and help shape HuffPost's next chapter