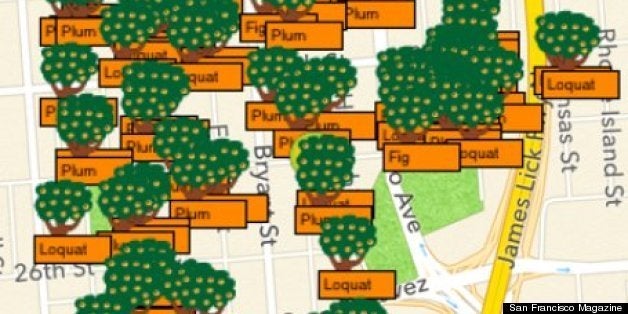 How the novel way of foraging didn't satisfy a city dweller.
With urban gardens popping up all over the city, Find Fruit is an app that uses your location to pinpoint fruit trees in your neighborhood. "Cos fruit from your 'hood is good," they claim -- and for the low, low price of 99 cents, their app will reveal the free bounty your city has to offer. The country girl inside of me grinned in anticipation of "living off the land," even if it was just the concrete jungle of San Francisco. So off I went, skipping like a school girl, to forage my neighborhood's abundance.
I started by opening the app and selected "In Season" for the search option. I was home in the Mission, and all kinds of trees sprouted up around me! Find Fruit knows where they are because other users had uploaded the information. Score another point for the sharing economy.
Or so it seemed. Most of the trees were plums, figs or loquats. That was a letdown, because seriously, what the hell is a loquat? Undeterred and full of optimism, I headed out my door.
But quickly, many of the fruit trees were revealed as vaporware. It wasn't much fun to tromp several blocks only to find nothing. But then, once I'd finally found a real tree, the fruit was too high to be picked. I just hadn't anticipated that I'd need to haul around a ladder. Yet, I suppose if there was a lot of low hanging fruit, then it'd be plucked up already.
Another obstacle I encountered was that the fruit tree (in this case a well-endowed fig tree) would be behind a fence. As excited as I was to finally find some fruit, I wasn't about to scale a chain link fence while wearing a dress.
Saddest of all, the fruit that I did forage, well, sucked. That's where the loquats come in...